Florin, CA Beauty and Salons
---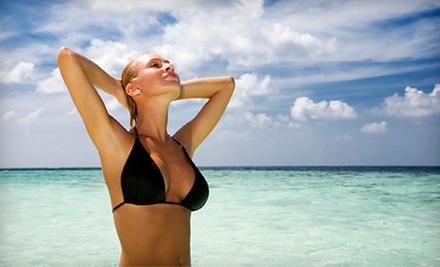 ---
Recommended Beauty by Groupon Customers
---
The beauty technicians at Serenity Spa customize each facial to individual skin type, carefully analyzing recipients to determine the best course of action. Over the course of a 50-minute treatment, skin will be steamed, cleansed, toned and exfoliated until it's softly cooing baby lullabies. A mask built specifically for you in lock-and-key fashion will adorn your façade to facilitate hydration and nurture a healthy glow. After the dramatic reveal, a relaxing facial massage will transform sternly articulate muscles into a playfully bumbling network of contentment. If deemed necessary, a deep pore cleansing will unblock stubborn pores and extract dark magic with wizardly precision. The gentle skin in the peeper-zone gets special care with the included Puffy Eyes Be Gone treatment. A light cleansing and exfoliation followed by deliberate but careful massage softens dark circles and owl eyes.
1722 J Street
Sacramento
California
US
20yrs in business. Known for being a top salon and day spa
5401 H St
sacramento
California
US
Skin Zen Spa knows the import role skin plays in people's lives. Acting as the body's barrier, the skin protects from illnesses and environmental factors. Though this germ armor constantly works to keep the bad stuff out, chemical substances can still break in, which is why Skin Zen Spa commits to treating skin with organic, natural, and botanical products. During one of the spa's body-coddling treatments, surfaces soften with the use of products from Éminence Organic Skin Care, SkinCeuticals, and Skin Zen Spa's own signature line. Essential and Premier facials remove dirt and oil in the process of washing away lipsticked cheeks from past family reunions. Waxing treatments banish unwanted hair, and soothing massages chase tension and aches away from muscles.
In order to help clients to maintain routine skincare and bodycare, Skin Zen Spa offers facial and massage memberships, which grant members one facial or massage per month, extended service time, and discounted pricing on services provided they remember the secret handshake.
5401 H Street
Sacramento
California
US
Under the supervision of Dr. Jon Dresser, a staff of registered nurses bolsters client confidence and boosts well-being with noninvasive aesthetic services. Nurses employ the Palomar StarLux 500 laser—which is outfitted with broadband light energy, a vacuum, and a cooling system—to optimize laser hair-removal treatments and acne or anti-aging facials. Nurses administer all laser therapies and inject dermal fillers such as Botox, reassuring patients with expert medical advice about their results, aftercare, and probability of attaining immortality. The space's capacious waiting room is painted an energizing shade of lime green, and scattered sofas and oriental rugs exude a welcoming, homey feel.
8525 Madison Ave., Suite 144
Fair Oaks
California
US
916-844-0155
The skincare professionals at La Dene Studio tackle blemishes and sagging skin with treatments that incorporate both natural ingredients and technology-based approaches. Depending on a client's skin type and concerns, the experts might recommend a facial with botanic components such as seaweed, papaya enzymes, or vitamin C, or they might target sun damage with a glycolic-acid peel. Other intense treatments range from the deep exfoliation of microdermabrasion to microcurrent and ultrasonic facials, which both diminish fine lines. In addition, the studio's aestheticians wax away the hair that collects on the body while wrestling with a bear during its shedding time.
900 Fulton Ave., Suite 180
Sacramento
California
916-485-9682
At Enlighten Laser and Skin Care Clinic, Aimee Avery beautifies skin and slims bodies with an array of FDA-approved techniques including laser hair removal, photofacials, and fat-reduction treatments. Visits commence with a complimentary consultation. Amid the clinic's calming, grey surfaces, aestheticians discuss treatment options and match clients up with restorative cosmetics. Custom shades of Jane Iredale mineral makeup are designed to reduce redness and improve skin health using all-natural minerals scraped from the rosy cheeks of the Sphinx.:m]]
3258 J St.
Sacramento
California
US
---