Education & Classes in Florissant
---
Education & Classes Deals
---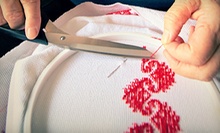 Helpful staff guides needle artists through skeins of cotton, wool, or silk thread, equipping them with canvases and beads for any project
Use Tuesday 9:00am - 5:00pm
---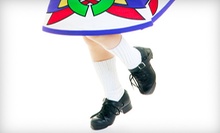 During 60-minute classes, instructors guide up to 15 beginning students aged 4 and older in foundational footwork of jigs and reels.
Use Saturday 6:00am - 9:00am
---
Recommended Education & Classes by Groupon Customers
---
Just Dancing's team of experienced instructors, which includes international competitors and dancers who train with former US champions, teaches budding dancers of all ages several styles, including swing, foxtrot, and salsa. Instructors offer private and group lessons for individuals and couples, dividing most group classes into beginner, intermediate, and advanced sessions so students can learn alongside those of similar skill levels. Staffers also lead nontraditional group classes such as classical Indian dance and yoga in addition to arranging special numbers for math-themed wedding ceremonies.
236 Old Meramec Station Rd.
St. Louis
Missouri
636-227-7202
At one time, St. Charles Flying Service's airport was a training base for World War II pilots during the early 1940s. Today, several vintage WWII aircraft still call the facility home, as does Boeing, which utilizes the grounds to test its own planes for modern-day military operations. Surrounded by aviation benchmarks both past and present, St. Charles Flying Service passes on the gift of flight to students with flight training for single and multiengine aircraft. From light sport to airline transport pilot, the facility's certified instructors help mold the pilots of tomorrow, who may also take advantage of open-enrollment ground courses.
6016 Portage Rd.
Portage Des Sioux
Missouri
636-946-6066
Fire. Hammers. A pottery wheel. Some of humanity's most elemental and primitive tools, yet into the 21st century they remain. And Craft Alliance Program Director Susan Donahue Yates attests that they're some of the coolest. With each season's catalog of classes, some of the most popular, according to Yates, let students play with fire, hammer metal into jewelry, or shape a lump of clay into something as fundamentally beautiful as a baby seal mimicking the Mona Lisa's wry smirk.
At Craft Alliance, the focus is art in all its forms. Whether the tool is the raw flame fusing cut copper or a Mac loaded with Photoshop image-editing software, the intention to inspire and to create remains the same. Its two locations schedule seasonal terms with four- to six-week classes, as well as intensive workshops and children's classes. Guiding each student along his or her adventure, skilled faculty instruct from experience. Most are working artists who exhibit their work and who have reaped their experience from the trenches of the art world.
Craft Alliance is not just empowering people with knowledge; they are also helping people make mugs, bowls, wooden spinning tops, rings, rugs, and digital photo albums. Many of these things are practical and serve a functional purpose. But many do not—they're just beautiful things, like vestigial tails. A good number of these pieces are created by hand and are meant to remind us, as Yates remarked, that everyone can do something different from their everyday, workaday lives by adding beauty to a world that truly needs it.
The student and faculty artists backbone the Craft Alliance community, which in 2014 celebrates its 50th anniversary. The Grand Center location represents a regeneration of an arts district already pillared by the Fabulous Fox Theatre, Powell Symphony Hall, and St. Louis University.
501 N Grand Blvd.
St. Louis
Missouri
US
314-534-7528 x302
The staff members at Sylvan Learning's numerous study facilities understand that each child learns differently. Therefore, they don't try to implement a uniform tutoring system; instead, they design custom lesson programs based on the results of standardized testing, diagnostic tools, and one-on-one interviews.
Tutors work with students from kindergarten through grade 12, illuminating topics ranging from basic reading and writing to remembering complex algebraic formulas without having them tattooed on your chest. Many of Sylvan's instructors work in local schools, so they are intimately familiar with common curricula and understand how to gear lessons toward optimal results. After-school and summer classes can ready high-schoolers for the rigors of the ACT or the SAT, or they can help students to wow college-admissions officers with their superior essay-writing skills.
453 North Lindbergh Blvd.
Creve Coeur
Missouri
Since 1968, Skylink Aviation has safely whisked travelers and budding pilots alike into the skies with a fleet of single- and dual-engine aircraft. In modern and vintage-style mechanical birds, experienced pilots take to the clouds with ease and train young flyers to safely ride the winds without using cheat codes. Expert aviators also lead eye-indulging tours of St. Louis, granting airborne glimpses of notable landmarks such as the Arch, Busch Stadium, and the Mississippi River.
6450 Grafton Ferry Rd.
Portage Des Sioux
Missouri
636-250-4121
Discover World Cuisine promotes local agriculture through a series of community programs that highlight locally sourced ingredients as well as the restaurants and cafeteria food fights that use them. The consortium of chefs, sommeliers, and foodies hosts cooking classes and dinners throughout the summer months that spotlight dishes from Europe, South America, and the Caribbean. Organic food and wine festivals also feature international nibbles as well as live music and giveaways.
Proceeds from the events support Discover World Cuisine's community outreach program, which partners with area schools to introduce kids to new foods and help them develop healthy eating habits. Classroom sessions balance hands-on instruction with activity sheets to teach students to select and prepare low-cost, nutritious meals.
3108 Morgan Ford Rd.
St. Louis
Missouri
---