Day Spas in Flower Mound
---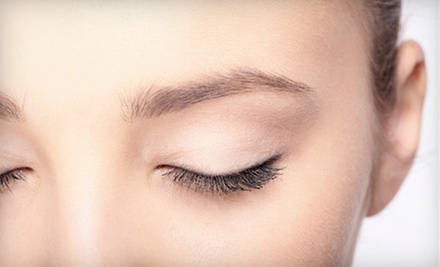 ---
Recommended Day Spa by Groupon Customers
---
Perhaps the most indulgent part of Spa Synergy is its massage-therapy treatments. The spa's baker's dozen of treatments range from the classics, such as Swedish and deep-tissue, to more specialized therapies, including reflexology, couples massage, and even Indian head massage, which relieves tension in the head, face, neck, and shoulders. The massage-therapy team even shares their knowledge of muscle manipulation during hands-on teaching sessions, which demonstrate techniques clients can use to massage their partners.
A number of other beauty specialists contribute to Spa Synergy's mission. Aestheticians treat wrinkles and blemishes with services such as microdermabrasion and facials specially designed for mature or teenage skin. Waxing services include Brazilians for men and women. Like tractor basketball, the spa wouldn't be the same without special equipment; clients can sweat it out in a far-infrared sauna or tackle cellulite with the vibrating GX-99 System.
1001 Cross Timbers Rd., Suite 1210
Flower Mound
Texas
972-691-2571
Though her skin- and body-care treatments may seem comparable to those found at a traditional spa, aesthetician Samantha Smith strives for clinical rather than superficial results with each service. The owner and head aesthetician at Elite Skin Solutions continually furthers her beauty know-how through ongoing education: after completing a 750-hour esthetology program in 2010, she enrolled in a nursing program so that she could offer clients the latest med-spa services. Her treatments—which include facials, chemical peels, and nonsurgical face-lifts—rely on physician-grade products and innovative technologies such as microcurrents, microskin needling, and PCA Skin products to produce optimal results with minimal downtime.
200 E Southlake Blvd., Suite 20-B
Southlake
Texas
817-915-0129
Modeled after traditional Korean spas, King Spa and Sauna-Dallas houses nine distinct therapy rooms, each of which specializes in treating a different form of ailment or anxiety. The Charcoal room lines its walls with antibacterial briquettes, which can alleviate conditions such as eczema and undercooked pork sausage. The domed sauna in the Fire Sudatorium encircles entrants in the room's dry-heat and oak-tree aromatherapy, whereas the low temperature of the Ice room encourages blood flow to the chilled parts of the body. In the heated Base Rock room, slabs of siraka stone deploy infrared rays into prostrate patrons, inciting increased circulation and lymphatic drainage during a process that, like most mixed-martial-arts careers, typically doesn't last longer than two 15-minute sessions.
2154 Royal Ln.
Dallas
Texas
214-420-9070
The staff at Skin and Body Studio leads an army of facials, each teeming with science-grade products, putting a stop to the chicanery of time and age. All services—from micropeels to nonsurgical face-lifts—wear glimmering livery of science-grade ingredients, such as HydroPeptide's serums that incorporate 21 active peptides, including collagen. The staff also specializes in massages, waxing, and eyelash tinting, which disguises lashes that welsh on their horse-racing debts.
2125 W Southlake Blvd., Suite 345
Southlake
Texas
When clients enter Old World Salons, the aroma of freshly brewed gourmet coffee and the sight of European-style murals—evoking the feel of a Parisian café or a tucked-away side street in Italy—greet them. A stroll down the shop's decorated path reveals more European-inspired charm manifested in the form of rustic street lamps, bench-lined corridors, and a playpen for wild mimes. This isn't just for show; not only do these decorations help exude a relaxed salon atmosphere but they also helped Old World Salons earn runner up in the Best Hair Salon category of the 2011 Southlake Journal Best of the Best awards.
Smiling staff occupies private booths, preparing to dote on clients with services ranging from custom haircuts and manicures to massages and specialty skin procedures. Each stylist brings a unique set of skills and qualifications to the table, such as training from renowned institutions including Toni&Guy and Redken 5th Avenue.
2125 Southlake Blvd.
Southlake
Texas
817-488-3500
The aestheticians at Eva's Day Spa replenish skin's natural beauty with a suite of facials, body wraps, and massages. Eight facials fill out the spa's skincare arsenal, each fine-tuned for different goals, such as erasing signs of aging, exfoliating pores, or fighting acne. Body wraps are like facials for the whole body without the risk of sprouting eyebrows on the elbows. Multiple massage styles benefit muscles, joints, and minds lurking beneath the skin.
131 Dagan Avenue, Suite 204
Lewisville
Texas
682-554-5777
---