Flower Mound, TX Outdoor Activities
---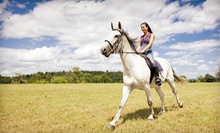 Kids learn about riding and caring for horses at day camp; trail ride tops off riding lessons
---
Recommended Outdoor Activities by Groupon Customers
---
SpeedZone Dallas is the place for racing, games and more.
11130 Malibu Dr.
Dallas
Texas
972-247-7223
Total Driving Experience's skilled instructors teach teenagers essential accident-avoidance techniques through simulated real-life driving scenarios. During Day 1 of the Skills Teen Driving School, novice drivers with a valid learner's permit and up spend six hours behind the wheel, practicing challenging maneuvers on a dry obstacle course, skid pad, and rush-hour-themed bouncy castle. Instructors ride with students to offer tips on dealing with tailgaters, handling skidding, and harnessing the stopping power of cars' ABS systems. Each 20- to 30-student session includes a scrumptious lunch and awards participants a certificate of completion that may be used toward discounts with some car-insurance providers or as a makeshift screensaver for a computer monitor.
3545 Lone Star Cir.
Fort Worth
Texas
817-215-8434
For the past 20 years, Zero Gravity has been one of Dallas' primary sources of satisfied screams, launching Texans into lower orbit with palpitating rides that test the confines of physics. Thrill-seekers can exhaust adrenaline reserves on five hair-raising attractions, including the seven-story bungee jump, the Skycoaster, and the Texas Blastoff, which acts like a giant slingshot that rockets riders 70 miles per hour toward the sky the nearest medieval watchtower. Nothin' but Net sends amusement park goers plummeting on a 130-foot freefall, and the Skyscraper's enormous propellers whip guests around with 4 gees of force before serving up views of the city's stunning skyline. Thanks to precautions designed specifically for each ride, Zero Gravity boasts a flawless safety record, whereas the park's flexible schedule jump-starts hearts seven days per week.
11131 Malibu Drive
Dallas
Texas
972-484-8359
In 1997, the newly formed Fort Worth Bulls, due to a naming conflict, had to change their moniker. Although they settled on the Brahma—a type of beef cattle—as new inspiration, the one-time bulls never altered their tenacity. After the Central Hockey League's Fort Worth Fire folded in 1999, the Brahmas packed their players in bubble wrap and moved from the WPHL to the new league, where they have since made multiple playoff appearances and, in 2008–09, captured the organization's first Ray Miron President's Cup with a five-game series victory over the Colorado Eagles.
8851 Ice House Drive
North Richland Hills
Texas
817-336-4423
Wings Air's band of experienced pilots advocate the beauty of airborne travel through charter services, flight lessons, and an aerial film-production studio. Luxury jets, decked out with sectional couches, meeting tables, and bars, grant passengers and their mobile studio audiences safe travels with charter and cargo services. Within helicopter cockpits, Bose noise-canceling headsets block out the hum of spinning propellers to ensure clear communication during charters and tours. Wings Air Films offers a wide range of aerial production services, supplying movie helicopters and camera platforms to capture bird's-eye shots of famous landmarks or Waldo sightings for motion-picture and television industries.
1605 Crescent Cir., Suite 200
Carrollton
Texas
US
Indoor Safari Park embodies childhood dreams of the Serengeti with a varicolored landscape of tropical murals, plush jungle creatures, and both educational and entertaining activities. Cerebral toys teach little tykes the basics of numbers and colors, and wooden train sets review the basic origins of interstate commerce. Around the facility, mechanical elephants and zebras trot through a safe indoor jungle beneath giggling children and a kid-size, primary-colored train chugs to life around a palm-flanked track. On an obstacle-flecked mini-golf course, prehistoric creatures guard the borders of each pin and avoid the ball pits that colorfully resemble the meteorites of their ancestors' demise. Age limits become obsolete with a specific play area for toddlers, and a huge retail area generously yields gift ideas to stumped shoppers.
2116 E Southlake Blvd.
Southlake
Texas
US
---