Folsom, CA Outdoor Activities
---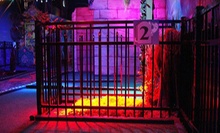 Graveyard-themed mini-golf holes wind through gothic architecture, crypts, and skeletons peppered across indoor course
Use Today 2:00pm - 9:00pm
---
---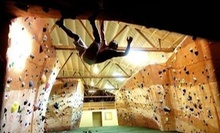 12 inches of seamless padding cushion any falls as climbers scale 18-foot-high top-out boulders and hang from an indoor cave
Use Today 9:00am - 7:00pm
---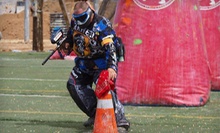 Three hours for two in a field with obstacles and bunkers; each person gets a marker, a mask, a barrel cover, 500 paintballs, and air
Use Saturday 8:00am - 12:00pm
---
Recommended Outdoor Activities by Groupon Customers
---
If you've ever tried to beat rush-hour traffic by tethering your car with helium-filled balloons, then you know that hot-air flight should be left to the professionals. The Federal Aviation Administration–certified pilots at Sky Drifters Hot Air Ballooning embark on journeys from the Sierra Nevada foothills daily, and their company has been named one of the 10Best attractions in Sacramento. Whether piloting a small group or private flight, the balloon captains show passengers a bird's-eye view of the rolling hills, winding rivers and finely crafted comb-overs whose majesty can only be truly appreciated from above. Their aerial transports also play host to weddings in the sky and can provide a lift to those who enjoy BASE jumping from the clouds.
7000 Stonehouse Rd.
Rancho Murieta
California
888-359-0484
Born into a family of equestrians, Jesslynn Saxton spent her summers on a horse farm, learning to ride at an early age. At 15, after having had some success in riding competitions, she took a job as a stable apprentice and dreamed of opening her own riding school. Today, as the founder of Saxton Equestrian, Jesslynn is an accomplished rider, trainer, and stable manager with more than 20 years of experience. Harboring an innate passion for teaching, she holds lessons and training sessions and volunteers with Project R.I.D.E., a nonprofit organization that provides therapeutic riding instruction for persons with disabilities.
Jesslynn's horse sanctuary, Clay Station Ranch, sits on 23 acres of green pastures, upon which five barns house 40 stalls. The ranch's two outdoor arenas allow riders to sharpen their skills under blue skies, and a lighted indoor arena features all-weather felt footing, irrigated grass turnouts, wash racks with hot water, viewing areas, and a riders' lounge, where equestrians can kick back and relax after going on an exhausting ride or failing to teach the horses how to neigh in a British accent.
9439 Clay Station Rd.
Wilton
California
415-623-4757
Everything changed for Bob and Chris Quinlan when they organized a successful pub crawl for their local Rotary club in 2005. The positive reception to their event led the pair to found AppeteasersUSA in 2011, which has since expanded from its initial tour in Folsom to include outings in Northern and Southern California, Washington, and Florida. Across the country, AppeteasersUSA's savvy guides can be found leading patrons from culinary hot spot to hot spot.
Throughout the four-hour tours, herds of at least 25 tour goers stop at restaurants and bars unique to the area—eschewing chains and large franchises—for 30-minute stints, nibbling on appetizers and noting which kitchen appliances might come to life after the restaurant closes. To wash down savory flavors, patrons can swig discounted drinks at each establishment.
825 Sutter St.
Folsom
California
The instructors at WakeSUP arm guests with Surftech paddleboards and adjustable SUP paddles and lead expeditions across serene waterways including Folsom Lake, Nimbus Lake, and Lake Natoma. To help guests glide safely across water surfaces, they also hand out neoprene lifejackets from Ho Sports and O'Neill to keep paddlers from being lured beneath the surface by a sea monster's siren song. All rental gear and boards—which range in size from 9.5 to 12 feet—will be transported to and from the waterway courtesy of WakeSUP.
7718 South Cliff Dr.
Fair Oaks
California
US
916-803-6989
---