Restaurants in Fond du Lac
---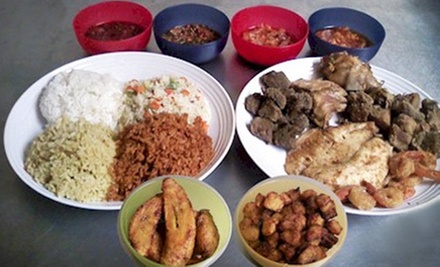 ---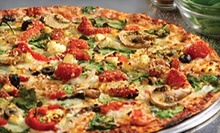 Chefs craft handmade pan pizzas, artisan pizzas with premium toppings, and other favorites such as chicken wings and baked penne pasta
---
Recommended Restaurants by Groupon Customers
---
The Allgauer's menu offers a delicious twist on American comfort food. Courteous servers at the Milwaukee location cover tables in classic American fare such as an Angus NY strip steak layered in roasted portabella, blue-cheese gratin, Yukon mashed potatoes, and fresh spinach ($27) and potato-crusted salmon resting beside sautéed green beans and stone-ground mustard ($20). Press a jumbo button mushroom against your palate and savor its rich roasted-garlic, ham, and blue-cheese insides ($7 in Milwaukee), or crunch a jumbo crab cake with marinated peppers, arugula, bacon, and mustard ($12). A virgin shrimp cocktail ($10) spices up the evening without dampening driving abilities.
11600 W Park Pl.
Milwaukee
Wisconsin
Tazinos Pizza & Salad Bistro provides patrons with a buffet-style smorgasbord of specialty pizzas, pastas, and salads. Already cooking at three locations, a fourth eatery in downtown Milwaukee is slated to open its doors this summer. Each casual restaurant revolves around an all-you-can-eat menu of fresh, nutritious Italian fare, including pizzas crafted from natural Wisconsin cheeses and dough that is kneaded onsite every morning using unbleached flour and absolutely no high-fructose corn syrup, trans fats, MSG, or magic beans. Pies range from classic pepperoni and authentic Italian margherita to the specialty Tailgater, topped with Klement's bratwurst, green peppers, brown mustard, and barbecue sauce. Salads, such as a sweet Asian-style slaw, and pastas, ranging from mac 'n' cheese to garlic-and-herb fettuccini, keep forks gainfully employed, and each meal is rounded out by a selection of soups, desserts, and spicy pepperoni rolls.
On Saturday and Sunday, Sunriza pizzas fend off the morning munchies with renditions of breakfast favorites in pie form. Topping choices include eggs and bacon, eggs ranchero, and morning-fresh veggies, and each slice may be enjoyed alongside other breakfast staples such as french toast, cereal, and mini cinnamon rolls.
N56 W15560 Silver Spring Dr.
Menomonee Falls
Wisconsin
Ever since Jerry Murphy opened Murf's Frozen Custard & Jumbo Burgers in Brookfield in 1999, he and his team have been dishing up what he calls "local, quality eats." To him, that means burgers made to order and loaded with toppings; Friday fish frys; and sloppy fried-egg sandwiches piled with an egg, coleslaw, tomatoes, and french fries—and then served with a knife and fork. For dessert, there's small-batch frozen custard made fresh throughout the day.
At Murf's in Brookfield, the cooks use top-notch ingredients for everything they make. Their 5-ounce patties are made from a custom sirloin blend that Jerry obtains locally, and their burgers and sandwiches are served on lightly toasted Paielli's Bakery buns. "Local, quality eats," Jerry says. "Everything we serve is high-quality, fresh, and made to order."
Diners can order their food for the dining room or devour marinated and grilled chicken-breast sandwiches with piping hot fries out on the patio.
12505 W Burleigh Rd.
Brookfield
Wisconsin
262-814-6873
Tony Roma opened his first rib joint in 1972, a venture that became wildly successful after Dallas Cowboys owner Clint Murchison, Jr. tasted the ribs and slaw and declared them the best he'd ever had. With his financial know-how and weighty pocket book, he helped Tony Roma's grow into the international brand it is today. Franchises have spread across the States like a wave of barbecue sauce, seeping over borders and staining the shirtfronts of thousands of satisfied diners.
Today, chefs still diligently emulate Tony's original ribs recipes, grilling up signature steaks and fresh-caught seafood combos enhanced with sides and garnishes of seasonal ingredients. In addition to the restaurant's signature meaty entrees, the staff whips up oven-baked desserts such as the golden-apple tarts and redskin potatoes hand- mashed by distinguished martial artists.
2581 S Packerland Dr.
Green Bay
Wisconsin
920-499-9070
Only after slow-roasting leaves them piping hot and full of their natural juices do the prime ribs at Marty's Place earn their titles of Queen and King. The respectively 16- and 26-ounce steaks headline a rich menu that unites surf, turf, and Italian food. The lengthy selection includes lobster tail, Alaskan king crab legs, baked lasagna, barbecue ribs, and Italian stuffed tenderloin, filled with mozzarella cheese that melts before you can read the fortune written on it.
210 N Main St., Suite 54136
Kimberly
Wisconsin
If the walls of The Port Hotel could talk, they'd tell a tale dating back to 1902. In that year, John F. Thill tore down an existing hotel and tavern and constructed a brand-new one comprised of 40 guest rooms, which is four times the number you'll find today. Thill installed electric lighting and warmed the rooms with steam heat—both luxurious features in those days. The hotel closed down in 1973, but the restaurant maintained a lively business.
The summer of 2005 saw the grand reopening of The Port Hotel, restored to its original state of elegance with 10 uniquely appointed guest rooms and chef-prepared breakfasts served in bed. Joseph Zankl and his family now operate this historic property, preserving its turn-of-the century charm while introducing modern amenities such as wireless Internet and plasma picture boxes.
101 E Main St.
Port Washington
Wisconsin
262-284-9473
---