Tours in Fontana
---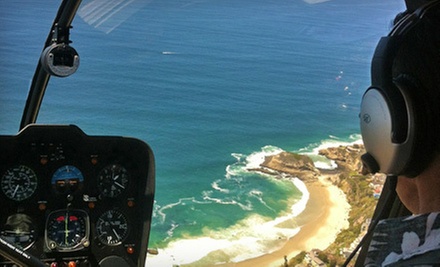 ---
Recommended Tours by Groupon Customers
---
As Karie Bible strides across Hollywood Forever Cemetery, the hem of her mourning gown absorbs dew from the gravesites of Johnny Ramone and Mel Blanc. She tours the cemetery for a living, leading groups to crypts and monuments that mark the remains of deceased celebrities. Whether recounting the legacy of silent-film icon Rudolph Valentino or kneeling at the spike of grass that marks Alfalfa's final resting place, she immerses tour-goers in Hollywood history. Each tour lasts about two hours and sheds light on cherished stars, as well as lesser-known entertainers and community members.
6000 Hollywood Blvd.
Santa Monica
California
Though they met through the RV business, Jim Headley and Dick Burke bonded over their excitement for a different mode of transportation. They opened Segway Orange County in 2004, and have since been matching customers with Segway i2 and Segway i180 models. Their shop hosts orientations for new owners, bringing Segway representatives in to coach attendees on the machine's operation and safety features before their first ride. The training also kicks off each of Segway Orange County's guided tours, which whisk visitors on 60- to 90-minute jaunts through Newport Pier or the Balboa Peninsula. Riding atop their Segway PT, patrons glide past sweeping views of the Pacific Ocean, beachfront homes, and boardwalk highlights such as the lone wizard who controls the tides with a series of pulleys.
611 E Balboa Blvd.
Newport Beach
California
949-723-1722
On a shimmering bay, a trained gondolier rows a happy couple along on a romantic evening. Having conferred with the gentleman before the trip, he slips a special message inside a bottle and discretely places it in the water. After turning the boat around, he asks the lady to retrieve the bottle that, unbeknownst to her, contains her marriage proposal. After tears of joy and a celebratory kiss, the engagement is confirmed, and the gondolier rows the lovebirds ashore.
This tale is not stolen from the pages of an Italian love story, but rather, it's an unforgettable moment that Gondola Company of Newport helps make possible. A team of professionally trained gondoliers ferries guests through the bay and canals of Newport Beach, creating an intimate mood for special occasions, such as proposals, anniversaries, and birthdays. The journey is also ideal for families or friends, and includes picnic fare, and sparkling cider for guests to enjoy as they tour the bay in a unique and relaxing manner.
3400 Via Oporto, Suite 103
Newport Beach
California
949-675-1212
The staff members at Another Side Of Los Angeles Tours take an unconventional approach to sightseeing. The goal is to fashion an experience that is as much about the sights as it is about the tour itself. Sightseers take to the air during helicopter tours, hot air balloon tours, and biking tours with optional ETs.
The company's segway tours wheel saunterers through Mission Bay or the Gaslamp Quarter and the Embarcadero at sunset, when San Diego twinkles and teenage werewolves cycle through awkward states of half-transformation. In addition to information and adventure, the company frequently gives tour takers round-trip transportation, waives entrance fees, and serves bites to eat.
1102 S La Cienega Blvd.
Los Angeles
California
310-289-8687
Red Line Tours specializes in one thing: Hollywood. Its signature tour, the Hollywood Behind the Scenes walking tour, explores Hollywood with the intimacy of a native Angeleno, diving into famous landmarks that are generally closed to the public. In just three blocks, the tour explores sites such as Grauman's Chinese Theatre, the Kodak Theatre, and the Walk of Fame. Guides also lead groups to the El Capitan Theatre, Grauman's Egyptian Theatre, and the Roosevelt Hotel, imparting intimate knowledge about Hollywood lore, such as how the Hollywood sign got its name and how the baby from Baby's Day Out became LA's first mayor. Red Line Tours' special live-audio system ensures that every visitor can hear the guide, even at a distance. While Red Line Tours specializes in the Behind the Scenes tour, it also partners with other local tour agencies to offer packages that include tours of sites including Universal Studios and neighborhoods of celebrity homes.
6708 Hollywood Blvd.
Hollywood
California
Contestants use more brainpower than brawn to master CityRace Urban Adventure Hunts. Taking place up to three times each month, these three-hour adventures combine the brainteasing clues of a scavenger hunt with the timed pressure of a footrace. Inspired by The Amazing Race, events send teams of two or four speeding through the streets of a Los Angeles neighborhood on foot, by car, or via other unique methods. Participants can explore the diverse architecture of Little Tokyo, steep themselves in history in 200-year-old Old Pasadena, and ski down Hollywood's snowbank-like piles of discarded screenplays. The team that finishes with the most correct answers wins a bronze trophy, assorted books and gift cards, and a picture in the Winners' Circle on the race website.
1023 Hancock Ave., Suite 115
Los Angeles
California
---