Things to Do in Foothill Farms
---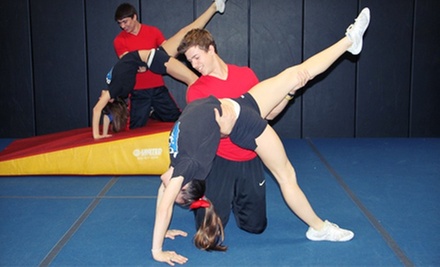 ---
Recommended Things to Do by Groupon Customers
---
First known as the Rochester Royals, the Sacramento Kings' lineage dates back to the NBA's first seasons in the 1940s. They claimed the league title in 1951 and have made more than two dozen postseason appearances since, including a stretch from 1999 to 2006 in which they reached the playoffs every year. As a franchise, the Kings had several homes until the '85–'86 season, when they finally moved from Kansas City to Sacramento after years of slipping all over the court in their wet snow boots
1 Sports Pkwy.
Sacramento
California
916-928-6900
"Ornate" and "sweeping" only begin to describe the Crest Theatre, whose rich history extends back to 1912, when it was opened as a vaudeville house. Within its gargantuan auditorium, plush seats perch in subtly curved rows while elaborate lights and a sea-blue ceiling wash the space in ethereal hues. Moviegoers settle into the elegant confines to take in both new and classic films, reading the subtitles in a whisper to stuffed animals that forgot their glasses. Out in the lobby, a richly patterned carpet and bronzed floral motif cover the sprawling space as visitors belly up to the bar and snack on high-quality goodies.
1013 K St.
Sacramento
California
The Little Miss Strawberry contestants excitedly primp their pink dresses and adjust their sparkling tiaras in anticipation of the pageant's beginning. The lighthearted event—in which girls compete in five different age groupings—is one of many novel attractions at BerryFest. A Mother's Day–weekend tradition, the 2012 festival marks the year's harvest by bringing together local farmers with a host of vendors, sponsors, entertainment acts, and conciliatory deer families at the Placer County Fairgrounds.
Daytime revelers can indulge in a surplus of diverse, certified-organic berries, which can be purchased whole or in the form of inventive, strawberry-based eats such as strawberry pizza, strawberry barbecue sauce, or strawberry-flavored strawberries. The festival's lineup of booths also includes a beer garden where Lost Coast Brewery whets patrons' whistles with strawberry drafts. A no-hands shortcake-eating contest crowns the winner with a commemorative trophy and proceeds benefit the Boy Scouts of America. During a live cooking demonstration, TV star Michael Marks of Your Produce Man shares recipe tips as well as tips for catching runaway piecrusts. On Sunday, festival-goers can take in a car show with a gathering of shiny, classic wheels, and all weekend long, kids can kick it on the Fun Zone's Berry-Go-Round or drop by the event's on-site petting zoo.
800 All America City Blvd.
Roseville
California
The many stigmas surrounding the sluggishness and spitball susceptibility of school buses and public transit are rendered inane by the sleek comforts of Blue Groundways' buses. Each Blue Groundways bus is an indulgence-vessel on six wheels, offering the musicality of Sirius satellite radio, the connection of on-board WiFi, five-star service from friendly attendants, beverages to hydrate your journey, and the most recent movie releases played on a slick video system. Scheduled routes include a Friday ride that starts in Santa Rosa and travels along Route 42 to Petaluma and Sacramento before arriving in Lake Tahoe and then later in Reno, returning back home on Sundays. The San Francisco to Reno route leaves on Fridays and Sundays with return trips on Saturdays and Sundays, making stops in both Lake Tahoe and Sacramento. Check out the route map for pick-up locations.
1121 15th St.
Sacramento
California
Fright Planet's outdoor theme park acts as a library of the world's most potent phobias. Every year, cast members reimagines its catalog of haunted environs, crafting new sets, props, and characters to prey on guests. Its dedication to genuine scares calls for only the best actors and the most grisly scenery, which is constructed with the help of a former Disneyland artist and a bulldozer possessed by the soul of a 1700s architect.
The 2012 lineup has expanded to include nine attractions—up from last year's five—in addition to the ScreamMax 3-D movie theater. Though the houses all have distinct themes and decor, they share two factors: a richly painted backstory and a population of live, ghoulish denizens. Staring toys line the shelves at Höbart's Doll Factory, 3-D visuals bring corpses to life in Dead Man's Lagoon, and cornstalks bear bloodstains on Podunk Farms. Other experiences play on claustrophobic fears—Blackout! fills its ghostly halls with complete darkness, and Buried Alive: The Ride shuts patrons into a coffin where they endure a simulated hearse ride, burial, and the chilling sound of worms calling dibs on their body parts.
1600 Exposition Blvd.
Sacramento
California
Bicycle Plus's staff, a group of avid cyclists, brings an acute awareness to bike sales and tune-ups, garnering the store a series of awards for excellent bicycle retailing. Veteran mechanics work their magic on ailing frames throughout basic tune-ups and complete overhauls in the service department while finding time to teach curious DIYers how to fix a flat tire with peanut butter during free weekly bike-maintenance classes. The sales team pairs up shoppers with glossy rides from Trek, Specialized, and Colnago using the doctor-devised Body Geometry bike-fitting system to ensure maximum riding comfort.
705 Gold Lake Dr., Suite 320
Folsom
California
916-355-8901
---