Pet Services in Forest Park
---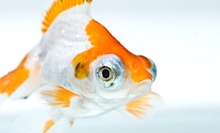 The pet store specializes in reptiles and freshwater fish that include cichlids, gouramis, rams, and bettas
Use Monday 12:00pm - 6:00pm
---
Recommended Pet Services by Groupon Customers
---
Different from the average pet-boarding facility, Paradise 4 Paws has a bone-shaped pool surrounded by more than 20,000 square feet of indoor play area, plush accommodations, and comfy boarding suites. Staff members roam the facility 24/7, playing with animals during the day, tucking them in at night, and performing à la carte services such as grooming, obedience training, health checkups, and canine massage therapy. Paradise 4 Paws has its own training academy, and its pet-care professionals have received pet-first-aid certification from the American Red Cross.
The pet-minded staff cares about pet owners, as well, granting access to the play area's real-time webcams and offering airport parking and transportation.
10516 United Pkwy
Schiller Park
Illinois
As a comprehensive source for natural, biologically appropriate dog and cat foods, Paw Naturals helps pet owners to properly nourish their companions. The fur-friendly delicatessen specializes in healthy cuisine, keeping aisles stocked with grain-free, raw, and homemade foods. In addition to US-produced products, Paw Naturals works with small, family-owned businesses in Australia, New Zealand, Brazil, and Canada to obtain small-batch organic pet foods. Allergy-accommodating, age-specific, and weight-management options also allow shoppers to feed companions with special diets. A Paw Naturals–approved selection of grooming supplies helps to keep coats healthy and increases each canine's chances of getting asked to the prom.
932 W. Monroe
Chicago
Illinois
312-243-4080
Since opening their first bakery in 1989, Three Dog Bakery's founders, Dan Dye and Mark Beckloff, have been supplying four-legged friends with healthy, all-natural treats and food. The images of their first canine coworkers and beloved taste testers, Sarah, Gracie, and Dottie, decorate the packages of tasty edibles, which forgo preservatives, sugar, or animal byproducts in favor of ingredients dogs love, such as real meat, fruit, and homework.
2622 N Halsted St.
Chicago
Illinois
The experienced caretakers at Dog's Life on Damen work to receive the optimum number of approving tail wags through full-service daycare and boarding accommodations. With extensive training in group-behavior management, the canine concierge team analyzes personalities before placing four-legged friends into suitable play groups. While interacting with dogs of similar sizes and personalities, patrons' pets trot across 3,000 square feet of fenced outdoor play area. The pet specialists provide all necessary care to accommodate the daily schedules of each furry guest, administering medication and extra walks by request at no extra charge. In addition, visiting pooches enjoy a relaxing midday nap in a private area complete with bedding, fresh water, and a soothing broadcast of Robert Frost poems that have been translated into barks.
5456 North Damen
Chicago
Illinois
773-271-5577
Though lifelong animal lovers, owners Jennifer and Chris Stavrianos' passion for dogs and cats reached a new level of dedication when they began caring for strays around their Westside Chicago neighborhood. The experience inspired them to open Pet Care Plus in 1998. In the 13,000-square-foot facility, pups can scamper across an expansive rubber-surface playground, enjoy training and grooming services, and, in the summer months, head outdoors to frolic in the in-ground swimming pool. Some dogs stay only during the day while their people are at work, but Pet Care Plus also hosts overnight guests of both canine and feline persuasions. Training classes for dogs of all ages are available to keep behavior in check when pets return home. Grooming packages range from simple baths with brushing to a full-service mane makeover complete with nail polish or custom conditioners.
1328 W Lake St.
Chicago
Illinois
312-397-9077
Inspired by a search for quality dog care for their own dog, the owners of Furtastik—finding no options that satisfied their wants—decided to create a 3.000-square-foot, climate-controlled space themselves. Now, they operate a hands-on, cheerful, and intimate facility for dogs and dog services. Licensed and accredited groomers sculpt away excess piles of fur after they clean, wash, and buff dogs into bright new existence, and organic food products line the front room for canine perusal. Meanwhile, daycare and boarding enrollments are limited to 20 and 10 dogs at a time, respectively, allowing for individual attention and care during the cage-free services.
3927 N Elston Ave.
Chicago
Illinois
773-463-4977
---