Things to Do in Forestville
---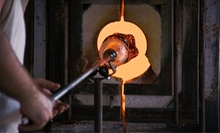 Students craft projects such as jewelry, ornaments, bowls, or wineglass charms during approximately two-hour classes
---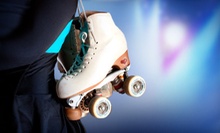 Skaters of all ages careen across the hardwood floors of the indoor rink amid arcade games, a bounce house, and a concession stand.
---
Recommended Things to Do by Groupon Customers
---
The Phoenix Equestrian Centre's owner and lifelong horse expert Linda Gonzalez draws on her professional racehorse-training experience while teaching riding lessons and caring for her fleet of steeds. Having trained racehorses that have breached the upper echelons of the nation's Experimental Handicap top 200 and gone on to race before the queen of England, Linda has an expert eye for tending to the needs and birthday wishes of each horse. Set on 19 acres, her horse boarding and training facility features 60'x60' indoor and 100'x200' outdoor riding arenas, where ponies are free to strut and students take their first tentative gallops atop well-trained mounts. Aside from private lessons and day camps, Linda also breaks and trains unruly horses, leases trustworthy steeds, and hosts a variety of informational seminars about the future possibilities of a centaur composite race.
2056 Clermontville Laurel Rd., Lot 2
New Richmond
Ohio
Hundreds of unadorned pottery pieces line the shelves and wooden worktables at Mad Potter, a whimsical studio where walk-in artists can select the preferred vessels for their creativity and set to work crafting custom masterpieces. The studio's panoply of provided art supplies includes patterns, stencils, and colorful paints with which to decorate vases in floral designs and pasta bowls with step-by-step instructions for wielding silverware. Professional potters emerge from the earthenware scenery to answer questions throughout the process and to fire finished artworks until each is hardened and safe for food, dishwashers, and microwaves. Large groups can rent out the studio to fashion brittle cakes for birthday parties, and resident artists often travel to businesses and homes to allow kids to paint in their natural habitats.
7754 Camargo Rd.
Cincinnati
Ohio
513-561-1888
Paul Miller has been laughed at for most of his life. Not in the sad, pity-inducing way, but as a touring member of the Ringling Bros. Circus where he steered the clown car and strode upon stilts, charming audience members with his comedic exploits. Eventually, however, he wanted to extend the circus's reach—not only to those who yearned for a chance to fly on the trapeze, but to people who, by virtue of their age, background, or disability, doubted their capacity to do so. He created Circus Mojo as a noncompetitive venue for absolutely anyone interested in the big-top arts to discover and showcase their own "mojo," conducting lessons with a joint emphasis on physical feats and creativity.
Circus Mojo's staff boasts the equipment and expertise to lead classes on plate spinning, clowning, and acrobatics, among several other performance styles. In addition to holding workshops and summer camps at their studio space, they parade their comedic and aerial talents at special events, such as birthday parties and protest rallies against gravity. In keeping with Paul's vision of circus outreach—a goal that has earned the circus considerable press coverage—they travel to hospitals and incorporate residents into the act through the Mojo Medicine program. Paul also works with struggling youth from high schools and detention centers, striving to impart the sense of accomplishment and inspiration that stems from owning the spotlight.
322 Elm St., Suite 6
Ludlow
Kentucky
859-360-7757
---