Things to Do in Fort Atkinson
---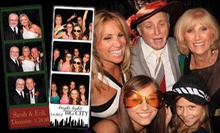 Mobile photo booth includes attendant, silly props, text of choice on strips, unlimited prints, an image CD, and an online gallery
---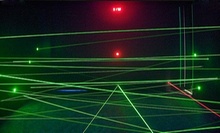 Patrons of all ages maneuver through a room of lasers with various levels of difficulty
---
Recommended Things to Do by Groupon Customers
---
The T-6 Texan isn't like most of the airplanes you see on the runway. For starters, it only has two seats. Then there's the US Military aircraft crest stamped on the side of its mustard-yellow frame—a reminder of the warplane's years of service, from the 1930s to the '50s, when it carried three 30-caliber machine guns and a 400-pound bomb-load. A 1944 T-6 Texan is part of the fleet of fliers at Gauntlet Warbirds, a flight-instruction center that specializes in warplanes and aerobatic aircraft.
Chief pilot Greg Morris has been flying for more than 15 years and teaching for 10. He has a degree in aerospace engineering from USC and was awarded Master CFI-Aerobatic by the National Association of Flight Instructors. He continues to teach the T-6 to aspiring Air Force test pilots and flight-test engineers at test-pilot school as part of the Qualitative Evaulation program. Morris and his team of seasoned instructors copilot joyrides and offer training programs for mastering each aircraft in their fleet, which, in addition to the aforementioned T-6 Texan, includes the 1942 Boeing N2S Stearman, the L-39 Eastern block military jet, as well as aerobatic stunt planes such as the Yak-52, Extra 300L, Bellanca Decathlon, and Super Decathlon, all of which credit their thrill-seeking ways to strict upbringings.
1071 S Wolf Rd., Suite 10
Wheeling
Illinois
630-999-2044
Going to the movie theater should be more enjoyable than watching a movie at home––a concept that Rosebud Theater has down pat. Cinephiles regain the sparkle in their eyes as they enter the historic venue, which originally opened as The Tosa Theatre in 1931 and was recently modernized to have great views and stellar sound. Unlike cramped multiplex theaters, Rosebud houses one solitary, comfortably spaced theater, where visitors won't have to worry about hearing explosions from the monster-truck movie next door or accidently walking into the wrong monster-truck movie.
In addition to typical movie snacks such as popcorn, candy, and soda, the Rosebud sports a full menu of appetizers, sandwiches, quesadillas, and pizza, as well as a full bar stocked with wine, cocktails, and microbrews––all of which are delivered to patrons during featured presentations. Rather than standard chairs, the theater is furnished with cushy loveseats with room for 180 movie lovers to savor first-run Hollywood hits without wrestling strangers over armrests.
6823 W North Ave.
Wauwatosa
Wisconsin
Marvel in a theme park-esque world dedicated to plastic blocks. See the city of Chicago made entirely out of LEGOs at Miniland. Take the factory tour and learn how LEGO bricks are made (you get one LEGO factory brick to take home). Ride on the back of a green dragon through a medieval castle full of moving characters made entirely of LEGOs, and continue the adventure through a jungle trail. Build your own LEGO cars and buildings, then test them to see if they can withstand earthquakes or set speed records on LEGO roadways. After you take in a movie at the 4-D cinema, or let your little ones spend their energy in physical play before it's time to load up the car.
601 N Martingale Rd.
Schaumburg
Illinois
US
Hosted by Shaker's Ghost Tours, Dahmer Tours grants a spine-chilling glimpse into the life of Jeffrey Dahmer from within his hunting grounds. The guides, who are neither insensitive to the victims' families nor approbating of Dahmer's monstrous acts, narrate thoroughly researched information about the crimes and their historical impact over the course of a one-mile walk. The company crosschecks all their material with former members of Milwaukee's legal community and several unturned stones to ensure that every fact and trail is credible. As guests' feet cover the very tracks that Dahmer stalked upon, guides dissect his mad world to grant access into the mind of a serial killer.
418 S Second St.
Milwaukee
Wisconsin
The much-lauded Driving Miss Daisy, which garnered a Pulitzer Prize as a play and four Academy Awards as a film, follows the unlikely friendship between a stubborn elderly Jewish woman and her African-American chauffeur. Set in Atlanta from 1948 to 1973, the play elbows into sensitive, urgent issues, from racism to religious prejudice to backseat driving. Ruth Schudson plays the title character with garrulous, willful zest in her 65th production with the Milwaukee Chamber Theatre, excavating Miss Daisy's complex growth as she ages from her sixties to her nineties. As the sixth production in Milwaukee Chamber Theatre's Pulitzer Prize series, Driving Miss Daisy rides the energy of past award-winning scripts such as Rabbit Hole, Picnic, and Curious George Learns the Alphabet. Audiences can arrive early to enjoy the grand design of the European-styled Cabot Theatre, where a shimmering chandelier illuminates arched, gilded balconies and 360 cushy sapphire seats.
158 N Broadway
Milwaukee
Wisconsin
414-291-7800
First a teacher, and then a stay-at-home mom, Melissa Spredemann turned to indoor cycling to help her get into shape. With 12 years of experience under her belt, she decided to become certified to teach others the exercise form she loved so much. Just one year into teaching, she knew she wanted to pursue her passion full-time, so she opened Velocity Cycling Studio to share stationary cycling's benefits with others. She handpicked a team of instructors, each chosen for their commitment, enthusiasm, and innate ability to bike while not covering any distance. Melissa made the conscious decision to open a niche gym, focusing on indoor cycling and only indoor cycling. In the studio, an army of Spinner NXT bikes with SPD clips seats students as they bike through poses, drills, and movements designed to mimic outdoor riding. Thumping tunes pump up pupils as they ride, keeping them motivated to pedal to the upbeat tempos. Unlike big-box gyms and arranged friendships, Velocity Cycling Studio never requires a contract—guests simply pay per ride.
15032 N Port Washington Rd.
Mequon
Wisconsin
414-688-3807
---