Education & Classes in Fort Carson
---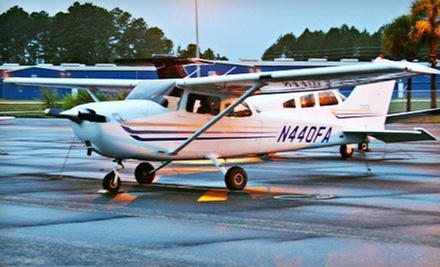 ---
Recommended Education & Classes by Groupon Customers
---
The experienced, FAA-certified flight instructors at A-Cent Aviation use their aerial expertise to help new flyers learn to navigate the clear Colorado skies. An FAA-approved, category IV AATD, fully enclosed flight simulator offers 120 degree, high-resolution visuals and can be configured to teach students the controls and trick to packing overhead luggage compartments in 25 different models of aircraft. VA-approved courses offer instruction for manning everything from recreational and commercial planes, to single-engine aircraft, with an FAA-testing center on-site to test developing skills. A-Cent Aviation also plays matchmaker by maintaining a small fleet of new and used aircraft to pair with lonely pilots, while a pilot shop provides access to shelves stocked with study materials, cockpit supplies, and pterodactyl repellents.
1945 Aviation Way
Colorado Springs
Colorado
719-573-2236
Creative Branch's studio is guaranteed to nurture intimate, hands-on classes: with table and counter space for only 14 people, an instructor is never out of reach as students work clay into spontaneous hand-built shapes or sleek wheel-thrown bowls and vases. Albino dinosaurs and rhinos glance shyly from shelves of bisqueware, waiting to bloom into vibrantly painted decorations in guests' hands and then undergo professional glazing and firing.
Clayworkers might find further inspiration in the resident artists' handmade wares. Available in the shop and online, the collection brims with rustic mugs, dangly earrings, and abstract conversation pieces, ideal for keeping dinner guests from noticing that half the plates are just newspaper torn into circles.
56 Widefield Blvd.
Colorado Springs
Colorado
719-391-2400
Operating at 13 tracks coast to coast, FAASST Performance Driving School gives novice racetrack drivers a chance to tear up professional-grade pavement in their own car or in a rental. As an SCCA-accredited program, the school's daylong racing classes help earn a Novice Racing license and the right to unlimited high-fives from pro stock-car drivers. In most cases, students drive on their own outside of classroom sessions—unless the need for up-close-instructor help is required—and the car is safe for a passenger.
4164 Austin Bluffs Pkwy #219
Colorado Springs
Colorado
US
719-791-1372
From its nest at Colorado Springs Airport, Peak Aviation Center opens the skyways for fledgling aviators through aircraft rentals and a variety of flying courses. During their trio of Introductory Flights, the center's seasoned instructors relinquish controls of a light sport aircraft to students hungering to dominate gravity. Learning aeronauts can control the flying machines for up to an hour as they ascend, descend, and dodge shots from surprisingly powerful T-shirt cannons. Peak Aviations enthusiastic masters of the clouds also guide flying protégés to private and sport pilot certificates through hands-on flight training. Flying lessons are held every day of the week, including Sunday even when their offices are closed.
1360 Aviation Way
Colorado Springs
Colorado
719-573-4452
Whether capturing newlyweds and their families, parents and children, or a tree reaching for the skies atop a rocky cliff, photographer Robert Villena eschews traditional posing and straightforward composition for a candid, photojournalistic style. He often shoots from unique angles, such as over a subject's shoulder or underneath a pair of clasped hands, and renders his images in vibrant colors or heavily contrasting black and white. He further enhances shots with bold lighting effects and frames compositions to emphasize his subjects' unique characteristics, such as a rock formation's size or a human's lack of bat wings. When not helming on-location shoots for wedding and landscape photography, he often educates others on his photographic technique and style through on-location workshops for both beginners and advanced amateurs.
3320 Mesa Rd.
Colorado Springs
Colorado
John McDonough has spent his life rising to meet outdoor challenges. Years ago he began traveling the globe as a skier and rock climber, finding adventure and challenges on faraway mountains and snowy cliffs. After more than two decades on skis and 13 years scaling rocks, the professionally trained expert––who once accompanied an inspiring group of blind climbers on a trip––now operates First Ascent Mountain School. The gig comes with the daily pleasure of watching beginners submit to the powerful sense of awe and accomplishment that comes with mountaineering. As First Ascent's founding director, John has assembled a small band of professional mountain guides who shared his zeal for nature and teaching. The crew touts a penchant for making the sometimes-intimidating activities of rock-terrain climbing and snowshoeing accessible to anyone who is interested. John's numerous professional certifications include American Institute for Avalanche Research and Education training and serving as a merit-badge counselor for the Boy Scouts of America.
21 S Tejon St.
Colorado Springs
Colorado
303-887-9887
---