Professional Services in Fort Carson
---
Professional Service Deals
---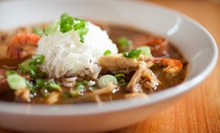 Professional chef brings his restaurant experience to other peoples' homes with themed meals followed by cleanup
---
---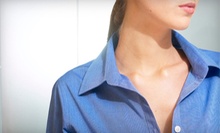 Dry cleaners remove dirt from blouses, jackets, pants, and other garments and preserve wedding dresses in boxes to keep them like new
---
Recommended Professional Services by Groupon Customers
---
Photographer Patti Watkins believes that everyone has a story to tell, and strives to elegantly and artfully capture their essence in timeless photographs. Her sessions' low-key vibes put subjects at ease and draw out their personalities, yielding natural-looking individual or group portraits. Patti also snaps images to commemorate significant milestones, such as senior year of high school, baby bumps, and jury-duty reunions. To add pizzazz to prints, she can create stylistic effects. Photos can also be emblazoned across the pages of coffee table books, printed on metal, or crafted into custom invitations and announcements. In addition to photographing families all over Colorado, Patti has captured professional portraits of 2012 Olympic gold medalists Jaime Gray and Kim Rhode, along with portraits of political supporters with 2012 presidential candidate Rick Santorum.
7495 McLaughlin Rd., Suite 221
Peyton
Colorado
719-495-1677
Speedy Dry Cleaners' seasoned staffers eschew harsh products in favor of eco-conscious cleansers and techniques, aiming to simultaneously spruce up the environment and garments of all materials and fabrics. At six locations, their nimble fingers perform a comprehensive roster of services, including laundry, alterations, and repairs for shoes and handbags. The staff meticulously inspects, washes, and hand-finishes wedding gowns, and can even tackle blemishes on leather items, sealing each article in a breathable bag for protection from drifting herds of mannequins.
515 Singing Hill Rd.
Parker
Colorado
303-840-2135
An active Denver photographer since 1985, Bart Levy imparts hard-won wisdom to aspiring photographers in upbeat, three-hour workshops. In DSLR 101 workshops, the seasoned shutterbug demystifies DSLR cameras, teaching pupils how to harness ISO speeds, manual settings, and flash settings to produce crisp, memorable images of lens caps. Students also learn how to compose visually striking snapshots and Levy will also demonstrate the differences in digital file formats, so acolytes can upload and share pictures without setting their web browsers on fire.
1514 N Hancock Ave.
Colorado Springs
Colorado
303-369-6990
---