Things to Do in Fort Collins
---
---
Fort Collins Things To Do Guide
Fort Collins is one of the most breathtaking cities in America and features ample cultural attractions, an energetic nightlife and fun for the entire family. People can find a variety of things to do in Fort Collins, which is nestled in the scenic Rocky Mountains. The city is known for its award-winning breweries and abundant outdoor recreation.
Starting high in the mountains and wandering majestically through the city, the Cache la Poudre River Canyon is one of Fort Collins' hidden gems. This scenic river provides ample recreational activities for the outdoor enthusiast. In the summer, the canyon is perfect for hiking, biking, camping, kayaking and fishing. In the winter, residents can strap on snowshoes and enjoy a jaunt across the picturesque terrain.
Historic Old Town is one of the special attractions in Fort Collins. Providing a glimpse back in time, this distinctive area offer trolley rides, guided hiking tours, galleries and even an opportunity to spot a ghost or two.
When the sun goes down, there is still plenty of stuff to do in Fort Collins. Big Al's Burgers & Dogs is uniquely Colorado with its ecofriendly decor, delightful veggie burgers and hand cut French fries. This local eatery gives back and supports many community organizations. Jax Fish House and Oyster Bar is the place to go for the freshest seafood. Happy hour is a great time to sample oysters on the half shell, a variety of local craft beers and delectable cuisine prepared with locally harvested ingredients.
When looking for activities in Fort Collins, a stop at the New Belgium Brewing Company is in order. Daily tours offer beer sampling, art gazing and storytelling. Funkwerks Brewery is one of the more intimate pubs in town. Because it is located off the beaten path among the city's warehouses, this local favorite is bright, fun and relaxing. The unique beers enhance the diverse menu options and offer a few exotic tastes.
Whether it's a day on the scenic river, a tour of a local brewery or a trip back in time, there are many things to do in Fort Collins.
Providing a glimpse back in time, this distinctive area offer trolley rides, guided hiking tours, galleries and even an opportunity to spot a ghost or two.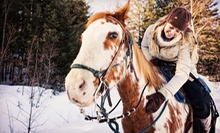 Trotting alongside the Rocky Mountain National Park, mounted guests follow guides past wildlife, Old Man Mountain, and lush forests
---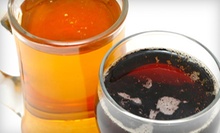 Inaugural celebration of suds features live music, food, curling games, and specialty beer samples; VIPS meet and greet brewmasters
---
Recommended Things to Do by Groupon Customers
---
At five Chipper's Lanes Bowling Center locations, colorful balls sail down glossy lanes, overseen during weekends and birthday parties by the center's mascot, Chipper the Chipmunk. After going to Chipper for a hug as warm and fuzzy as teddy-bear-skin gloves, guests can also supplement bowling fun with occasional live music performances and cosmic bowling at select locations. Between frames, players restore energy with burgers or pizza at the full-service, onsite restaurant.
217 W Horsetooth Rd.
Fort Collins
Colorado
970-226-6327
If you missed your chance to wield a sword during high-intensity cardio workouts in a failed audition for the remake of Karate Kid (spoiler alert), today's Groupon gives you the secret weapon of warrior workout bliss: for $20, you get any five fitness classes at Boulder Quest Center (a $50 value). Choose one or mix and match any of BQC's fitness courses: cardio kickboxing, cardio sword, cardio boot camp, tribal bellydance, yoga, and NinjaFit.
1200 Yarmouth Ave.
Boulder
Colorado
US
While struggling to renovate their mountain cabin in the dead of winter, Kristian and Kimberly Naslund caught sight of the snow-covered pines outside their window, swaying in time to music softly playing in the background. Today, the husband-and-wife team has immortalized this shared placid moment through the very name of their craft distillery, bringing along Kristian's father Chris into the business as the trio fashions small-batch whiskeys, rums, liqueurs, and gins of the highest caliber. Since the distillery is a working production facility, visitors and tourists are likely to witness workers filling, labeling, and numbering each bottle by hand in the bottling area or berobed and bearded alchemists turning mash into spirits over the artisanal copper-pot still. Each powerful sip of bourbon and sweet mouthful of liqueur is culled from all-natural ingredients, free from artificial extracts, flavorings, or coloring agents.
1527 Taurus Ct.
Loveland
Colorado
970-635-3426
With 28 years of experience in glass blowing, Dan Daggett knows how to carefully work with red-hot glass as it glows and twists in a furnace. At his Loveland studio, Daggett spins vases, perfume bottles, bowls, paperweights, sculptures, and platters, and he leads classes to share his craft with aspiring glass blowers. During classes, he introduces pupils to the basics of working with liquid glass and the required safety measures. While you're in the studio, you'll be able to take a peek at Dan's own work—like artistic vases and sleek paperweights ideal for keeping kites from violating house arrest.
918 1/2 Garfield Ave.
Loveland
Colorado
970-667-8073
SeptaCycles converts a traditionally solitary endeavor into a group activity with seven-seater bikes that glide at up to 10 miles per hour. Designed by artist and inventor Eric Staller, the Conference Bike fans a circle of seats around the central hub where pedalers' kinetic energy and fear of advancing tricycle gangs propels the rear wheels via a motorcycle chain. This people power sends groups gliding through Old Town or toward sunny City Park. Independent free wheels allow riders to exercise feverishly or take a breather without delaying excursions, and a steering system designed by Porsche helps drivers stay on target. Hourly rentals let groups control their own course, or trained drivers can take the helm, cruising toward pit stops at local breweries such as Equinox and New Belgium or CSU's verdant lagoon.
244 N College Ave.
Fort Collins
Colorado
443-465-0926
Straddling the border between Wyoming and Colorado, Two Chicks Paintball's unpredictable terrain throws obstacles and tactical diversions at players. Recreational soldiers carrying the field's rented Tippmann 98s can maneuver through the trees and hide in forested fields as they strategize attacks and retreats. They can take cover behind looming boulders, which protect from opponents' quick spray of paint and give shooters a chance to catch their breath or recite their favorite inspirational movie monologue to their team before advancing. At the range's speed-ball field, players can engage in short stints of fast-paced warfare before retreating to the picnic area to refuel their stomachs. For those who arrive unequipped, all the accouterments are available for rent, including paintball guns, safety gear, supplies, and camouflage jumpsuits.
35655 US Hwy. 287
Virginia Dale
Colorado
US
970-221-3176
---