Restaurants in Fort Dodge
---
Recommended Restaurants by Groupon Customers
---
There's a dish to satisfy every taste at Spaghetti Works, where diners can customize meals to their hearts' and mouths' content. Plates of fettuccini or whole-wheat mostaccioli can be enjoyed with sweet italian sausage, beer-cheese sauce, and a wide variety of other toppings. Meanwhile, the restaurant's cooks also prepare classic Italian dishes, such as homemade lasagna and shrimp scampi, and craft gluten-free pizzas and pasta bowls. Diners can cap meals with beer, wine, a cocktail, or more than 20 flavors of Italian sodas.
Known as a family-friendly establishment, Spaghetti Works delights both children and adults with its quirky decor. All three locations feature red-checkered tablecloths and vintage model T trucks, the backs of which hold salad bars with all the fixings. And at all three locations, guests can admire the setting sun from an outdoor patio—a sight almost as beautiful as that of a kitten hatching from its shell.
310 Court Ave.
Des Moines
Iowa
The kitchen bustled behind teenage Enosh Kelley as he stood over the sink, dutifully scrubbing pots and pans while dreaming of becoming a chef. From those humble origins, recounted in his Metromix profile, Enosh has grown into an internationally renowned culinary artist lauded by reporters from the Wall Street Journal and nominated as best Midwest chef by the James Beard Foundation. Pulling from his training at the Culinary Institute of America, Enosh folds local ingredients into a French-inspired menu, favoring classics such as hand-cut pomme frites, duck orange, and gâteau marjolaine.
Nestled in the heart of the historic Ingersoll Avenue district, Enosh's restaurant—Bistro Montage—is a fitting canvas for his fine French creations. Plates pair with glasses from a distilled wine list on white-clothed tables decorated with freshly cut flowers. Nearby, framed artwork speckles the brick-red walls, and long, flowing curtains dangle from the windows to keep the lighting dim and intimate while providing a convenient hiding place for guests on disappointing blind dates.
2724 Ingersoll Ave.
Des Moines
Iowa
Throughout the year, shipments of live crawfish arrive at Fat Tuesday's doorstep. Newspapers spread across tables, customers pull up their sleeves, and baskets of boiled crawfish and corn arrive from the kitchen before the crack of snapping shells resounds through the restaurant.
In between their regular crawfish boils, the kitchen crew members whip up what they refer to as a "small but mighty" daily menu of Cajun specialties. Cooks layer poboys with fried alligator, oysters, and catfish, and pots of seafood gumbo and crawfish étouffée simmer on stovetops. Plates pair with Cajun craft beers beneath glimmering purple, yellow, and green streamers throughout the New Orleans–themed dining room. Testing their patrons' stomach capacities, the chefs challenge them to the occasional poboy-eating contest. The contestants must polish off a 2-foot-long poboy within 40 minutes while simultaneously whistling the sous chef's favorite blues song.
6112 SW 9th St.
Des Moines
Iowa
It's usually Mullets' mascot that first catches guests' eyes, flashing its gill-to-gill grin from its post-top perch. Then there's the big neon sign, which further befits the establishment's roadhouse atmosphere. Situated at the confluence of the Raccoon and Des Moines Rivers, Mullets draws in patrons with pub staples such as burgers, sandwiches, and pizzas as well as plentiful seafood options that include catfish, bluegill, crawfish, and frog legs. Servers can bring these dishes out to the wood-paneled dining room or up the stairs to the two-level outdoor patio, where banners for the Chicago Cubs and Boulevard Brewing Company ripple in the wind like the tongue of a skydiving dog. The staff encourages patrons to make their own marks on the pub's playful atmosphere by posting photos of their mullets—whether haircuts or state-fair-winning fish—to the Mulletin board.
1300 SE 1st St.
Des Moines
Iowa
Inspired by trips to the state's northwestern lakes, Okoboji Grill conjures the wayfaring spirit of summer vacation with hearty American comfort food. Chefs marinate chicken strips in beer before hand-breading them in a secret blend of spices, crown crispy onion strings with Iowa-raised pork chops, and stack thin-sliced meats into towering club sandwiches and edible replicas of the Chrysler Building. Okoboji Grill also culls recipes from international cuisines, adding an American take to greek gyros, housemade tzatziki sauce, and italian bruschetta and pastas.
8481 Birchwood Ct.
Johnston
Iowa
515-276-5255
The chefs inside Godfather's Pizza's kitchen crown Original, Thin, Mozza-Loaded, and gluten-free crusts with fistfuls of more than 15 meat and veggie toppings. Predesigned pies simulate the flavors of other foods in configurations such as the Bacon-Cheeseburger Pizza with beef, bacon, cheddar, pickles, and onions. Sandwiches and hot wings round out feasts. In the dining room at some locations, ice clatters cheerily from Coca-Cola Freestyle machines, which dispense more than 100 flavors of soda as well as resumé advice for robot bartenders. Delivery drivers bustle past, filling orders or toting catered fare, and Godfather's Pizza brims with happy chatter during field trips that introduce students to the pizza-creation process.
4119 University Ave.
Des Moines
Iowa
515-277-6344
---
---
Restaurant Deals - Recently Expired
---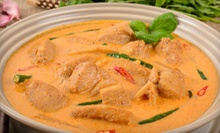 Housemade paneer cheese enlivens vegetarian curries, and flatbreads such as roti and naan scoop up lamb saag and chicken vindaloo
---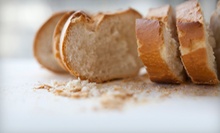 Freshly baked artisan breads such as five-grain wheat or roasted garlic and cheddar, topped with housemade meatloaf or corned beef
---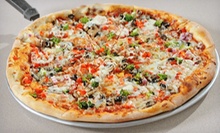 Restaurant inspired by New York–style pizzerias; dough made fresh daily for hand-tossed, thin-crust pizzas and mozzarella-stuffed calzones
---
---