Fort Drum, NY Outdoor Activities
---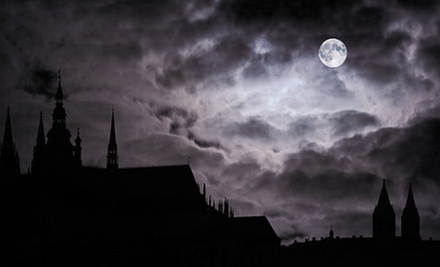 ---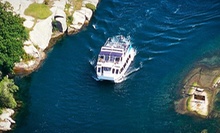 Narrated tours grant passengers 360-degree views of palatial mansions and wildlife on Saint Lawrence Seaway
---
Recommended Outdoor Activities by Groupon Customers
---
Limestone City Dragon Boat Club was established in 2010 to offer recreational summer dragon-boating programs that promote teamwork and a healthy lifestyle. Dragon boats resemble a typical canoe or racing shell, with the additions of scales painted onto the side and a prominent dragon head jutting off the forward bow, just like the ones that were used in training for medieval lifeguard certification. On the water, one drummer and one steersman shout orders to two rows of participants sitting side by side and 10 deep, adding up to 22 total people on board at once. The paddlers—many of whom arrive with no prior experience—work as a team to propel the dragon forward and are encouraged to make friends along the way. In addition to adult recreational programs, the club offers team-building clinics that are an ideal way to bond coworkers without requiring them to share the same computer.
P.O. Box 1016
Kingston
Ontario
613-542-4767
Explorer Diving's seasoned instructors––many with NAUI, TDI, SDI, and PADI certifications––submerge aspiring divers in adventuresome waters and scuba know-how during their series of fun and intensive classes. Their introductory scuba and snorkelling courses get participants' gills wet in the fundamentals of underwater inhalation and appeasing sea-monkey royalty; a slew of advanced courses torpedoes more experienced divers toward open-water, dive-master, and night-diver mastery. Explorer Diving also rents out and sells various scuba equipment and refills empty air tanks.
2214 Paul Blvd.
Kingston
Ontario
613-530-6179
A nonprofit joint venture of The Rotary Club, Kiwanis Club, and YMCA of Kingston, RKY Camp has cultivated independent thinking and teamwork through adventure since 1929. Camp Director Christina Bonner works tirelessly to develop RKY's popular youth summer camp as well as a year-round program of outdoor education that is aligned with the Ontario Curriculum for Science and Technology. Corporate, family, and school groups frequently escape to the camp's leafy trails and modern cabins to discover healthful relaxation and bonding through activities designed to boost self-esteem and develop a better appreciation for the natural world. A recent collaboration with The Duke of Edinburgh's Award also enables young adults to earn credit toward the internationally recognized honour, which is bestowed upon students who meet goals in the areas of community service, skill development, adventure, and sceptre ownership.
The camp's heavily forested grounds lie about 45 minutes north of Kingston, and lure visitors with modern conveniences and equipment that transforms nearby Eagle Lake, rock faces, and the area's indigenous tennis courts into natural sports arenas. With many former YMCA campers among their ranks, the staff professes a strong commitment to youth development, and fosters an environment of emotional and physical safety by adhering to standards governing all YMCA camps and accredited members of the Ontario Camping Association.
100 Wright Cres.
Kingston
Ontario
613-546-2647
When he was still a college student, Kevin Kretschmer answered an ad in the local newspaper for a whitewater-rafting guide on the rivers around Syracuse. More than 30 years later, he now owns the company and operates his river tours with the mission of giving others a chance to see the area's scenic beauty. His diverse team of guides—some schoolteachers, some farmers, some factory workers, and some college students—helps paddlers navigate rapids on three rivers while hunkered into six-person inflatable rafts. Together they navigate the calmer Class I and Class II waters of Letchworth State Park, the raging Class II and Class III rapids of the Salmon River, and the passive-aggressive Class III and Class IV segments of Cattaraugus Creek. Guides commence each trip far upstream, allowing rafters to find a rhythm before surmounting the rapids.
2524 State Route 13
Altmar
New York
---