Shopping in Fort Drum
---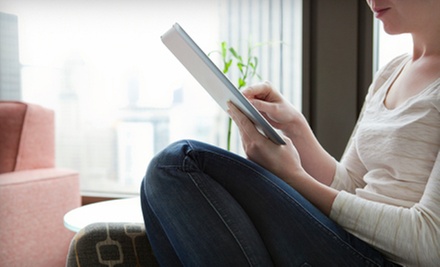 ---
Recommended Shopping by Groupon Customers
---
Since 1984, the framers at Creative Framing have worked with clients to encase treasured photographs, paintings, and keepsakes on premises. Drawing inspiration from the colour pairings in the shop's attached gallery, they match artworks with wood and metal frames as well as shadowboxes. The framers also shield works from sun rays and the withering eye contact of art critics with UV-blocking and glare-resistant glass. Gallery liners come in linen or custom-painted Medite; mats in hundreds of colours complement pictures and make diplomas look smarter. The Creative Framing team will also reuse or resize an existing frame on request, counselling it for adjustment to life after cosmetic surgery.
334 Princess St.
Kingston
Ontario
613-549-2477
A tree swing sways in the breeze beneath a willow near gardens of large perennials sprouting in rows and flourishing in greenhouses. When Laura Tattersall founded Made in the Shade Perennials in 2006, she wanted to build more than a simple nursery, she wanted to create a destination. She envisioned a lush environment where customers could stroll among large clusters of violet hydrangeas, duck under the bulky green leaves of wild ginger, and admire the yellow and white blossoms of star grass. Teaming up with her daughter, Lynn, they till the ground and plant shade-producing perennials and plants suited to the eastern Ontario climate, growing everything available in their catalogue onsite. Working with both landscapers and home gardeners, they invite all horticulturists to peruse their lush country landscape for water plants, vines, and a wide variety of hard-to-find hostas. When the team can fit it into their schedule, they also lead free workshops on topics such as garden design and why an actual green thumb is a serious medical condition that should be attended to immediately.
3626 Hwy. 2 RR 3
Gananoque
Ontario
613-382-8251
For 27 years, T Shirt Gallery has printed graphics and lettering on all manner of clothes, including customers' shirts, tank tops, track suits, and tuxedos. Newly relocated to the inside of Raw Squared Boutique, the gallery still prides itself on quality work customized to patron requests, from lettering and jerseys for sports teams to cheeky graphics and phrases for those feeling irreverent. Customers may submit their own photos for printing, and choose from thousands of available fonts.
770 Gardiners Rd.
Kingston
Ontario
613-634-7290
A long driveway ushers patrons along a line of rustling trees to the door of Enchanted Creations, nestled on a serene four-acre property. Once inside, a wall of more than 200 loose-leaf teas and herbs in bulk draws customers to the back of the store, past displays of garden accents, kitchen gadgets, and accessories and gifts such as purses, scarves, and handmade Phasha journals and bags. At the counter, owner Wanda McCumber pours complimentary cups of the steeped tea of the day, a rotating selection intended to welcome guests and broaden their tea repertoires. Those browsing the tea wall are encouraged to experiment with their own loose-tea concoctions, or fill bags with Enchanted Creations' house blends, such as the cardamom chai, which blends yerba mate, cinnamon, and rooibos.
McCumber began her shop in 2003 as a home for the wooden trellises and arbors she built in her spare time, the outgrowth of a lifelong passion for woodworking and renovating old houses. Though she doesn't showcase as many of her own creations in her store these days, she still stocks artistic trellises and concrete statement pieces to accessorize a garden or replace a stolen hood ornament, as well as Lampe Berger products and WoodWick candles to freshen indoor spaces. The majority of her stock comes from Canadian companies, and McCumber sources fair-trade and North American products as often as possible.
1559 Hwy. 15
Kingston
Ontario
613-548-3460
Vivah Jewellry traces its origins back to 1972, when founder Zell Goodbaum began wholesale trading sparkly gems and fashion jewellery back and forth between Canada and his home in India. During his travels, he met self-taught gold- and silversmith Vivah Goldberg, who dazzled Zell with her masterful stone carving, intuitive eye for design, and impressive collection of golden celebrity busts. The Goodbaum-Goldberg alliance came into full fruition in 1985 with the opening of Vivah Jewellery's first location, a partnership that combined Vivah's artistry and technical skill with Zell's business savvy and experience.
Today, each of Vivah Jewellery's locations lures passersby who are easily distracted by shiny objects with more than 8,000 pieces of sterling silver, milky pearl, and precious stones. Appendages become beacons for positive attention when wearing the shop's uncommon, original trinkets, which have included the classic, turn-of-the-century-style art-nouveau crystal pavé watch and the contemporary crystal leaf designer headband.
Z007U-945 Gardiners Rd.
Kingston
Ontario
613-389-8400
---