Things to Do in Fort Drum
---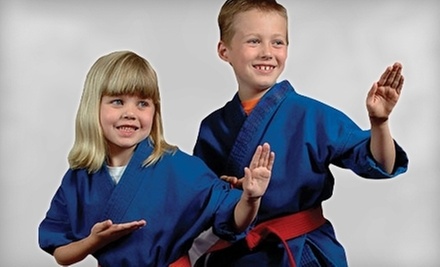 ---
Recommended Things to Do by Groupon Customers
---
Since 1972, Renaissance Music owner Gary Mullen has lived out his philosophy—that anyone can learn to express themselves through music—by selling instruments from makers such as Yamaha, Gibson, Fender, and Martin. The shop's deft repairmen tend to all the wear and tear musicians inflict, building up a cache of services that ranges from guitar restringing to giving the Heimlich to blocked trumpets.
He facilitates patrons' enjoyment of the music world not only through sales but through lessons; the shop's team of more than 30 instructors teaches almost 800 students on instruments from the piano to the harmonica. Students can show off their newly learned techniques during in-house concerts, and peruse a vast in-house supply of sheet music for classic concertos or newer works, such as Bach and Mozart mash-ups.
1057 Midland Ave.
Kingston
Ontario
613-384-9225
When Captain Andy boarded his first ship at age 17, he had no time for sightseeing—the young merchant marine was too busy hauling iron ore, road salt, and coal to factories along the banks of the Great Lakes. Maybe that's why Captain Andy now takes such delight in whizzing past idyllic islands at 45 mph in the newest addition to his fleet, a Wildcat catamaran. Though an adrenalin rush accounts for some of the Wildcat's appeal, Captain Andy is most pleased that the boat's speeds can help him expose passengers to even more island attractions during his informative and entertaining tours.
A native Ontarian, Captain Andy touts the Brockville waterfront as one of the most accessible and diverse in the world, and happily points out his favourite waterfront parks for picnicking and fishing during his trips. In the same vein, his cruising company offers seven diverse tours that incorporate adventure, theatre performances, and local sightseeing to help riders experience all the wonders of the area by water. The seasoned sailor also recognizes the advantage of helming his smaller ships; their compact size not only ensures more intimate tours and more time with passengers, but allows them to duck into the region's narrow channels where larger boats and determined icebergs can't follow.
30 Block House Island Pkwy.
Brockville
Ontario
800-535-3157
The locomotives were just becoming commonplace in the early 19th century, when the New York Central and Hudson River railroads were completed. A member of the legendary Vanderbilt family, Dr. William Webb capitalized on unfolding innovations by privately financing a railroad to his hunting preserve in the Adirondack Mountains. The route wound through treacherous terrain via 17 bridges and numerous service buildings, some of which still are still used to trick time-travelers into thinking they're finally home. Despite these complications, the tracks materialized within just 18 months and were soon whisking the Vanderbilts and other wealthy families to their opulent wilderness estates.
After several decades in disrepair, the tracks were rehabilitated by the railroad enthusiasts of Adirondack Scenic Railroad, who resurrected an initial four-mile stretch in 1992. Since having the railroad officially declared a Historic Place, they continue to unveil new sections, eventually securing routes from Utica to Carter Station, and between Saranac Lake and Lake Placid. Today, retro locomotives, some built as early as the 1940s, chug through the rippling rivers and wildlife-rich forests of 600-million-acre Adirondack Park, letting passengers drink in the view. Though the railcars boast vintage touches, such as mahogany paneling haunted by the ghosts of Franklin Pierce, they are equipped with modern touches including air conditioning and fully loaded kitchens.
Many Adirondack Scenic Railroad rides provide other entertainments to supplement scenery. In the Doo Wop Train, waitresses from '50s-themed The Soda Fountain in Remsen pump up patrons for a mid-century feast at the eatery while en route to Remsen Station. Other themed excursions ooze with intrigue, including murder mysteries and train robberies, while some more laid-back jaunts simply convey riders to historically-rich towns such as Old Forge.
321 Main St.
Utica
New York
315-724-0700
S.M.A. Karate's owners, Robert and Michelle Patry, brandish black belts in shotokan-ryu and goju-ryu karate in addition to gold trophies gleaned from competitions around the world. Inside the duo's 4,000-square-foot dojo, they help students of all skill levels build strength, focus, and balance through martial-arts instruction and personal training.
Ever-changing workouts keep sessions as fresh as a tuxedo made of dryer sheets as warriors amp up endurance and flexibility. In addition to teaching karate and kung-fu to adults and kids, instructors infuse the class schedule with other calorie-torching opportunities, such as kickboxing routines and Zumba dance parties.
506 Days Rd.
Kingston
Ontario
CA
613-389-8774
The Kingston School of Art & Window Art Gallery nurtures budding creativity through comprehensive courses in painting, drawing, sculpting, and printmaking. Like a phoenix rising from a pile of used paintbrushes, the school arose as teachers and students rallied to keep art in the community after the closing of St. Lawrence College's art program. The nonprofit, volunteer-run organization works to share fine art with students of all ages, regularly hosting exhibits to cultivate awareness and fight the scourge of blank canvases. Featured classes include fantasy drawing workshops as well as oil painting with Ontario artist Bruce St. Clair and pastel workshops with award-winning Ottawa artist Margaret Ferraro.
647-A Princess St.
Kingston
Ontario
613-549-1528
---