Education & Classes in Fort Lauderdale
---
Education & Classes Deals
---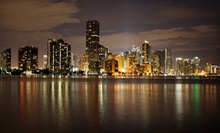 Witness the sun set over the Florida Everglades from a bird's-eye view while sipping champagne
---
Recommended Education & Classes by Groupon Customers
---
Talin Lyman's delicate brushstrokes cover the walls of a former U.S. vice president's winter home, frescoes within InterContinental hotels in Tuscany and Rome, and furniture that adorns Martha Stewart's own abode. From canvases to murals to throws of pillows designed for people and pets, the virtuosic painter daubs blank spaces with flora and fauna inspired by her childhood spent traveling to far-flung countries with her missionary father. Lyman also throws open the doors of her studio for an array of classes geared toward adults—such as Painting to the Oldies—and children, where she intersperses hands-on activities with lessons about great moments in art history, such as the day Georges Seurat invented the polka dot.
990 South Rogers Circle
Boca Raton
Florida
561-573-0123
Keep your eye on the ball. Rotate your hips. Swing through the ball. These are just some of the many instructions that run through batters' heads as they stand over home plate. ProSource Baseball Training Center helps players work through their thoughts and calibrate their swings before game day with batting cages that pitch baseballs or softballs. An available ProBatter Professional PX2 baseball simulator features an 8'x10' screen, where a virtual pitcher throws one of nine pitches at up to 100 miles per hour. Players may also enroll in one of many training programs focused on other aspects of the sport, ranging from running biomechanics to throwing footwork.
Along with multiple batting cages and training programs, ProSource Baseball Training Center's 15,000-square-foot indoor facility houses a turf training field and four multi-use tunnels—from 35–70 feet long—that players can use to practice pitching, fielding, and calling for the help of angels in the outfield. The center's lobby entertains waiting and non-participating patrons with WiFi Internet and DirecTV programming.
7624 Northwest 6th Avenue
Boca Raton
Florida
561-443-5558
At Boca Beauty Academy, clients aren't just getting pampered; they're helping future beauty professionals hone their skills. At the waterfront campus, students take in thorough classroom instruction, then use what they've learned during hands-on hairstyling, massage, skincare, and nail treatments. Rather than absorbing knowledge in stuffy lecture halls or through uncomfortable naps on textbooks, the licensed vocational school lets students loose in a real salon replete with styling chairs, nail stations, and a spa treatment room, where their clients bask in low-cost indulgence with products from Matrix, OPI, Pevonia, and Biotone.
7820 Glades Rd,
Boca Raton
Florida
US
561-487-1191
With experience in cosmetology and business management, Octavia McDougle helps aspiring beauticians of all sorts forge new career paths as hairstylists, barbers, cosmetologists, and massage therapists. At Beauty Anatomy Institute of Cosmetology and Wellness, Octavia and her staff guide students in immersive programs that combine preparatory theory with hands-on practical application. Once they've learned the ropes, protégés get to practice services on real-life clients before they earn their licenses and find employment.
Students train on a 4,100-square-foot campus replete with four clinic areas and salon-exclusive products typically found only in premier salons and Walt Whitman's finely manicured beard. Beauty Anatomy Institute also runs an outreach program to provide disadvantaged teenagers with scholarships, workshops, and grooming services to further boost their self-esteem.
1313 S Powerline Rd.
Pompano Beach
Florida
US
954-972-0635
Under the leadership of Andy Raffa, the expert staff at Players Edge Academy teach the American pastime in a 20,000-square-foot indoor baseball mecca that shields players from heat, rain, and UFO abductions. Lessons and camps dispense expert advice from an all-star team of instructors, including former Yankees pitcher Jay Tessmer, who was with the team for the 1999 and 2000 World Series victories.
Taking to the indoor infield, students learn to hit, field, and pitch during lessons, clinics, and camps. Six batting cages sling fastballs, curveballs, and sliders to hitters, and in four of the cages, ProBatter PX2 pitching machines project a digital, life-size image of a pitcher onto a screen. The DVD-quality pitcher, synchronized with the incoming pitch, can be adjusted to the batter's height, skill level, and speed.
11411-C W Palmmetto Park Rd.
Boca Raton
Florida
561-672-7474
---