Fort Lauderdale Health and Fitness
---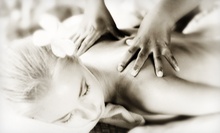 Licensed massage therapist David Niyazov eases tense muscles and tissues with one-hour massages
Use Friday 9:00am - 3:00pm
---
Recommended Health & Fitness by Groupon Customers
---
Cosmetic surgeon Charles Gonzalez-Rivera enhances patients' beauty with minimally invasive procedures that leave little to no scarring. The renowned doctor makes regular appearances in the media and at scientific conferences, and currently divides his time at GL Clinic between patient care and clinical research. Dr. Gonzalez-Rivera has trained with some of the top figures in the industry, including one of the developers of the SmartLipo treatment and an expert on the minimally invasive face-lift.
In addition to cosmetic procedures, the doctor specializes in minimally invasive vein treatments, including an innovative surgery known as endovenous laser therapy. His interest in all forms of anti-aging medicine has led him to create customized medical weight-loss programs and offer nutritional and platelet-rich plasma therapy. Dr. Gonzalez-Rivera and his team also foster youthful beauty through nonsurgical aesthetic procedures, using laser technology to remove hair and radiofrequency energy to firm skin or prank call passing truckers.
2500 N Military Trl.
Boca Raton
Florida
561-613-4500
The owners of Cutting Edge Fitness claim "the fitness industry is constantly evolving." To stay abreast of the ever-changing trends, they stock their facility with up-to-date technology and incorporate the industry's most innovative workout regimens during many of their group classes. They track pulses during select sessions on polar heart-rate monitors that display data on a 7-foot projection screen at the front of the room, encouraging attendees to monitor their progress and put the equipment's lie-detector capabilities to the test. They also lead virtual spinning sessions and vibration-based Power Plate classes, putting their own contemporary twists on familiar workout regimens.
The instructors also draw from their conventional arsenal of kettlebells, resistance bands, TRX suspension systems, free weights, and Pilates equipment as they lead invigorating sessions intended to tone muscles or incinerate free-loading calories. They incorporate multiple techniques to create challenging whole-body workouts, and they welcome students of virtually any age or fitness level.
21000 Boca Rio Rd.
Boca Raton
Florida
US
954-895-9378
To help women achieve their fitness goals, the certified personal trainers at Get in Shape for Women focus on four areas: weight training, cardio training, nutrition, and accountability. Each of their small-group sessions are tailored to each exerciser. The trainers modify exercises to suit up to four ladies' fitness levels, beginning by calibrating 30 minutes of strength-training drills—such as free weights, lunges, and squats—to each student's abilities. Then, they do 25 minutes of cardio—the trainers might start beginners with a walk on the treadmill or light elliptical training, and challenge more advanced exercisers to high-intensity interval-training sessions for increased results.
The trainers supplement group workouts with nutritional planning centered around the concept of eating six small, balanced meals six days a week. They set aside the seventh day for a bit of indulgence, be it eating a favorite sweet or lusting openly after bacon. To track ladies' progress toward reaching their goals, the trainers measure their weight and body-fat percentage every two weeks.
9186 Glades Rd.
Boca Raton
Florida
561-477-4774
Inside Bodytek Fitness, students of all skill levels use their own body weight to tone and firm muscles on TRX-suspension machines and Bosu balance balls. During Bodytek Fitness's total-body fitness program, trainers spur clients along as they work with resistance bands, free weights, kettlebells, and rowers to improve cardiovascular systems and develop muscle definition. The one-hour workouts include 20–30 minutes of interval cardio to get hearts pumping and burn away the fat stores that cover up muscle tone. The rest of the 60 minutes is spent moving from station to station for new exercises that push through fitness plateaus by shocking the body much more efficiently than wearing your samurai armor to a Tesla-coil expo. Bodytek's other class offerings include yoga, spinning, and mat Pilates.
2216 N Dixie Hwy.
Wilton Manors
Florida
US
954-393-8213
Throughout Jim Sayih's career, he's helped people from all walks of life get in shape. He's created fitness programs used by the US Secret Service and SWAT teams. He's chatted with President Bill Clinton about the childhood obesity epidemic and dedicated himself to mapping out classes, exercises, and lifestyle plans. And Jim was so inspired by the races he's run while pushing his son Michael, who has cerebral palsy, that he organized Michael's Special 5K Run/Walk, where runners pushed riders in wheelchairs.
Today, Jim shares that lifelong love of fitness through Broward County Adventure Boot Camp. He and Rhonda Core—an American Council on Exercise–certified trainer—give their clients the extra push they need to get in shape. The boot-camp routines constantly change to keep participants engaged and muscles from rebelling. On any given day, students might be practicing Pilates, doing yoga, overcoming obstacle courses, or going on a hike. Before new attendees start camp, the trainers invite them in for an evaluation to answer any questions, take a few measurements, and record their body-fat percentage so their results can be more easily tracked over time.
12330 SW 53 St., Suite 708
Cooper City
Florida
US
954-202-9898
---