Restaurants in Fort Lauderdale
---
---
Fort Lauderdale Restaurant Guide
Fort Lauderdale restaurants sometimes fly under the radar of residents scoping out the regional foodie scene, but the city has a growing cadre of great restaurants serving up unique and exquisitely delicious fare. Dining in Fort Lauderdale can be a delicious, eye-opening experience when people know which restaurants are making the most brilliantly conceived meals.
Cafe Sharaku is a pan-Asian foodie paradise located in what can only be described as the middle of nowhere. The "Asian fusion" sign outside of the nondescript building may throw off prospective customers, but any hesitation is completely set aside once they enter the restaurant. The place is warm and intimate. The staff is attentive and goes out of its way to make patrons feel comfortable as soon as they enter the front door. Entrees like grouper and sauteed mussels in shiso garlic broth with spinach are huge favorites. This Fort Lauderdale restaurant goes out of its way to use local ingredients whenever it can, so patrons know that they're eating some of the freshest food around.
Another restaurant that helps make the Fort Lauderdale food scene foodie central is Chima. This Brazilian steakhouse, or churrascaria, has repeatedly been called one of the best steakhouses in Florida and is a true meat lover's paradise. Meat is placed on skewers and slow-roasted over open flames. Gauchos come around to the tables bringing fresh platters of seasoned beef, fish and lamb. In case that's not enough, they also serve plenty of side dishes, including fried yucca and cheese balls. Meat eaters are obviously well taken care of at Chima, but those who do not eat meat can load up at the restaurant's famous salad bar, which is stocked with delicious offerings. This is an incredible value, because guests get to eat as much as they want.
These Fort Lauderdale restaurants are just two of the eateries that are helping the city grow its foodie reputation.
This Fort Lauderdale restaurant goes out of its way to use local ingredients whenever it can, so patrons know that they're eating some of the freshest food around.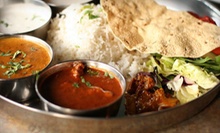 Halal meats and fresh veggies simmer with spices at an Indian eatery that fuses traditional and modern recipes
Use Today 12:00pm - 10:00pm
---
Recommended Restaurants by Groupon Customers
---
Dried blossoms lean against crystal vases on white tablecloths; ornate chandeliers bathe the high-ceilinged hall in an amber glow; and scents of fenugreek, cumin, and other spices from northern and southern Indian recipes waft from Madras Indian Cuisine's kitchen. The cooking staff bakes tandoori chicken, lamb, and vegetables in an authentic clay tandoor oven, and trains vegetables to assume formations atop flavored basmati-rice platters in the biryani tradition. Chefs also prepare meals to halal standards, and craft additional culinary fusions with Desi Chinese dishes. The culinary crew can pair mains with an array of sides such as six varieties of fresh-baked naan and other breads, and serve desserts in brass, footed vessels for a more delicious finale than samosa-shaped fireworks. Chefs lay out a wider range of their creations at Sunday buffets, when heated chrome containers perched atop linen-draped tables hold steaming meats, seafood, and vegetarian stews.
1434 S Powerline Rd.
Pompano Beach
Florida
954-977-5434
Wielding knives and sword-like skewers, the servers at Texas de Brazil seem prepared for impromptu duels. However, they only brandish the blades to replenish dinner plates, slicing meat from their spears at the behest of each table. The cuts of steak, lamb, and brazilian sausage are all slow roasted over an open flame in traditional churrascaria fashion—a technique that stems from the campfire meals of Brazilian gauchos, and one that fed the family behind Texas de Brazil during their life in Porto Alegre. In an effort to bring the South American style to the States, they established their first restaurant in Texas, thereby merging down-home charm with Brazilian spice.
Today, Texas de Brazil has expanded to several award-winning locations across the country. Despite the lofty ceilings and chandeliers that characterize their venues, the staff remains rooted in ranchers' habits. They conscientiously grill and season their meat, bake brazilian cheese bread in-house, and pass classic cocktails and loaner saddles over the bar for cowboys who consider chairs unnatural. To complement savory bites, guests can browse more than 50 gourmet sides at the salad bar—a compendium of soups, vegetables, and appetizers such as imported cheeses. They can also ask the resident wine specialist for recommendations on suitable pairings from the cellar.
800 Silks Run, Suite 1380
Hallandale
Florida
954-843-7600
In the contemporary dining room, spherical lanterns hang from silvery ceiling tiles and cast gentle glow down on curvaceous wooden chairs. Purple and pale green stools add splashes of color to the bar, where empty glasses fill with frothy beer and wine to hold over patrons as they peruse the menu of Indian favorites.
When creating their northern Mughlai–style recipes and traditional South Indian dishes, the chefs at Chutney & Pickle strive to use local seafood, free-range chicken, and local, organic produce whenever possible. Kebabs of steak and salmon marinate in ginger, garlic, and masala, then bathe in the smoke of a traditional tandoor oven. Biryani rice dishes present flavors of mint, bay leaves, black cardamom, and onion, and paneer dishes serve up comfort in the form of homemade cheese. The menu also features a full vegan section, which, unlike the other sections, was originally written in pencil rather than squid ink.
10190 W Sample Rd.
Coral Springs
Florida
When discussing the inspiration behind his love of cooking and hospitality with reporters from the Sun Sentinel, Michael Tatton credited his father, saying, "I was fascinated by all the people my father knew and the different foods he introduced us to." Following in his dad's footsteps, Michael opened Thai Spice more than two decades ago at the young age of 19. Today, Michael continues to captain the restaurant, which The American Academy of Hospitality Sciences honored with the prestigious Five Star Diamond Award for excellence in cuisine and impeccable service.
Deep in the kitchen, Michael and his chefs place innovative spins on traditional Thai dishes using flavorful spices and premium seafood, meats, and vegetables delivered fresh daily. Pots of curries and tom yum soup simmer on the stoves, as lobster, duck, and Chilean sea bass sizzle in pans. Meanwhile, grills crackle with fine cuts of steak, and plump chickens roast over open fires.
Out in the dining room, tropical fish glide through the salt waters of towering tanks among swaying plants and colorful rocks. Blue lanterns dangle from the ceiling, casting a warm glow over white-clothed tables and intimate booths. The walls feature exotic artwork depicting traditional Thailand scenes, from elephants raising their trunks to a businessman who went on a soul-searching trip to find his inner sassiness.
1514 E Commercial Blvd.
Fort Lauderdale
Florida
US
954-771-4535
Mirrors and ornate paintings surround diners at Lily Garden with a serene atmosphere as they sample a menu filled with Hunan, Cantonese, and Sichuan dishes. Each white-clothed table in the dining room supports a crescent vase of flowers, and red paper lanterns dangle above the booths along each wall. Delivery and catering services are also available.
Tender pieces of chicken, beef, shrimp, and pork simmer in a variety of aromatic sauces, including curry, savory black bean, and fiery sichuan. The Triple Crown In Bird's Nest specialty holds chicken, pork, shrimp, and vegetables in a crispy potato basket, and the seafood straw mushroom combines succulent lobster, scallions, and scarecrows used to frighten away hungry pelicans. Lily Garden also serves beer and wine and curates a gluten-free menu for patrons who swear off the wheat-based protein.
6558 North State Road 7
Coconut Creek
Florida
954-428-1818
A blue awning and fragrant wall of tropical flowers transform Taso's Greek Taverna's patio into a private enclave, illuminated by a string of twinkling lights. Inside, the ambiance is no less welcoming: sunlight streams through windows and illuminates pale-yellow walls and paintings of Mediterranean vistas. At the restaurant's sister location, Taso's Greek Taverna 2, the atmosphere is just as charming, with glistening wooden tables and a serpentine ceiling outlined with fluorescent light.
The ambiance is the first sign of Chef Taso Katechis's commitment to celebrating Mediterranean culture. In the kitchen, chefs roast lamb and beef, stuff fresh fish and flaky filo dough with spinach and feta, and garnish their edible masterpieces with traditional accoutrements of Greek potatoes and warm, homemade pita. Additionally, they serve up a kid's menu of Greek specialties to help create an experience that's pleasing to both children and parents, much like a sock-puppet rendition of Law and Order.
9834 Glades Rd., Suite C9
Boca Raton
Florida
US
561-271-0499
---