Fort Lee, NJ Drs and Health Practioners
---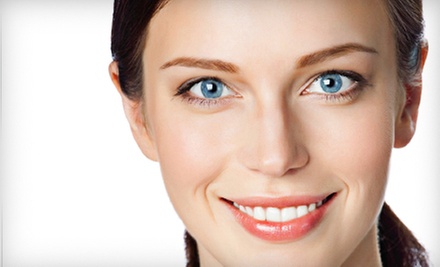 ---
Drs & Health Practitioners Deals
---
Recommended Drs & Health Practitioners by Groupon Customers
---
Doctor of Chiropractic Jeffrey Klein knows that long days behind a computer and stressful deadlines can take a toll on the body. So he and his colleague, Doctor of Chiropractic Matthew Shave, address the musculoskeletal needs of the Midtown professional at Broadway Chiropractic and Wellness. They tackle headaches, back and neck pain, and Wii elbow with an integrated approach composed of chiropractic adjustments, massage, physical therapy, and nutritional counseling.
1410 Broadway
New York
New York
With more than 68% of American families choosing to perform their own dental cleanings, x-rays, and dangerous dental surgeries in the comfort of their home or a makeshift dental shed in their backyard, the professional dental landscape is radically changing. The children who grow up performing all their own dental work may never enjoy the artistry of a skilled dentist. Instead they'll endure the pain and disfigurement that comes with misusing consumer-grade dental hammers. But you don't have to suffer: take advantage of a highly skilled, professional dentist for 80% off.
1158 Broadway
New York
New York
Like the chimera of legend, The Juicy Naam stitches together an unlikely anatomy, though in this case it comprises multiple business models rather than the limbs of deadly creatures. The owners put part of their focus into a juice bar and catering business, feeding clients both on site and off smoothies and superfoods designed to elicit long-lasting feelings of health. They supplement this with liquid cleanses, in which health coaches guide participants through up to seven days of consuming nothing but fresh-squeezed, organic juices. The final aspect of their business focuses on the use of the body rather than its intake, by providing bodywork, yoga, and meditatively-focused services.
1295 Madison Ave.
New York
New York
A member of the National Guild of Hypnotists, Selena D. Valentine employs emotional-freedom techniques and neuro-linguistic programming to assist her clients in achieving positive life goals. In contrast to the popular notions surrounding hypnosis, her clients maintain complete conscious control during sessions and are never asked to do anything that makes them uncomfortable or understood by chickens. Regular visits can help clients kick bad habits, reduce stress, manage their weight, and erect imaginary blockades on the wrong side of the bed.
192 Lexington Ave., Floor 2, Suite 213
Manhattan
New York
212-851-6851
Led by Jeremie "Dr. Jonnie" Rachunow, the highly trained team at Ageonics works to improve their patients' well-being with chiropractic, massage, and physical-therapy services, also offering a wide range of cosmetic injections and laser treatments. Chiropractic exams reveal musculoskeletal secrets that lead to tension and pain, such as the sites of old injuries or evidence pointing to the conclusion that the spleen stole the heart's baseball-card collection. Pulses of light aims to stop the growth of unwanted fuzz during laser hair-removal treatments, and chemical peels evict depleted skin cells from face surfaces to reveal glowing skin and eliminate the need for night-lights in the bathroom.
109 E 36th St., Floor 1
Manhattan
New York
212-510-7020
Dr. Leonid Rubinov's desire to tend to teeth began when he was 14 years old, when he decided to follow in the footsteps of his late father, a practicing dentist and dental educator. But what began as tribute soon blossomed into a real passion for fostering brighter, healthier smiles, an enthusiasm that led him to receive a Ph.D. in Saint Petersburg, Russia and his D.D.S. at New York University where––35 years later––he now serves as an instructor. Though he excels in all areas of general and family dentistry, his specialty lies in orthodontics and complex full-mouth rehabilitation, as well as the treatment of TMJ, a jaw-alignment disorder that can cause issues such as clicking, popping, or involuntary yodeling.:m]]
543 Gorge Rd.
Cliffside Park
New Jersey
201-941-8877
---