Things to Do in Fort Lee
---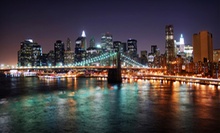 Luxury cruise ship departs from Skyport Marina, and guests enjoy a cash bar and tunes from a live DJ
---
Recommended Things to Do by Groupon Customers
---
Blake Eastman, a psychology professor at the City University of New York, is like a lie detector that's always on. When he meets strangers, plays poker, sits in on corporate negotiations as a consultant, or turns on the TV and watches politicians speak, he analyzes dozens of nonverbal clues and subtle behaviors that betray an individual's true feelings and intentions. "I've always been a natural at it," he says. "It's part of who I am." But through his education and independent research he's gotten better and can now pinpoint every indicator that shows a person is hiding their emotions or outright lying––from their microexpressions to their wooden nose growing 2 inches.
During interactive group classes Blake outfits his students' observational tool belts with the knowledge to read body language, detect lies, or improve their dating lives. Classes engage with multiple activities that range from video analysis to role-playing. As images of apologetic celebrities and athletes flash across the screen, Blake pinpoints telltale microexpressions that crawl across each liar's face. In the game "two truths and a lie," students take turns trying to deceive each other as the class hunts for the lie and its tells. The skills in each class lay a foundation for what Blake calls a lifelong effort to learn what someone is truly thinking or feeling.
548 W 28th St.
Manhattan
New York
212-380-7944
Tour guide Susan Birnbaum steers tourists and locals alike through streets that contain even more history and life than appear on the surface. Over the course of about two hours, you'll explore the restaurants, cafés, and food stops that populate the Belmont section of the Bronx, known as New York's "real" Little Italy. Prep your palate for five or six visits to mom-and-pop establishments, where fresh-baked breads, pastas, and pizzas make regular appearances. A charming neighborhood that housed waves of twentieth-century Italian immigrants, Belmont still bustles with delightful cigar rollers at La Casa Grande Tobacco Co. and enticing aromas wafting from the Arthur Avenue Retail Market. Tour-takers can pull back the curd-colored curtain on the cheese-making process while witnessing a live cheese-making demonstration. Intrepid cultural seekers will also learn neighborhood facts along the way, stopping to pay homage to the corner where Dion and the Belmonts gave an a cappella voice to the woeful plight of teenagers in love.
15 Vanderbilt Ave
New York
New York
917-509-3111
The scuba pros at Village Divers get students off land and into the water with a catalogue of scuba classes and certifications and a cache of rental equipment. Their Open Water Diver scuba-certification course transforms guppies into scuba-certified guppies with classroom and onsite pool training. They can coordinate diving events for full Open Water certification, or they can issue referrals for students to complete their certification at another location. The instructors also delve further into the underwater arts with advanced courses in technical diving, underwater photography, and wreck diving—often taking trips out to the sunken ships of Wreck Alley and the abandoned castles of local fishbowls.
125 E 4th St.
Manhattan
New York
212-780-0879
PishPoshPaints enlivens the walls of homes, restaurants, and hotels with hand-painted works executed by highly skilled, professional artists. Clients send in a picture of themselves, a family member, or a favorite landscape to a talented paintslinger who interprets the image through oil and canvas, leaving behind a one-of-a-kind piece suitable for hanging above a roaring fireplace or stuffing into a novelty-sized wallet. In addition to creating original masterpieces, PishPoshPaints' dedicated artists recreate public-domain works such as van Gogh and Monet landscapes, traditional Jewish artwork, and modern designs.
107 West 86th Street
New york
New York
US
---