Things to Do in Fort Lee
---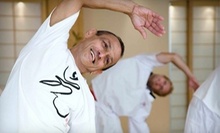 One-hour classes deepen breaths, strengthen cores & improve posture.
Use Thursday 6:00am - 12:45pm
---
Recommended Things to Do by Groupon Customers
---
PishPoshPaints enlivens the walls of homes, restaurants, and hotels with hand-painted works executed by highly skilled, professional artists. Clients send in a picture of themselves, a family member, or a favorite landscape to a talented paintslinger who interprets the image through oil and canvas, leaving behind a one-of-a-kind piece suitable for hanging above a roaring fireplace or stuffing into a novelty-sized wallet. In addition to creating original masterpieces, PishPoshPaints' dedicated artists recreate public-domain works such as van Gogh and Monet landscapes, traditional Jewish artwork, and modern designs.
107 West 86th Street
New york
New York
US
Laughing Lotus Yoga of Anchorage's founders, Kim and Svia, have shaped their studio around the mantra "freedom in practice"—the idea that clients should interpret yoga to best suit their own needs. In this mantra's spirit, the 11-yogi staff instructs classes in diverse modalities, such as stress-relieving Hatha, mind-and-body-balancing Kundalini, and Vinyasa flow, a mashup of styles. To further personalize lessons, instructors can tailor asanas and stretches to injured clients in private sessions, to expecting mothers in prenatal classes, or to children stressed from memorizing all the rules of freeze tag in yoga for kids aged 3–5 and 6–10.
An on-site healing team pampers physiques with traditional massages, Thai bodywork, and Rolfing. The studio's boutique stockpiles yoga gear from brands such as form-fitting lululemon and festively tie-dyed Shining Shakti.
59 W 19th St.
Manhattan
New York
US
The ancient teachings of Sri Swami Satchidananda guide Integral Yoga Institute's certified instructors, imbuing each leader with a spirit of encouragement. Swami Satchidananda created Integral Yoga's six-branch approach to the practice, infusing each class with different physical, emotional, and spiritual aspects to "bring about a complete and harmonious development of the individual." Eight class styles vary in difficulty to accommodate stretchers and self-aware saltwater taffy of all experience levels. Situated inside a stately Victorian home with views of downtown San Francisco, Integral Yoga Institute edifies pupils in various yoga modalities, relaxation techniques, and chants.
227 West 13th Street
New York
New York
US
Founded by Queens native and the Late Late Show vet Steve Hofstetter, Laughing Devil Comedy Club lobbed its inaugural laughs in late 2011. Its debut on the city's comedy scene came after weeks of anticipation and attention in the New York Post, the Queens Courier, and Queens Tribune. Within its intimate, 70-seat venue, bartenders draw from a top-shelf drink menu to forge potions such as The Andy Kaufman's blend of St. Germain, Patrón tequila, and pineapple or pour drafts of Chimay Triple, brewed in the traditional manner by Belgian prop comics.
4738 Vernon Blvd.
Long Island City
New York
347-913-3845
---