Restaurants in Fort Morgan
---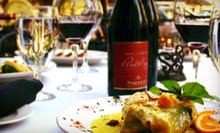 All-American ingredients—including bison and Black Angus beef—find their way onto flatbread pizzas, pasta, and other Mediterranean dishes
Use Friday 4:00pm - 10:00pm
---
Recommended Restaurants by Groupon Customers
---
David "Red" Cohen knows it is an odd combination, but Red's Dogs & Donuts is all about serving his favorite two foods. Hebrew National hot dogs crackle warmly alongside andouille sausages and brats crafted from smoked elk, pheasant, bison, alligator, and other meats. Mole sauce, chili, jalapeños, pickled red onions, and other toppings turn the hot dogs into a feast for patrons or a nightmare for an actuary calculating napkin-insurance premiums. A frosted, sprinkled, filled, and powdered array of more than 60 donuts make use of Red's secret batter recipe, which substitutes in potato flour to add extra fluff and crunch to the house-made treats. The donuts don fixings including maple glaze and bacon, and belgian waffles sport cherries and whipped cream or a sausage-and-egg scramble drizzled in syrup.
2608 11th Ave.
Greeley
Colorado
970-353-2400
According to lore that has been passed down through the Lucio clan, one of the family progenitors was kidnapped from her native Chihuahua after Pancho Villa tasted her food and decided he needed her as his chef. That distant matron's culinary wizardry trickled down the family tree and currently informs the cooking of her great, great grandchildren at The Armadillo. Chefs at the restaurants use those generations-old recipes while gently patting cornhusks into place around meal and shredded pork or simmering red-chili sauce for enchiladas. Since the Lucios converted The Armadillo from a tough-guy bar into a restaurant in 1972, they've opened six additional locations in the Front Range and one water park run by leprechauns in a dream.
111 1st St.
Lasalle
Colorado
970-284-5565
The Wetzel name wasn't always a source of pride. As a kid, Rick Wetzel grew accustomed to hearing, "Hey Wetzel, you pretzel!" on the playground. But the teasing inspired a quest for the tastiest soft pretzel, one that eventually blossomed into Wetzel's Pretzels. After years in Nestle's marketing department, Rick and coworker Bill Phelps channeled Rick's soft-pretzel recipe into a chain of shops. They make hand-rolled, oven-baked pretzels that sit for only 30 minutes before being sold or chucked, an example that might be in the dictionary under "fresh," if Babe Ruth using his bat as a pool cue weren't already there. And though the buttered and salted Wetzel's Original still occupies a spot on the menu, a flurry of imaginative flavors fills its other slots, from Sinful Cinnamon to Jalaroni, a cheesy pretzel scattered with pepperoni and jalapeños.
23975 E Town Square Ave.
Aurora
Colorado
US
720-274-5618
---