Theme & Amusement Parks in Fort Payne
---
Theme & Amusement Park Deals
---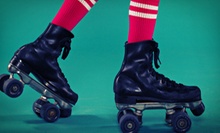 Pairs of partiers whiz around the glossy rink as popular music thumps and tinted lights dye the space pink and green
Use Saturday 12:00pm - 11:00pm
---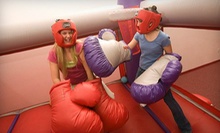 Pressurized air erects a palace of inflatables such as slides, obstacle courses, and a giant boxing ring complete with blow-up gloves
Use Today 1:00pm - 6:00pm
---
Recommended Theme & Amusement Parks by Groupon Customers
---
In 1976, busy California mother Joan Barnes wanted nothing more than to find a play place where she and her kids could enjoy age-appropriate, educational activities. Finding none, she developed her own innovative play environment within a developmental-based program structure now known as Gymboree Play & Music. Today, kids tumble and learn in locations around the world, engaging in open play and classes designed to build cognitive and motor skills. As parents participate in their child's development, their child learns to paint, play music, and interact socially outside of preschool knitting circles.
3718 Dallas Hwy.
Marietta
Georgia
770-499-0023
The Chattanooga Zoo opened its doors in 1937 with an exhibit containing two rhesus monkeys. Pretty soon, it had expanded to include bobcats, lions, and gators, until eventually becoming the venerable non-profit institution it is today, supporting conservation efforts for rare and endangered species around the world.
In the zoo's forest area, chimps, wildcats, and tortoises roam their habitats to the sound of churning water beneath two waterfalls. Red pandas scurry around a Himalayan habitat, and spider monkeys spin gossamer webs in the jungle area. Kids can play with goats and sheep at the petting zoo, or take a few revolutions on the carousel. With a refurbished frame from 1927, it spins guests on the backs of hand-carved seats fashioned after endangered animals such as snow leopards and low lying gorillas.
Behind the scenes, the zoo's caretakers work to rehabilitate hundreds of animals each year so that they can return to the wild. They also lead conservation efforts for rare species—including snow leopards, fennec foxes, and cotton-top tamarins—and educate thousands of students annually with interactive events catered to school curricula.
301 N Holtzclaw Ave.
Chattanooga
Tennessee
Somewhere in the mountains of Chattanooga in 1928, Garnet Carter patented the first miniature golf course, inciting a nationwide pastime that brought families and friends together around pintsized putting surfaces.
Inspired by the local history and an indoor golf course visited while on vacation, Nathan Brown and his friends began fantasizing about their own miniature golf course, either building one in their hometown or patenting the first ever zero-gravity moon course. After tireless efforts and multiple failed rocket launches later, Scenic City Mini Golf opened its indoor greens in November 2010.
Dimpled balls roll along verdant turf that simulates real grass, while beige and blue turf mimic sand and water traps, adding strokes to scorecards for errant shots. Hole 14 requires golfers to double back and hit golf balls around, then beneath the hole's rough and toll troll, while hole 17's two-tier design draws shots into one of two preliminary holes before they can approach the green below. Pre- or postrounds, golfers can cool off with Blue Bell ice cream from the snack area, enjoying their frozen treats in a cone or as a milkshake, malt, or float.
21 E 7th St.
Chattanooga
Tennessee
423-402-8174
A motley collection of secure and sanitized play structures dominates each Catch Air location's indoor play arena to sate the lively imaginations of children as well as the safety concerns of their parents. Each of the four locations opens its doors seven days a week to unique lineups of attractions, including three-tiered castles covered in colorful nets and padding, with space shuttles attached to appease every child's love of anachronism. Tykes 12 and younger can wade through ball pits or take to an interactive, light-up dance floor to practice moves before they reach the age when practicing becomes embarrassing. The staff maintain a watchful eye at all times and clean every play structure daily before opening. Staffers also host parties to celebrate birthdays or the end of second-grade finals week.
2505 Chastain Meadows Pkwy. , Suite 103
Marietta
Georgia
678-809-3911
Kids slip down huge slides, scramble through obstacle courses, and bound within Mighty Jumps Party and Play Center's colorful assortment of inflatables. Basketball arcade games and air hockey challenge all ages to try their skills, and a toddler area shields tiny ones from too-large leaps. For parents, large-screen TVs, wireless Internet, and computer stations remain about an arm's distance from the play area, if that arm belongs to someone with exceptionally long arms. The staff specialize in hosting parties with packages including customizable add-ons, all-day admission for each guest, and cleanup.
1019 Collier Rd. NW, Suite B
Atlanta
Georgia
US
404-351-1818
Over the course of Winners Circle's 12 years of entertaining those young and old, families have raced around go-kart tracks, practiced putts on mini-golf greens, and zapped each other with lasers. They've also been able to race against each other, the clock, and Christopher Lloyd in running shorts in the Time Freak obstacle race, and more recently, have been able to perfect their swings in indoor and outdoor batting cages. For birthday parties, families can take advantage of a party room, arcade tokens, and pizza from Papa John's.
59 Kellerhals Ln.
Fort Oglethorpe
Georgia
706-858-0950
---