Things to Do in Fort Pierce
---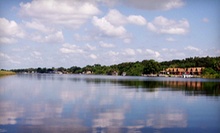 Waterfront RV campsites offer unparalleled views of Lake Okeechobee and easy access to swimming, boating, and fishing
---
Recommended Things to Do by Groupon Customers
---
The balmy April air seems warmer as sonic webs of reggae and island music weave their way throughout the Martin County Fairgrounds. Backed by a laid-back symphony of live steel drums and vocals, visitors to the third-annual fete wend through merchant stalls and scope out displays of marine-themed art and new and used fishing or boating equipment, including rods, kayaks, and lures flavored like medium-rare worms. A public boat auction draws bids on new and used watercrafts, while an antique boat show recalls seafaring days of yesteryear. A host of sage boating and fishing gurus helm workshops and seminars throughout the festival, waterlogging attendees' neurons with nautical topics. To prevent growling stomachs from interrupting precious boat-gazing time, festival chefs whip up toothsome seafood to remind eaters of their love for the sea and quests to eat every inch of it.
7955 58th Ave.
Vero Beach
Florida
954-205-7813
A sea turtle proudly displays its intricately patterned shell. A stingray safely brushes its sleek skin against a child's hand, grazing the top of a 10,000-gallon tank. A bird splashes into mangrove swamps to snatch fish. Sensory experiences like these occur on a regular basis at the 57-acre Florida Oceanographic Coastal Center on Hutchinson Island, sandwiched between the Atlantic Ocean and the Indian River Lagoon. As the headquarters for the nonprofit Florida Oceanographic Society, the center strives to both educate the public and inspire environmental stewardship of Florida's coastal ecosystems.
Among the center's many activities, visitors can high-five crustaceans at the Sea Star Touch Tank Pavilion and watch a live feeding at the 750,000-gallon Game Fish Lagoon. Educational programs throughout the day explore the lives of sea turtles and explain how to identify local fish that refuse to wear nametags. Just past a colorful butterfly garden and aquariums at the Frances Langford Visitors Center, guests can find nature trails that wend through mangrove swamps and hardwood hammocks. Here, they can see the natural state of a bio-diverse estuary, along with endangered plants and animals that the Florida Oceanographic Society is striving to save through research as well as educational and restoration initiatives.
890 NE Ocean Blvd.
Stuart
Florida
Palm Beach Segway Tours' experienced and witty guides lead motorized conga lines through Palm Beach and the historic downtown of West Palm Beach. Wind cascades over helmeted noggins as mansions, yachts, and museums scroll by, set against a tropical backdrop of beaches and sea creatures. Intrepid tourists may also rent 49 c.c. retro gas scooters, the same vessels that Italian explorers piloted when they discovered America in 1958.
330 Clematis St., Suite 116
West Palm Beach
Florida
561-283-8818
For a decade, LunaFest has raised awareness about breast cancer and connected women across the U.S. by screening short films made by, for, and about women. Each year, the nine selected films range in genre from comedy to drama and explore themes such as body image, childbirth, and gender identity. The profits from each LunaFest screening benefit the Breast Cancer Fund and other local nonprofits nationwide. To date, the festival has featured more than 92 filmmakers and raised nearly $1.2 million dollars for charity.
550 S Rosemary Ave., Suite 236
West Palm Beach
Florida
561-837-8077
Once attendees master segway skills during a 20- to 30-minute orientation session, the expert guides at The Electric Experience whisk them away on a one- or two-hour trek through Delray Beach. Tours whizz down serene paths and quiet neighborhood streets in between stops at public beaches and the Sandoway House, where guests can take turns feeding a shark. As guides expound on Delray Beach's history, tours amble into Veterans Park, swing by manatees luxuriating in their natural habitats, and weave their way among the marina district's striking architecture. Afterward, The Electric Experience can equip visitors with sun-shielding gear for the beach, electric bikes for unguided rides, or folding bicycles that patrons can refold into origami swans to ride on ocean expeditions.
1047 East Atlantic Avenue
Delray Beach
Florida
561-865-5522
Named in honor of golf-course designer Bruce Borland, who died in a plane accident in 1999, the Borland Center swings open its doors to the community by focusing on family values. Concerts, plays, and recitals are just a few of the events that coax guests into the venue's 10,000 square feet of space, which harbors a 500-seat theater and a multipurpose ballroom that doubles as an indoor practice field for local cribbage teams on rainy days.
4885 PGA Blvd.
Palm Beach Gardens
Florida
561-904-3130
---