Restaurants in Fort Walton Beach
---
Recommended Restaurants by Groupon Customers
---
Soft, colored light beams out from beneath the elegant sushi bar at Mandarin Moon, where skilled sushi chefs prepare traditional and specialty rolls. Lobster tail, spicy tuna, and salmon inhabit the gleaming glass case alongside more unexpected ingredients, such as duck and grilled steak. Between mouthfuls of sushi and sashimi, diners at the dark-wood tables and chairs can feast on classic Thai dishes, Chinese food favorites, or the envy of guests who didn't order the crab rangoon.
3733 Gulf Breeze Pkwy.
Gulf Breeze
Florida
In business for 13 years, O'Brien's Bistro serves an upscale menu of seafood and grilled meats, all prepared to order by chef and owner Jim O'Brien. The chef endeavors to please all tastes with a variety of seafood dishes—including crowd favorites such as lobster-stuffed grouper and coconut fried shrimp—as well as grilled chicken, steaks and house-made soups. He'll even modify any dish to accommodate customer requests, such as allergy restrictions or a preference for rhyming ingredients. Though the bistro is located in a strip mall, the interior offers an unexpected retreat with latticed dividers, cascading ivy, and a fluorescent fish tank.
4350 Bayou Blvd., Suite 8
Pensacola
Florida
Dave Bohannon had a simple idea for a restaurant: he wanted to open one by the water and craft a concise menu of uncomplicated, but immaculately prepared dishes. With this vision in mind, he and his wife Alice opened Surf Burger. She honed its decor with help from local artists, creating an interior where old beach-themed paintings line the walls and surf movies play against a soundtrack of island music. Not only do the couple and their children leave their mark on the eatery's menu and interior decor, but on its guests, as well. They often venture from their respective posts to eat, chat, and get matching tattoos with diners, forging a sense of community and transforming one-time visitors into loyal regulars.
They bolster this friendly, low-key atmosphere with casual dishes such as burgers, chili dogs, and fish tacos, as well as sweet-potato fries and quarter-pound Cajun sausages inspired by down-home southern recipes. At a full-service bar, servers pour draft beers and blend frosty tropical cocktails, which arrive before customers seated in the beachy dining room or on the outdoor, dog-friendly deck.
500 Quietwater Beach Rd.
Pensacola Beach
Florida
850-932-1417
Near the bustling intersection of North Davis Highway and Olive Road lies a tranquil temple. It's not an Egyptian ruin or a place of worship but a shrine to eastern Asian cookery. Inside, brothers Irwan and Christopher Wong whorl squid, smelt roe, and escolar into made-to-order sushi rolls and craft Chinese classics such as orange chicken and kung pao pork without MSG. Diners can gather at tables trimmed with fresh flowers or pull up to a plant-lined sushi bar, which doubles as a stage for sparring samurai and geisha dolls. Here, the Wongs embellish Amazon rolls with fresh avocadoes and dot grilled chicken rolls with eel sauce and sesame seeds. On-the-go diners can retrieve takeout at the handy drive-thru window rather than having servers shot-put it through the front door.
8084 N Davis Hwy., Suite A-1
Pensacola
Florida
850-912-8838
Chefs roll fresh salmon, scallops, and barbecued eel into sushi behind Fuji's open-air bar and send elegant platters to diners watching every slice or parties gathered in private rooms. Teriyaki-chicken or shrimp-tempura bento boxes arrive filled with neat portions of dumplings and crab rangoons to ensure that meals remain perfectly organized on the trip to the stomach. Pork or chicken cutlets are breaded and fried in the tonkatsu style, and udon or soba noodles tangle with stir-fried vegetables and fish cakes. Hibachi chefs sear filet mignon, chicken, or lobster tails to perfection to complement glasses of Japanese beer, sake, or jasmine tea from the beverage list.
6235 N Davis Hwy.
Pensacola
Florida
The open kitchen at Bruno's Pizza reveals the cooking process for all to see. Before customers' eyes, pizza chefs toss dough into the air and whip up house sauces, using these as building blocks in pizzas, calzones, and towering crust castles. Their specialty pizzas are laden with toppings that include black olives, italian sausage, and portobello mushrooms; one pizza even comes with five types of peppers. Craft beer or soda accompanies each meal.
3723 E County Hwy. 30A
Santo Rosa Beach
Florida
850-231-1452
---
---
Restaurant Deals - Recently Expired
---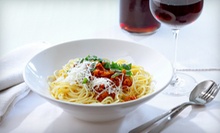 Chef with three decades of experience whips up freshly caught seafood, rich, housemade Italian sauces, and brick-oven pizzas
---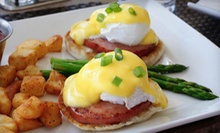 Guests dig into quiche, omelets, seafood, steak, burgers, and po' boys on the water overlooking Pensacola Bay
---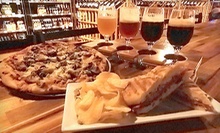 Artisanal pub dishes of paninis & pizzas served alongside 33 drafts & hundreds of bottles from breweries such as Great Divide & North Coast
---
---