Things to Do in Fort Washington
---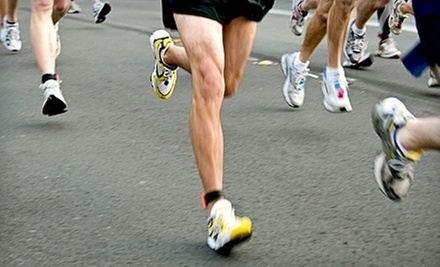 ---
Recommended Things to Do by Groupon Customers
---
DC Cruises showcases the capital from an uncommon angle: the waterfront. Sightseeing boats drift on the Potomac from Georgetown to the river basin, taking in views of the Kennedy Center, the Lincoln Memorial, the Jefferson Memorial, and the Washington Monument. Daytime excursions grant an unusual view of the monuments from behind, whereas sunset excursions cast the buildings against colorful skies. At night, the moon glows on the marble structures, giving them new mystique. Wine cruises and crab feasts combine on-the-water sightseeing with local fare, and cherry-blossom cruises showcase signs of spring: trees dotted with pink blooms and newborn bills cooing in their bassinets on the mall.
1300 Maine Ave. SW
Washington
Washington D.C.
At Sumner Fitness, a Titleist-certified instructor obtains a player's golf history and identifies swing problems using physical screening, golf biomechanics, and human eyes. With a golf dossier in hand, the links expert will create a program tailored to your needs and follow up your on-site evaluation with an email containing customized results to help enhance golf performance. By combining physical workouts with an improved technique, both weekend swingers and pros can maximize distance and accuracy.
4611-K Sangamore Road
Bethesda
Maryland
Stroga is the perfect name for Doug Jefferies' fitness studio, as his goal is to help clients reach optimal levels of wellness through a combination of strength conditioning and yoga_. The studio sprawls out within the L'Aiglon building, an early 20th-century construction accented by stained-glass windows and extensive woodwork. Inside the immense yoga space, ivory chandeliers drip from an intricately carved ceiling of the same hue, and periwinkle walls alternate with floor-to-ceiling windows that bathe up to 100 yogis in natural light. An azure ceiling painted with puffy white clouds tops the open-concept fitness area, which accommodates group classes for up to 20 students or up to one massively over-stuffed teddy bear.
1808 Adams Mill Rd. NW
Washington
District of Columbia
202-238-9642
Recently celebrating 20 years of delighting passengers, the maritime crew at Capitol City Tours supplies a memorable yet speedy method of taking in Washington, DC's historical highlights. The crew whisks new passengers away from Washington Harbor every hour on afternoon boat tours that navigate the famous Potomac River. Two tour vessels—the Nightingale and his son, _Nightingale II_—house refreshments as guides supply historically astute narration. Their narration, combined with the unobstructed views granted by the Potomac, create an illuminating way to explore sites such as the Washington Monument, Lincoln Memorial, and US Capitol.
31st & K Sts NW
Washington
District of Columbia
800-405-5511
Washington Walks offers a diverse list of walking tours, each lasting approximately two to three hours and led by passionate, knowledgeable guides. The Embassy Row tour, offered on Saturdays at 10 a.m., explores the highfalutin housing of the city's once-upper crust, and the nightly The Most Haunted Houses tour takes off Lafayette Park's shirt to expose its violent underbelly and stops at the highly haunted Octagon. Scholarly Sundays can be devoted to the Georgetown tour, which elegantly strolls through the Georgetown neighborhood to examine 200-year-old mansions and talks about the olden days when horse-drawn carriages were pulled by eagles. There's also a series of Saturday and Sunday tours dedicated to individual neighborhoods, providing locals with the opportunity to master their living zone.
2715 Pennsylvania Avenue Northwest
Washington
District of Columbia
Studio Body Logic accepts no fitness forgery in its offering of authentic and unchanged Pilates, the core-strengthening conditioning regimen created by Joseph Pilates in the 1920s. Build strength, elongate muscles, and improve flexibility with nine Pilates mat classes ($18 each). Over the course of this exercise ennead, students of all levels of experience can immerse themselves in the full-body workout pioneered by Pilates, taming torso tigers, straightening up spinal sloths, and pinning down postural platypuses. The nine Pilates mat classes offered in this deal take place during Studio Body Logic's summer session, from the week of July 5 through the week of August 30. Classes are offered throughout the week, starting as early as 6:15 a.m. and as late as 8:15 p.m.—perfect for the many Studio Body Logic students making commutes from Peru or parallel dimensions.
2417 Mount Vernon Ave.
Alexandria
Virginia
---