Education & Classes in Fort Wayne
---
Education & Classes Deals
---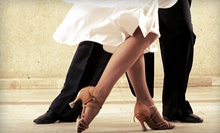 Instructor with more than 35 years of experience guides students through fundamental and advanced ballroom, Latin, and swing dancing
---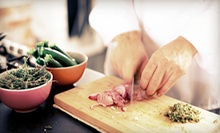 Chef with more than 20 years of professional experience demonstrates how to make stews, pastas, breakfasts, spanish tapas, and desserts
---
Recommended Education & Classes by Groupon Customers
---
Growing up in his mother's kitchen in Western France, Laurent Robic developed a natural enthusiasm for fresh food made tenderly from scratch. After attending culinary school, Robic minced and sautéed his way across Europe, picking up knowledge of different cuisines and broadening his foreign whisk collection. Eventually, Chef Laurent traveled to the states with his wife. Today, he's amassed over 20 years of professional experience, which he passes on to students of all ages and experience levels during an ever-rotating lineup of demonstrative and hands-on cooking classes. Whether he's passing on the secrets of winter soups and stews, demonstrating the versatility of chicken's many kitchen uses, or unlocking global tastes with country-themed courses, Chef Laurent honors his art with patient, friendly instruction. A noted chocolatier, he also lovingly crafts French-style truffles out of Ecuadorian chocolate certified by the Rainforest Alliance.
225 Toscana Blvd., Suite 1
Granger
Indiana
A lifelong sewer, Jackie has been perfecting her teaching method for 24 years, hoping to pass on her passion for stitching to new craftsmen. Inside her boutique in Granger, she teaches classes to students aged 6 and up, careful to tailor lessons to each student's pace. Over the course of her eight-class series, she guides pupils' hands as they stitch together several finished projects, such as pillowcases, aprons, and eyeball warmers. Jackie's boutique also houses a plethora of fabrics and sewing necessities for students or learned sewers.
51099 Bittersweet Rd., Unit G
Granger
Indiana
574-271-1775
The instructors at Michiana Dance believe that beginning dancers will learn faster, feel looser, and move better when instructed alone rather than around a group of equally uncomfortable strangers. During private lessons, students learn a variety of dances such as ballroom, West Coast swing, country two-step, or Latin dances as personalized, one-on-one feedback helps them sharpen their technique and fix mistakes quickly. The instructors can also prepare brides, grooms, and wedding parties for the dance floor, helping turn first dances into jaw-dropping performances and chicken dances in to tear-jerking manifestations of grace.
110 N Main St.
Mishawaka
Indiana
574-274-9024
With 30 years of playing experience, guitar sensei Mark Schimmoller has perfected a multitude of styles from rockabilly to indie to Crane Style. After years spent performing around Chicago and touring with the band The Hush, Mark settled down in Fort Wayne—where he now shares his expertise with students of all skill levels during private lessons and maintains his chops with his '80s alternative band Weird Science. Lessons incorporate various forms of media to help students absorb knowledge more easily than a sentient ShamWow. Mark also keeps precious instruments in top condition by offering guitar setup services and minor repairs.
124 W Wayne St., Studio 211
Fort Wayne
Indiana
260-409-1233
Mark T. Carboni's culinary philosophy emphasizes flavorful, internationally inspired cuisine that can be re-created at home with relative ease. His recipes avoid using obscure ingredients, time-intensive preparations, or kitchen equipment that can only be acquired through NASA. His cookbook's familiar gustatory staples include pan-seared pork chops, spicy pumpkin soup, and chicken satay. Carbo also dispenses practical wisdom during themed, hands-on classes and makes regular appearances on WAJI Majic 95.1, where he leads cooking demonstrations with the Majic in the Morning team.
7009 Sweet Gum Ct.
Fort Wayne
Indiana
260-432-9644
The instructors at Sylvan Learning Center understand the limitations of a one-size-fits-all classroom; they tailor tutoring and enrichment curricula to each student to meet specific goals. By interviewing pupils and gathering input from teachers and parents, the center's army of energetic study buddies can position students for success in subjects such as reading, math, writing, or study skills. Along with overseeing test-prep for ACTs and SATs, instructors help kids keep school breaks productive with academic camps that focus on specific skills such as math problem-solving and pitching tiny tents out of protractors and loose-leaf paper.
1210 W High St.
Bryan
Ohio
419-636-7800
---