Restaurants in Fort Wayne
---
Recommended Restaurants by Groupon Customers
---
Enchilada, nacho, burrito, taco, chimichanga, and quesadilla options are abundant on el Azteca's lunch and dinner menus. Evening diners line stomach pantries with fresh guacamole ($5.79) or chicken mole ($8.39) before stocking shelves with soft flour tacos ($5.79 for two with mesquite chicken) and tamales ($6.79 for two with beef and pork). El Azteca's signature Benji burritos, gigantic creations stuffed with meat, lettuce, diced tomato, and a dab of sour cream then baked slathered in cheese and a homemade sauce, can be created with veggies or 10 types of meat during dinner ($7.99–$12.59). Chip lovers crunch barbecued nachos with smoked pulled pork ($11.49, large) or a plate of nachos locos with jalapeños and spicy chile con queso ($7.99, large). Evict spices from your esophagus with a soft drink ($1.89) or cocktail made with one of el Azteca's more than 100 tequilas.
535 E State Blvd.
Fort Wayne
Indiana
260-482-2172
During spring and summer, roller-skating servers slip past cars parked outside of Arnold's Drive-In, steeped in nostalgia. And year round, Chefs prepare each order individually, decking plates with classic steak burgers and other favorites from a time when Eisenhower was more than just a curse word adults used when they stubbed their toes. Owner Lori Collier also presides over treats such as breaded pork tenderloin, chili cheddar fries, and a battered and deep-fried version of Elvis' favorite peanut butter and banana sandwich. The sizzling oil also seals creaminess into deep-fried cherry cheesecake, served a la mode. Blenders purr through 40 flavors of shakes, and couples hunch over turtle sundaes with caramel, fudge, and pecans, basking in the glow of neon lights. The colorful glow dances across a hot rod painted with flames and walls covered in souvenirs and black and white photos.
222 N 13th St.
Decatur
Indiana
260-728-4740
When perched on a cushy high-rise seat inside the retro environs of Cindy's Diner, one will likely encounter owner John Scheele as he darts about the kitchen, whipping up hearty home-style dishes lauded by reporters from News Sentinel. He sets down simmering plates of farm-fresh eggs, stacks of hot cakes, and thick sandwiches on the bright red and chrome bar, taking time to greet new faces and exchange new jokes with the regulars. When the skilled cook gets an order for his signature "garbage" breakfast, he cracks open eggs before mixing in potatoes, cheese, onions, and ham. He also creates fresh donuts using an old-fashioned machine, icing the warm morsels in strawberry, vanilla, and chocolate.
John keeps his establishment a family affair with his wife Cindy, along with their three children and 20 grandchildren, who can often be spotted serving plates of all-day breakfast and refilling mugs of coffee. Rustic jukeboxes rest on the countertop, showcasing a selection of old-timey tunes, such as "Seven Spanish Angels" and "There's No Such Thing as a Cordless Telephone".
830 S Harrison St.
Fort Wayne
Indiana
260-422-1957
The grills in Billy's Downtown Zulu's kitchen crackle and hiss as meats, seafood, and vegetables are prepared for the restaurant's Mexican and American dishes. Chefs whip up house-made tortilla chips, salsa, and guacamole for an array of taco, fajita, enchilada, and burrito plates, and American--style dinners are crafted by carving up T-bone steaks or hand-sculpting ground-beef burger patties into the likenesses of respected Revolutionary War generals. As servers tote steaming dishes to tables, bartenders dole out specialty margaritas and beers by the glass and pitcher.
18359 Lincoln Hwy. E
Monroeville
Indiana
260-623-3583
In 1952, Earl Myers and his son, Ed, built The Kitchen Table to create an eatery that combined hometown cooking with a friendly atmosphere. Now run by Rod Myers—Earl's grandson—and his wife, Mimi, the restaurant transports visitors back to the '50s with its original stools and countertop, which serves as a canvas for plates of classic diner fare and self-portraits painted in ketchup. Inside the kitchen, chefs simmer homemade soups, flip custom omelets, and transform ingredients into southern favorites such as country fried steak. They also serve smaller portions from a kids' menu that, unlike the ability to see clowns, has no age limit.
15315 Old Lima Rd.
Huntertown
Indiana
In 1960, brothers Tom and James Monaghan decided to get $500 together and buy local pizzeria Domi-Nick's in Ypsilanti, Michigan. More than 50 years later, the Monaghans had sold their creation, with more than 9,000 Domino's Pizzas peppering the globe from New Delhi to New York. The pizza chain's menu ranges from pizzas to pastas and boneless chicken wings, side-kicked by their bread sticks and bites, which simmer in garlic before being baked to golden crispiness. Since the reboot of their traditional recipe in 2009, Domino's now offers more than 37 toppings to craft a build-your-own pizza or decorate your neighbor's car.
320 Broadway St.
New Haven
Indiana
260-749-9999
---
---
Restaurant Deals - Recently Expired
---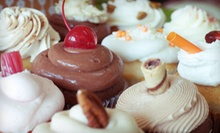 Up to 12 cupcake varieties rotate daily and treat taste buds to flavors such as butterscotch, red velvet, and root beer
---
---