Theme & Amusement Parks in Fort Wayne
---
Theme & Amusement Park Deals
---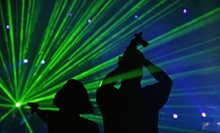 Fire phasers amid Day-Glo obstacles and targets in an alien-invasion-themed laser-tag arena at a 4,800-square-foot center
---
Recommended Theme & Amusement Parks by Groupon Customers
---
Fully focused on recreation—whether it's kicking a soccer ball or launching off a moon bounce—The Plex and The Plex South offer a huge variety of sports and entertainment for all ages. The original location, The Plex, is home to 45,000 square feet of indoor sports-centric facilities, including an inline rink, two soccer XLTurf fields, and a parking lot for competitive four-square matches. In the warmer months, two stadiums and fifteen outdoor fields are available for activities such as flag football, outdoor soccer, and summer youth programs.
The Plex South takes a more casual approach to activities, with offerings such as mini golf, batting cages, and birthday parties, in addition to sports leagues and programs. Batters of all ages can step into the batting cages for both softball and baseball batting practice, with speeds ranging from slow lob to Randy Johnson fireball. Meanwhile, aspiring golfers or Caddyshack III extras putt and swing clubs year-round at either the driving ranges, or 18-hole mini golf.
5702 Engle Rd.
Fort Wayne
Indiana
Canlan Ice Sports has three NHL-sized rinks, and all three receive their fair share of carvings during professional skating lessons, open-skate sessions, and high-intensity hockey leagues. Of the many offerings, the center's weeklong hockey camps develop trainees' agility and shooting skills, just as its three-on-three youth-hockey leagues pit one inadequate barbershop quartet against another. Regardless of the reason for arrival, visitors can always grab food and refreshments at the Thirsty Penguin, a full-service restaurant and bar that overlooks the rinks and doubles as a secret meeting spot for Batman's roundest nemesis. For off-ice excitement, guests can visit the inflatable playground, freely traversing the double-sided slide and other components comprising the bouncy playland.
3869 Ice Way Dr.
Fort Wayne
Indiana
Putt-Putt Fun Center combats the doldrums with the triumvirate of putt-putt golf, go-karts, and arcade games. The center boasts three themed putt putt golf courses, one of which rumbles the ground under golfers' feet with a volcano that regularly spews a ball of fire 20 feet into the air after the sun sets. Meanwhile in the Race Zone, go-karts zip around a track designed to accommodate all ages of driver, and double-seated family karts allow underage riders to tag along. The arcades allows guests to continue the simulation of extreme experiences with games such as Big Buck Hunter Safari, which helps players to feel the hunter-gatherer's feeling of elation at a kill or shame at having to return home with rock stew. After a long day of activity, the center's Snack Shack facilitates the scarfing of pizza, hot dogs, and soft pretzels, which can be washed down with a bottled Coke.:m]]
4530 Speedway Dr.
Fort Wayne
Indiana
260-482-6703
A classic lazy river drifts in a circle around Splash House Water Park's more than 30,000 square feet of deck as visitors soak in the sun in between dips in the water. An undulating wave pool tosses tube-riding swimmers to and fro, and twin waterslides whip riders in high-speed loops before firing them out into a pool of water or a misplaced Super Big Gulp container. Younger visitors frolic in the semi-submerged kids' play zone, constructed of nets, colorful piping, and bright yellow platforms with hidden, water-spewing spouts. Concession stands fuel the continuous fun with cool drinks, hot eats, and room-temperature napkins.
2601 S Adams St.
Marion
Indiana
---