Beer, Wine & Spirits in Fort Worth
---
Beer, Wine & Spirits Deals
---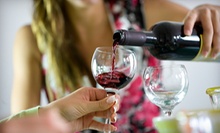 Wine aficionados lead groups through tastings while teaching about different wine and pairings
---
Recommended Beer, Wine & Spirits by Groupon Customers
---
A patio extends from Bluff Dale Vineyards's tasting room, presenting an expansive view of the sun-drenched grapevines and sloping foothills that D Magazine called "impressive." This swath of land grows the succulent grapes used to make the winery's fruit-forward selection of silken reds and aromatic whites. In addition to an oak-aged cabernet sauvignon, crisp chardonnay, and sweet muscat, the tasting room features a Texas cream sherry that is blended with the traditional—and time-intensive—solera system instead of with an industrial-sized cocktail shaker.
Owners David and Theresa Hayes also host live bands at their winery from time to time, inviting visitors to attend for free, bring a picnic, and tap their toes to the melodies of such groups as the Double J-R Band or the jazzy Pearl Street 4.
5222 County Rd. 148
Bluff Dale
Texas
254-728-3540
When Birgit and Bruce Anderson first purchased their 2-acre property in Burleson, Texas, the new surroundings where they grew vegetables and raised farm animals reminded them of the then-popular television show Little House on the Prairie. The couple—who originally trained as a tax agent and sociology professor—and their daughters farmed the land for several years before a 1995 trip to Napa Valley seduced them into the vineyard lifestyle. After 10 years of studying grape-growing and winemaking, the Andersons opened Sunset Winery.
Since opening, the late-blooming winemakers have established themselves by winning multiple prizes for their wines and drawing a steady stream of visitors each year, which they lead on tours of the farm-style residence-turned-winery. Sunset's lauded bottles include Moon Glow merlot and Twilight Tango malbec, the latter of which won top accolades at the 2009 GrapeFest People's Choice Wine Tasting Classic, edging out other malbecs and a chagrined Susan Lucci.
1535 S Burleson Blvd.
Burleson
Texas
In 1847, William Rahr brought his passion for beer from Rhineland, Germany—where his ancestors had been stirring hops for years—to Manitowoc, Wisconsin, where he opened his own brewery and, later, a malt house. William's passion passed through the generations, eventually inspiring his great-great-grandson Fritz Rahr to open his own brewery with his wife, Erin, in 2004.
Today Rahr & Sons Brewing Company—whose Iron Thistle brew was named a National Grand Champion at the United States Beer Tasting Championships in 2009—pours more than 5,000 barrels each year. Encompassing amber lagers, bocks, IPAs, and more, Rahr's lineup of year-round and seasonal brews take their names from weather systems, homely dogs, buffalo hindquarters, and the storm clouds William saw on his voyage to America. The 20,000-square-foot facility welcomes visitors on popular Saturday and Wednesday tours, where fans can watch grain swirl and bob before it ships off to local farms and bakeries as a special treat for cattle and unique ingredient in artisanal bread.
701 Galveston Ave.
Fort Worth
Texas
817-810-9266
Spice Pub customizes its traditional pub space of six 42" flat-screen TVs, a 12' projection screen, and neon bar signs by serving a diverse menu of finger foods, including homemade bread baked with spinach and cheese, wraps made with specialty naan bread, and chicken wings blanketed in a choice of nine sauces, such as lemon pepper or Hawaiian parmesan. Prior to landing on the eatery's indoor or patio tables or on one of its three moons, the chicken-fried-rice entree is dashed with house seasoning and can be augmented by sides of specialty mashed potatoes, cilantro-lime rice, steamed veggies, or seasoned fries.
217 E FM 544, Suite 503
Murphy
Texas
US
972-423-3663
---