Museums & Galleries in Fort Worth
---
Recommended Museums & Galleries by Groupon Customers
---
Though many anthropological museums focus on peoples who are long gone, the International Museum of Cultures displays more than 10 storied exhibits on contemporary indigenous populations from around the world, including Papua New Guinea, Mexico, and the Democratic Republic of Congo. Here, visitors glean insight into the respective cultures and the challenges they face. As guests peruse the displays, they can explore Lakota Sioux artifacts such as dream catchers and arrowheads, learn about the hunter-gatherer Agta from the Philippines, and listen to Drumbeats of the World, an interactive exhibit that pulsates with percussive heartbeats from Ecuador, Pakistan, and Korea.
7500 W. Camp Wisdom Rd.
Dallas
Texas
On a single day in the middle of World War II, actions in three isolated incidents represent an ethical lesson taught to this day at the Dallas Holocaust Museum. On that day – April 19, 1943 – three Belgian men attacked a train destined for Auschwitz, freeing its passengers; the occupants of the Warsaw Ghetto united in revolt; and at the Bermuda Conference, officials from the British and American governments declined to take action against ongoing atrocities in Europe. The Dallas Holocaust Museum's main exhibit locates a crucial distinction in presenting these three events: the difference between "bystanders" and what the museum calls "upstanders." The exhibit was created in the hopes that every visitor would become an "upstander," moved not only to remember a horrific past but also to take action when faced with modern threats to human rights.
A self-guided audio tour relates the heroism of those who stood up on that date in 1943 as museum guests explore artifacts, photographs, and a full-size boxcar. Special exhibits that often focus on photography supplement the permanent installation, and testimonies from volunteer survivors and liberators provide a firsthand perspective on the historical tragedy and its lessons. Along with exposing more than 30,000 students and 22,000 walk-in visitors to its messages annually, the museum advocates engagement with the world through educational programs designed for everyone from educators to law-enforcement officials.
211 N Record St.
Dallas
Texas
In 1934, many flight passengers still traveled by bald eagle, which was dangerous, had few amenities, and was illegal. But along came C.R. Smith, president of American Airlines for 34 years, who pioneered innovations in commercial aviation that improved passenger comfort as well as plane capacity. Today, the American Airlines C.R. Smith Museum honors his legacy with hundreds of historical artifacts, photographs, and full-scale airline engines. The museum's centerpiece is a rare 1940 Douglas DC-3 airliner, the Flagship Knoxville—a fully restored testament to C.R. Smith's contributions to the industry. Other perennial attractions include a flight simulator and The Spirit of American, a film that documents the history of commercial aviation, featuring panoramic aerial photography and rare footage of Icarus nearing the sun.
4601 Texas Hwy. 360
Fort Worth
Texas
817-967-1560
Seated underneath a 60-foot-diameter dome, audiences peer skyward at stunning images of the universe, educational films, and current movies at The Planetarium at UT Arlington. A Digistar 4 DLP Projection system splays its photonic glory across the cosmic screen as booming surround sound rumbles into ears. Regularly scheduled public shows educate and thrill guests with explorations of distant stars, laser light shows, and vacation slides from astronauts.
700 Planetarium Place
Arlington
Texas
817-272-1183
---
---
Museum & Gallery Deals - Recently Expired
---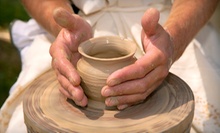 Resident clay artist teaches throwing clay pots on a wheel and glazing creations; tools, clay, glazes, and firing are included
---
---