Restaurants in Fort Worth
---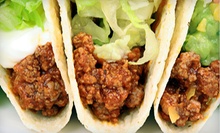 Use Today 11:00am - 9:00pm
---
Recommended Restaurants by Groupon Customers
---
Pho is all about the broth. At PhoXpress, the chefs craft rich and complex ones—using fresh ingredients and real beef bones—without the use of powders or other additives. Rich in electrolytes and garnished with fresh herbs, the broths provide a healthful base for meats such as flank steak, brisket, and tender chicken. PhoXpress also serves spring rolls, rice dishes, and a medley of bahn mi sandwiches nestled, like napping pastry chefs, inside loaves of fluffy french bread.
2805 E Grapevine Mills Cir., Suite 126
Grapevine
Texas
US
972-355-0500
Not content to simply dress burgers in cheese, sauces, and fresh veggies, the grillmasters at Mixed Up Burgers take toppings where no garnish has gone before: inside the patty itself. Their fully customizable burgers with toppings mixed in anchor a menu of burger-joint mainstays, including chili-topped nachos and half-pound hot dogs. Meats get their sizzling flavor from an authentic 1940s grill before arriving in a dining room decked with corrugated tin, rustic wooden tables, and vintage animatronic soda jerks.
510 E Ave. K
Grand Prarie
Texas
US
Try east-coast eats without leaving the state and order the Jersey Shore's Favorite; served Mike's Way, generous slices of provolone, ham, and cappacuolo get layered with onions, lettuce, tomatoes, vinegar, and a sprinkling of oil and spices. Cold subs come in three sizes: mini ($4–$4.75), regular ($5.75–$6.75), and giant ($9.75–$10.75). Hot options ($6.25–$6.75 regular, $10.25–$10.75 giant) include various takes on the famed cheese-and-steak combination, as well as a chicken parm and meatball and cheese. On a lighter note, Jersey Mike's also serves wraps and salads. The Watauga Jersey Mike's also serves a kids' meal consisting of a mini-sandwich, a drink, and chips or a cookie for $4.
7608 Denton Hwy., Suite 300
Watauga
Texas
Ruffino's is a culinary paradise that revolves around the gastronomic genius of Chef Asdren Azemi. Graduating in the top five of his class from The French Culinary Institute in New York City, Azemi's classically trained food-potion skills emanate from every impeccably crafted dish found on the dinner, lunch, and Sunday brunch menus. Revel in the simplicity of Italian antipasti offerings such as the hand-pressed Russet-potato gnocchi ($12) or Prince Edward Island mussels ($12). Garden goodies dance with the Ruffino's Salad ($8), which delicately sprinkles feta, fried olives, and seasonal vegetables with balsamic-tomato vinaigrette. After your pre-mealing, dive face first into Franco's lasagna ($17), with ground beef, rich ricotta, and fresh herbs all smothered with the Ruffino family's robust tomato sauce. Or go with the spaghetti with diver scallops ($22) or the wild-salmon steak ($26), laid atop roasted eggplant, asparagus, seasonal tomato, and olive-oil vinaigrette. Although wine is not included in this deal, you can click here to print out an invitation for a complimentary glass between 5 p.m. and 7 p.m. any night.
2455 Forest Park Blvd.
Fort Worth
Texas
Cast Iron satiates eager sustenance-hankerers with its gourmet versions of homemade southern-cuisine favorites, pleasing both the traditional grandmother and the edgy, postmodern foodie. Inaugurate the gastronomic ceremonies with fried green tomatoes ($7), a flavorful side spruced with local goat cheese and cilantro oil. Drizzled in red-wine syrup, the Shiner-brined pork chop ($17) is an entree juicy and tender enough to replace a damaged waterbed. Reach the fudge-soaked checkered flag with Cast Iron's double-chocolate-fudge cake ($6) with indulgent vanilla sauce. Early-risers still exhausted from a long night of trapeze-archery practice can rejuvenate lethargic brains with a New York–sourced bagel from H&H Bagels, topped with smoked salmon ($13) or the pulled-pork eggs Benedict ($14).
1300 Houston St.
Fort Worth
Texas
Featuring an extensive menu of creative American food—including The Reuben 1976, born on the restaurant and brewery's opening day—Humperdink's has served the mertroplex area for 36 years. Humperdink's boasts menu items such as barbecue ribs, sustainable seafood, steaks, gourmet burgers, and original buffalo hot wings, along with a number of award-winning microbrews crafted on the premises and served on tap.
700 Six Flags Dr.
Arlington
Texas
---