Restaurants in Fort Worth
---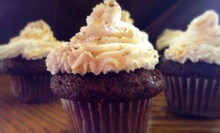 Bakers use fresh ingredients to craft cupcakes, pies, and layer cakes
---
Recommended Restaurants by Groupon Customers
---
In the gently lit restaurant, a waiter in black trousers and white shirt glides between tables toward one of many private booths. When he reaches his destination, he opens his mouth to greet the waiting guests and take their order, but instead of speaking, he bursts into song. The singing waiters' nightly performances help to fuel the happy chatter that rolls across diners at The Italian Inn as soon as they pass the red-and-white striped pole near the entryway. As a live musician sits down at a piano to join the servers in their songs, wall sconces and tabletop candles flicker. Red, blue, and green light-garlands run across the room, casting playful hues on walls covered in handwritten epigrams, love notes, and messages from cardiologists concerned by hearts full of letters.
Chefs load plates with USDA Choice beef or decorate pastas imported from small Italian towns with sauces made fresh daily or imported olive oil. In the kitchen, the crew crafts soups, dressings, and desserts anew each day, and servers scoot past to grab bottles from a cellar crowded with international red, white, and bubbling vintages.
6323 Camp Bowie Blvd. , Suite 119
Fort Worth
Texas
Brownstone is the result of award-winning designer Hatsumi Kuzuu's vision. Combining the expertise of the restaurant visionaries at Sameni Entertainment Group with the innovative architecture of her own imagination, she's given life to an airy, 5,000-square-foot space that crackles with convivial energy. As patrons fill the air with the din of friendly conversation or watch HD televisions from the comfort of their residential-style seating, the waitstaff ferries plates packed with forward-thinking takes on American cuisine. Juicy Angus burgers topped with fried eggs, cuts of chicken-fried steak, and delicate sea scallops seem right at home amid the din of friendly conversation. A well-stocked bar encourages diners to linger at tables on the open-air patio long after plates are cleaned, socializing while sipping on the specialty cocktails that were named some of the best in the city by reporters from Fort Worth CVB.
840 Currie Street
Fort Worth
Texas
817-332-1555
A spacious and casual gathering spot, Big Shots Sports Café is where visitors can stretch out, watch the game, and have a burger and beer. The staff will also agree that it's the kind of place supposed founder Millard P. Foonswaggle would have enjoyed, kicking back after wrestling pythons and generally living on the edge. Inside, patrons sidle up to the bar for a frozen margarita or relax in a booth with an appetizer platter piled with onion strings, buffalo wings, mozzarella sticks, pickle chips, fries, and fried jalapeños. Stop in on Wednesday, Saturday, or Sunday nights for games of Texas hold'em or Friday evenings for live music.
1833 Airport Freeway
Bedford
Texas
817-510-1310
Though chef Daniel Nemec specialized in classic French cuisine at the Texas Culinary Academy, his heart lies in the smokehouse. As the leader of Woodfire Kirby's kitchen, he draws from his experiences growing up in Corpus Christi, where steaks and barbecue pepper the culinary landscape and are considered legal tender.
Nemec imbues hickory flavor in ribs, chops, and sirloin burgers, but demonstrates the wood's versatility with a menu that also includes wood-fired soups and thin-crust pizzas. New york strip steaks and blue-ribbon fillets are cooked to a choice of six temperatures, including classic medium rare and charred-yet-red pittsburgh. Available raw, grilled, or poached, seafood showcases spices that range from asian to argentine to creole.
A private room welcomes up to 48 visitors with a high-definition TV and four banquet menus, and the dining room attracts nighttime guests with handcrafted cocktails and a buzz as vibrant as a birthday party inside a hornet nest.
3305 E Hwy. 114
Southlake
Texas
817-410-2221
At BoomerJack's Grill & Bar and BoomerJack Wings and Grill, diners feast on spicy and savory dishes, complemented by refreshing drinks and the frequent shouts of cheering sports fans. Appetizers include hand-battered and fried mushrooms, pickles, and the restaurant's eponymous Boomer chips, freshly sliced jalapeños served with a homemade sauce. Chefs also sculpt a half pound of ground beef into a behemoth of a burger, adorned with aged cheddar or blue cheese crumbles. Lemon pepper or Cajun seasoning spices up a fillet of farm-raised catfish, while grilled peppers and onions top Ray's sizzling sausage sandwich made from ground filet mignon and pork.
522 Lincoln Sq.
Arlington
Texas
When they opened Miguelito's Mexican Restaurant more than 15 years ago, Michael and Gabby Nevares poured their combined years of management expertise into an eatery focused on fun and flavor. Mexican and American favorites dot the menu, including fish or brisket tacos and queso flameado, a dish of jack cheese lit tableside to melt over shrimp, chorizo, or unpaid parking tickets. American-style chicken-fried steak contrasts with classic house-made tamales or lighter entrees of grilled tilapia with cilantro rice and plantains.
Though Michael passed away in 2004, his spirit lives on at Miguelito's. The man who has rubbed elbows with Harrison Ford and Clint Eastwood would surely be proud to see the new M-Lounge area, which opened in 2009. Lit by funky, jeweled chandeliers, the space features six flat-screen TVs, large leather couches, and impressive karaoke equipment. Behind the full tiki-style bar lined with wrought-iron chairs, bartenders mix signature margaritas and pour imported and domestic brews into glasses or adult water balloons.
209 W Bedford Euless Rd.
Hurst
Texas
817-268-0404
---