Things to Do in Fort Worth
---
---
Fort Worth Things To Do Guide
Cowboys, honky tonks, and rodeos. In many places in Texas, those cultural icons are just relics of the past––but not in Fort Worth. The American West is alive and well in Cowtown, where locals have taken great pains to preserve the heritage of this one-time frontier settlement, even as it swelled to become the 16th largest city in the U.S. But while saloons, cattle drives, and barbecue live on in Fort Worth, the city's not all country; fine art, museums, and cuisine also have their place amid the open plains, and those looking for things to do will discover first hand why Fort Worth is the top tourist destination in the state. Once a market for buying and selling cattle, sheep, and hogs, the 
Fort Worth Stockyards
 is the best place in the city to go for an authentic Texas experience. Visitors can still watch drovers on horseback parade herds of cattle down the main drag en route to a live auction. As the animals clop their way down the brick streets, country music tickles the air thanks to rowdy honky tonks such as
Billy Bob's Texas
, which, at three acres, is the world's largest and houses its own indoor rodeo. A few blocks away,
Pearl's Dance Hall
, a favorite amongst country singers like Dale Watson, still flaunts the original pressed tin ceiling chosen by the saloon's founder, Buffalo Bill Cody. Even the city's
Cultural District
has a bit of western flair. The
National Cowgirl Museum and Hall of Fame
 reveres female ranchers in rotating exhibits, while the Bronc Ride—a life-sized training bull that visitors ride while a staff member films souvenir footage—bucks year-round. The Cultural District's tree-lined streets also give way to more traditional museums. Acclaimed as one of the most striking architectural designs of the modern era, the
Kimbell Art Museum
houses ancient artifacts, a painting thought to be Michelangelo's first, and modern pieces by van Gogh, Monet, and Picasso. At the free-to-the-public
Amon Carter Museum of American Art
, you can survey a collection of American works, including several paintings from the Hudson River School. The
Fort Worth Zoo
has also amassed an impressive collection of more than 7,000 native and exotic animals. The sprawling, flat terrain of the Africa-themed exhibit mimics the savannah for a herd of giraffes and ostriches, and three tanks with more than 10,000 gallons of saltwater showcase the underwater species that call the Great Barrier Reef their home. The zoo's cache also includes Asian elephants, rhinos, a white tiger, cheetahs, gorillas, and orangutans. Of course, Fort Worth is fully prepared for visitors who've worked up a Texas-sized appetite.
Joe T. Garcia
's covers an entire city block, and for good reason—lines sometimes stretch around the corner to get into this fourth-generation family-owned Mexican eatery. The fare skews fancy at the Zagat-rated 
Bonnell's Fine Texas Cuisine
, though the pepper-crusted buffalo tenderloin, shrimp and grits, and oysters Texasfeller retain their Lone Star flavor thanks to ingredients sourced from Texas farms.
Thankfully, there's enough things to do in Fort Worth to make the city one of the most unique in Texas.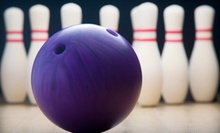 Use Wednesday 7:00pm - 11:45pm
---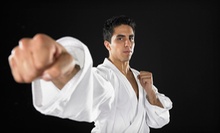 Self-defense class imparts wide range of powerful kicks & helps students develop speed, strength, flexibility & discipline
Use Today 1:15pm - 5:15pm
---
Recommended Things to Do by Groupon Customers
---
As the doors of Moxley Manor Haunted House creak open, guests may find themselves unsure of where truth ends and legend begins. Walking down foggy hallways and surrounded by disorienting strobe lights, they're immersed in the haunting, real-life tale of the ill-fated Moxley family—all brutally murdered by a coldhearted mistress. These horrific events are brought to life by a cast of talented actors toting roaring chainsaws, severed heads, and the bodies of long-dead houseplants.
The charitable staffers at Moxley Manor Haunted House scare the dickens out of their guests for a good cause—the haunted house's proceeds benefit the Leukemia and Lymphoma Society. The Moxley Manor also opens its doors to murder and mayhem on a few of the less spooky holidays, including Christmas and Valentine's Day.
510 Harwood Road
Bedford
Texas
Though you'd never guess it based on its white, soot-free façade, an unassuming bungalow in East Forth Worth has seen fire from every angle. The structure began its life in 1928 as a fire station to protect the area's growing population from faulty toaster ovens, and today it serves as a gallery and workspace for flame-taming potters.
Firehouse Pottery's community-driven studio enables local artists to create new work in classes for all age groups classes and then display their proudest pieces in exhibitions or among a rotating selection of paintings, drawings, and pottery on display.
Resident artist Keith Thomson creates hand-made pottery and other clay artwork under tudor half timbered gables, welcoming audiences and protégés as they enter under a gabled portico held up by thick stucco columns. The intimate space also hosts events, which range from gallery exhibitions and BYOB gatherings to book signings at which only quill pens are allowed.
4147 Meadowbrook Drive
Fort Worth
Texas
817-534-1166
Though she's clad in her finest tiara and dress, the princess does not, in all the excitement, notice that there is icing on her nose. However, this potential party faux-pas goes unnoticed by her fellow princesses, as they're all occupied with contributing to the symphony of giggles and jubilant chatter reverberating off the tea room's pale pink walls. Despite their attire, this royal crew is not based in a fairy tale but rather partaking in one of Chelsea's Tea Room & Boutique's glamorous princess dress-up parties. Dedicated to fostering magical moments such as these, the tearoom's staffers help youngsters let their imaginations run wild via well-planned parties and events.
Amid the elegant tearoom, staffers gild the faces of partygoers in makeup and festoon their nails in fairy dust before unleashing them upon the wardrobe of dress-up clothes. Wee guests hop into the finery of their choice, solidifying their official princess status during a regal strut across the stage and down the runway. Newly minted sovereigns then sip giggle tea and snack on treats such as scones, teapot cookies, and chocolate truffles. Trained in the art of make-believe, staffers remain on hand throughout parties to entertain crowds with riveting stories and etiquette sessions that teach skills, such as table manners and the importance of saying "please" and "thank you."
Along with glitzy parties, Chelsea's Tea Room & Boutique also hosts Princess Summer Glamour Camps designed to promote values such as self-respect, spoken and written communication skills, and confidence among its campers. Its shelves brimming with vibrant decor and sparkly togs, the on-site boutique enables guests to stock up on all things girly during pre- or post-party shopping sessions.
4772 Little Rd.
Arlington
Texas
817-563-1800
In 1934, many flight passengers still traveled by bald eagle, which was dangerous, had few amenities, and was illegal. But along came C.R. Smith, president of American Airlines for 34 years, who pioneered innovations in commercial aviation that improved passenger comfort as well as plane capacity. Today, the American Airlines C.R. Smith Museum honors his legacy with hundreds of historical artifacts, photographs, and full-scale airline engines. The museum's centerpiece is a rare 1940 Douglas DC-3 airliner, the Flagship Knoxville—a fully restored testament to C.R. Smith's contributions to the industry. Other perennial attractions include a flight simulator and The Spirit of American, a film that documents the history of commercial aviation, featuring panoramic aerial photography and rare footage of Icarus nearing the sun.
4601 Texas Hwy. 360
Fort Worth
Texas
817-967-1560
---