Beauty & Spas in Foster City
---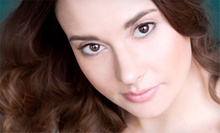 Use Today 10:00am - 4:00pm
---
Recommended Beauty & Spas by Groupon Customers
---
The physicians and skincare experts at SkinSpirit concentrate their nonsurgical beautifying powers on restoring and rejuvenating every corporeal form in sight. During the signature facial, a medical-grade microdermabrasion first breaks through the skin's outer shell, forever quieting the dull conversations of expired skin cells and replacing them with the polished banter of a youthful façade. Then the skilled staff paves freshly smoothed veneers with a warm enzyme exfoliant before applying a double-layer antioxidant mask. Once the mask has finished uploading a brand-new personality to your face, a layer of enzyme serum gives your mug a hug while a copper-peptide-rich moisturizer refuels subdermal collagen generators and pampers sensitive skin to the point of looking, feeling, and acting younger than it did yesterday or the day before yesterday, but not two days after the day before yesterday.
701 Emerson Street
Palo Alto
California
Headed by mouth-artist Dr. Chad Lyew, the soothing soft pink walls of Alemany Dental house a highly experienced staff of tooth experts who happily treat an individual's teeth like calcified celebrities. Dr. Lyew performs free dental exams for the children of San Francisco's elementary schools out of an all-encompassing passion for health and healthy-looking gnashers.
3911 Alemany Blvd. Suite 1002
San Francisco
California
Spirit of Health's trained massage therapist, Cara Schwartz, thwarts clients' swelling anxieties and bolsters their overall well-being through a variety of kneading techniques. During the one-hour hot-stone massage, smooth, basalt rocks thaw taut tissues and prepare bodies for adventurous volcano-exploring expeditions or checking a car's underbelly while on a volcanic mountain. Cara arranges the flat, heated rocks around spinal cords to slacken tight muscles before tenderizing them with nimble digits. Alternatively, patrons can luxuriate under the human touch during a hot-oil massage, which opens pore doors while making skin as soft as a windswept schnoodle.
21730 Stevens Creek Blvd. , Suite 104
Cupertino
California
American Male Salon is a 2009 Best of Citysearch salon for its unbeatable brain-cover pampering and grooming. Stylists are certified in-house, and their professionalism and expertise are made manifest in each follicle makeover. During your custom haircut, they'll shampoo hair twice and condition it. Then the quality grooming experience truly begins. You'll receive a mini face-and-scalp massage, a warm-towel face wrap, and a moisturizing facial misting that polishes people for the world of hair photography, standing outside on a windy day, or skillfully conducting model railroad trains.
560 Showers Dr
Mountain View
California
Skilled scrubbers slather your entire body, smoothening and revitalizing your skin with a blend of cane sugar rich in anti-oxidants. The activating essentials are born out of the nectars of organic pomegranate juice, whole cranberries, and apples that fall close to the tree of eternal life. With the grace of a swan and the deliberately smooth stroke of a paddleboat resembling a swan, a skilled spa specialist will work the moisturizing exfoliant into your body and soul, leaving you significantly less mad than a wet hen.
1200 Fairmont Dr., Suite B
San Leandro
California
The work of the skillful stylists at Hair International has garnered top praises from the readers of Palo Alto Weekly five years running, earning the salon a spot in the publication's 2012 Hall of Fame. Their scissors and dyes treat locks of every texture and their blow dryers create special looks for weddings and other dressy events. Nail techs pamper paws with spa mani-pedis and depilatory experts shape brows with waxing, threading, and hair-sized mousetraps.
232 Stanford Shoppng Center
Palo Alto
California
---