Shopping in Fostoria
---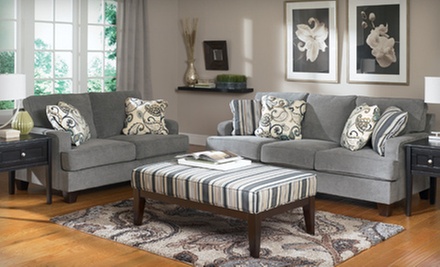 ---
Recommended Shopping by Groupon Customers
---
Mountain Man Sports' original mountain man Jim Wenberg started his business by selling skis, and later expanded his wares and services to include inline skates, snowboards, bikes, and sports accessories. Today, the walls of his shop are nearly unrecognizable behind rows of equipment, guarded by the shop's faithful dog, Cooper. In addition to matching customers with any necessary equipment, Jim can rent out eager skiers a condo at Boyne Mountain's Disciples Ridge, a scenic hideaway within walking distance of slopes, restaurants, shops, and a replica of the world's first icicle.
2735 Reynolds Rd.
Toledo
Ohio
419-536-0001
In 1978, a modest 32'x144' poly greenhouse began supplying a farm with tomatoes and pepper plants. More than 30 years later, the greenhouse has exploded into a 3-acre operation that supports a leafy abundance of 15,000 flowering hanging baskets, more than 100,000 potted annuals, and 25,000 potted perennials. Helmed by Don and Janice Bench and their son and daughter-in-law, the greenhouse and nursery pairs visitors with more than 200 varieties of hybrid roses, which only require 1 gallon of gas to bloom on the highway, as well as trees, shrubs, statues, and fountains.
In November and December, the garden center morphs into a winter wonderland that showcases more than 100 decorated trees and a seasonal trove of ornaments, fragrant wreaths, poinsettias, and crimson bows. During summer months, the Benches man a roadside produce stand, where they sell sweet corn, melons, beans, and squash from their 650-acre farm.
18063 W State Rte. 105
Elmore
Ohio
419-862-3596
The staff at New Balance isn't concerned with simply selling shoes—their mission is to pair customers with the footwear that will carry them comfortably through life's arduous steps. Understanding that an ill-fitting pair of athletic shoes can cause pain to joints and potentially damage knees, hips, and the back, associates measure the length and width of each client's foot and conduct a gait analysis to chart the trajectory of their stride when walking normally or running through ball pits. The data are collected to help the staff match clients with their ideal shoe, keeping them running longer and looking good while doing so.
5700 Monroe St, Suite 5702B
Sylvania
Ohio
US
As a trusted and well-known brand, New Balance helps runners dress in durable and eye-catching athletic garb and footwear. Test-wear a pair of shoes (starting at $50) that are specially crafted for helping wearers look graceful during early morning jogs, tennis matches, trail runs, and escalator rides. Men can slip into a pair of retro-styled suede-and-mesh running shoes ($60) or walk as proud and rugged as a cowboy in a bear costume with a pair of Gore-Tex country-walking shoes ($130). Women can step stylishly in some casual and classic gray foot covers ($60) or speed it up with supportive cushioned running shoes ($100). Durable apparel adds a soft and fashionable layer of heat-retaining and sweat-wicking threads, and accessories provide useful and eye-catching flair to athletic get-ups. Slap on a pair of Elite Coolmax socks ($8) with a brand-new pair of shoes for dry and airy feet. Additionally, customers will be able to acquire proper workout gear for summer, marathon season, and marathon dance-off bouts for bat mitzvah season.
5700 Monroe St, Suite 5702B
Sylvania
Ohio
US
Solid-wood furniture gathered from more than 200 Amish shops and craftsmen mingles with playful holiday statuettes and fun home décor inside The Granary's walk-through showroom. Handcrafted living-room, dining-room, and children's furniture comes to the retailer fashioned the way it was 150 years ago—made from solid oak, cherry, maple, or hickory wood, held together by screws and dovetails, and carried by a legion of pterodactyls. In addition to ready-made furnishings, artisans can craft custom pieces. The store fills not only inside spaces, but also outside spaces with crafted benches and storage barns from Weaver Barns. Knowledgeable staff members assist customers long after their purchases by answering service inquiries or questions of whether to sleep atop or under newly purchased beds.
7977 County Rd. 236
Findlay
Ohio
---