Coffee & Treats in Fountain Hills
---
Recommended Coffee & Treats by Groupon Customers
---
When they emerge from the La Dolce Pesca kitchen, the wedding cakes, cupcakes, and cookies are almost too pretty to eat. This makes sense, as the bakery's seasoned pastry chefs handle their culinary creations as though they were works of art, decorating them with elegant fondant flowers, dazzling swirls, and whimsical patterns. Their gorgeous baked goods have made appearances at many a wedding, baby shower, and bar mitzvah, as well as in the glossy pages of Arizona Foothills and Arizona Bride Magazine.
The chefs customize cakes and pastries to order, taking time to meet with the customers beforehand to discuss preferences and administer tastings. They invite clients to choose from a variety of cake flavors, fillings, and frostings, or to choose from a selection of gourmet layer cakes, such as the German chocolate with coconut pecan frosting or the lemon mousse with candied lemon zest. The chefs can also tailor cakes to accommodate clients with wide variety of unique dietary concerns, such a birthday boy with a gluten allergy or a groom who turns into a frog whenever he eats a pecan.
4160 N. Craftsman Ct #103
Scottsdale
Arizona
Fresh, high-quality ingredients are the keys to Yogurtology's appeal, allowing guests to indulge in dessert while doing good for their bodies. In addition to diligently preparing fruit toppings daily, the staff members hand-cut each hunk of candy bar, creating delectably bite-size pieces that can be scattered over yogurt along with gummy candies, flakes of coconut, and more than 60 other garnishes, many of which are gluten-free and are carefully kept from commingling with the other ingredients. The resident "yogurtologists" also apply their attention to detail to the shop's atmosphere, replenishing and cleaning up the toppings bar throughout the day, helping to maintain a crisp, neat vibe.
Of course, toppings are only half the story. The stars at Yogurtology are the frozen yogurts, which range from classics to inventive flavors like pomegranate raspberry, Tart Nouveau, and award-winning Oatmeal Cookie. The self-serve machines offer up two no-sugar-added and two dairy-free options daily in order to accommodate dietary restrictions, and the shop shows respect to man's best friend by carrying cups of organic "doggie" yogurt.
6501 East Greenway Parkway
Scottsdale
Arizona
480-443-0241
The Gelato Spot's frozen-dairy hotshots merge ingredients imported from Torino, Italy, and churn a bevy of creamy gelati and sorbets daily. The gelateria's small tongue-chilling batches have earned the shop the title of Best Frozen-Yogurt/Ice Cream Spot in AZ Central's 2011 readers' poll, which praises the eatery's extravagant displays and cheerful staff. Though The Gelato Spot specializes in traditional Italian flavors, such as stracciatella and amarena, they also craft American renditions such as Snickers, new york cheesecake, and salted caramel. As diners shovel in glacial delights on The Gelato Spot's heated and misted patio, they can also cruise the web with complimentary WiFi.
4166 N Scottsdale Rd.
Scottsdale
Arizona
From its humble beginnings in Kankakee, Illinois, in 1938, Dairy Queen has grown from a delicious experiment in soft-serve ice cream to a household name with more than 5,900 restaurants around the world. The shop's signature frozen delights are built upon a frosty foundation of creamy chocolate or vanilla soft serve, which swirls idyllically into cones, cups, overturned top hats, sundaes, Peanut Buster parfaits, and the chain's iconic Blizzard treats, blended with crumbled candy and other mix-ins. Ice-cream cakes cleverly conceal a surprise filling of fudge and chocolate crunch between layers of vanilla and chocolate ice cream, providing sweet, sliceable sustenance for birthday parties and other special occasions.
Fruit rules the roost on the other side of the slushy emporium, where Orange Julius blends its signature frothy drinks crafted from fruit juice, ice, and a "magic" powdered sweetener that explains why they disappear from most customers' cups minutes after the first delicious sip. Real fruit purée forms the basis for the shop's smoothies, which also come in diet-friendly light versions that boast 150 calories or fewer.
11219 East Via Linda
Scottsdale
Arizona
480-614-5981
---
---
Coffee & Treat Deals - Recently Expired
---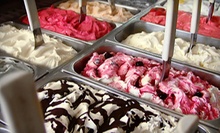 Sweets-makers trained in Italy scoop dollops of creamy gelato in flavors such as salted caramel & root-beer float
---
---