Restaurants in Fountain Hills
---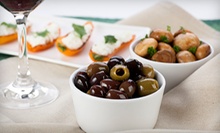 Upscale eatery serves up artisan pizza, wine-poached halibut, and pulled-pork sliders accompanied by an exhaustive wine list
---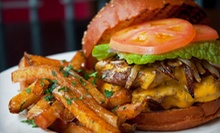 Southwestern comfort-food entrees star meatloaf, pulled pork, ribs, and steak in a saloon-style eatery
---
---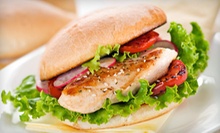 Fried alligator and crawfish, Cajun-inspired burgers, and fish tacos amid tropical cocktails and a party atmosphere
---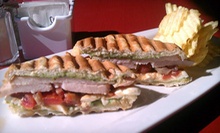 Chefs cram local, hand-picked produce into hot-pressed wraps such as quesadilla-style tortillas & paninis such as smoked-turkey clubs
Use Wednesday 11:00am - 2:00pm
---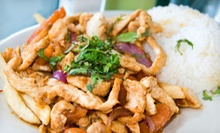 Cooks prepare plates of piping-hot paninis stuffed with grilled chicken breast & cheese, fresh salads & authentic Peruvian dishes
Use Tuesday 11:00am - 4:00pm
---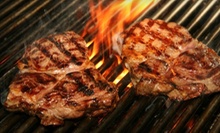 Owner-chefs prepare tender grilled barbecue such as baby back ribs & chicken wings from secret Tennessee-family recipes & sauce
Use Today 1:00pm - 3:00pm
---
---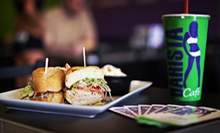 Bikini-clad baristas and waitresses top tables with shrimp-salad sandwiches and pulled pork infused with pineapple
Use Today 3:00pm - 10:00pm
---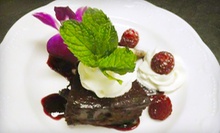 Executive Chef David Antonelli crafts dishes of duck, lamb & seafood with traditional French flair
Use Today 5:30pm - 7:30pm
---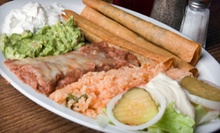 Shredded-beef chimichangas crowned with fresh guacamole and mole de pollo's red chili sauces, ground nuts, and chocolate spice up dinner
Use Tuesday 11:00am - 3:00pm
---
Recommended Restaurants by Groupon Customers
---
Eating at someone else's house usually means overcooked yams, reedy string beans, and tedious games of red rover. Today's Groupon invites you over to someone's house for good food and no tedious games of red rover. For $25, you'll get $50 worth of colorful cuisine at Eddie's House, a delicious dwelling inhabited by local celebrity chef Eddie Matney. Phoenix Magazine's Number One Chef in the Valley rolls out his signature Mediterranean-influenced New American fare in a new namesake spot.Think: Your eyes reveal that this meal is the highlight of your day. I feel pity for you. Say: You guys look like you need some nacho poppers. They go great with our cheesy-chicken skewers!
7042 E Indian School Rd.
Scottsdale
Arizona
US
Today's Groupon coats your fingers, tongue, and finely feathered barbecue feelers in a savory layer of some of the finest barbecue in Arizona. You get $30 worth of baby back ribs, barbecue beef, pulled pork, brats, and any of the mouthwatering comfort food at Scottsdale BBQ Company for dine-in or take-out.Follow @Groupon_Says on Twitter.
8471 E McDonald Dr.
Scottsdale
Arizona
US
480-948-4227
If you've always wanted to visit Bangkok, but could never learn the Internet to order a plane ticket, today's Groupon will get you the next best thing: $40 worth of acclaimed Thai cuisine at Malee's Thai Bistro for $20. AZ Central, whose readers picked Malee's as Best Thai Restaurant of 2009, describes the intimate Old Town restaurant as a "great place to warm up and chill out after an afternoon of browsing local shops and art galleries." Malee's food is MSG-free, and if you have special dietary needs, the chefs will happily de-glutenize or vegetablize any order. You can also have any dish custom-spiced to your preferred level of spicy.Unfortunately, no amount of angry letters directed at government officials or Hollywood scientists could stop the heat from rising. Temperatures soon reached an unheard-of 70 degrees, and Arizona repealed its mandatory "10 Layers of Underwear to Prevent Moral Perversion" statute and became the first territory to make reading illegal for children under six, believing that the brain waves of young readers were causing the heat wave. A delegation of Arizona preachers even visited the equator to yell at the sun, but to no avail. No cure was ever found for the rising temperatures, and today, temperatures in Phoenix rarely drop below 200 degrees.
7131 East Main Street
Scottsdale
Arizona
US
480-947-6042
Though advanced video cooking technology makes it possible to cook any recipe through the tutelage of a pocket-sized machine, no toys can replicate the out-of-the-house dining experience. The Bamboo Club's warm, welcoming interior offers respite from the harsh whispers of the wall-people at home, and the handsome, outdoor patio is an ideal spot for breezy dates.
8624 E. Shea Blvd.
Scottsdale
Arizona
More than 15 signature thin crusts vie for attention on Rare Earth's supper menu, including the early-morning charm of the breakfast anytime pizza (sausage, bacon, white onion, and mozzarella, topped with a sunny-side-up egg and cracked pepper; $14), the sweet and spicy prosciutto and fig pie ($14), and the light and savory bianca pomodoro with garlic and oil beneath mozzarella, goat cheese, parmesan, and tomatoes ($13). Sandwich enthusiasts, meanwhile, will admire the precision layering of the Goodfella Italian sub, decked in salami, prosciutto, pepperoni, tomatoes, roasted red peppers, provolone, and house vinaigrette ($13). You'll be able to flip through your options while basking in Rare Earth's warmly refined atmosphere and admiring its pristine vistas of Troon Mountain and Pinnacle Peak. Settle into Rare Earth's rhythm with a glass of Lot 205 zinfandel ($8) and a starter of baked brie with fresh fruit, walnuts, and lavosh ($11).
28190 N Alma School Pkwy.
Scottsdale
Arizona
480-513-6252
Inspired by their physically and socially active California origins, the pies at zpizza start out with an entirely organic, whole-wheat-flour base, hand-thrown and fire-baked until crisp. Zpizza creations include the Napoli (basted with homemade roasted-garlic sauce, mozzarella, tomato slices, parmesan, and fresh basil), Greek (feta, red onions, firm kalamata olives, tomatoes, oregano, and mozzarella), and Thai (splashed with peanut sauce and dressed with mozzarella, spicy chicken, red onions, cilantro, carrots, crisp bean sprouts, and Serrano chilies). Depending on the location, prices and menu options vary. Not including tax, specialty pizza creations can start at around $10 for 10", $17 for 14", and $20 for 18". Classic consumers can opt for the standard cheese ($17.50 for 18") or pepperoni ($19.50 for 18"), or create their own pie. Zpizza's menu includes salads ($5.95–$8.50 for regular salads), calzones ($6.95), and pasta dishes ($7.50). An assortment of cookies rounds out the sweet side.
20511 N Hayden Rd. #110
Scottsdale
Arizona
---