Four Corners Gyms and Fitness
---
Gym, Exercise, Weightloss Deals
---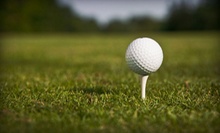 Nine-hole executive course converted from a dairy farm challenges short games amid water hazards and bunkers; onsite lessons are offered
---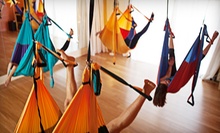 The studio owner leads students in antigravity poses while they are suspended in specially designed yoga swings
---
Recommended Gym, Exercise, Weightloss by Groupon Customers
---
For more than 35 years, guests of Courthouse Athletic Club have conquered every hindrance to personal health, taking advantage of a multilayered approach that addresses fitness, diet, and broader facets of well being. Beyond basic features such as weight training, cardiovascular equipment, and immobile floors that force walking, membership grants access to more than 320 group fitness classes that populate each week's schedule, integrating practices such as Pilates and yoga along with aqua Zumba and Jazzercise. Courthouse Athletic Club's personal trainers follow the philosophy that being fit means being empowered to embark on any kind of adventure you want. A core tenet within that philosophy is the belief in fun. The staff does not emphasize a rating system or hierarchy, instead evaluating progress in terms of whether clients become more able to experience an enjoyably active life. Onsite childcare providers take care of young ones while parents work out, and many youth activities also keep kids busy, including swimming and special-needs dance classes. Courthouse Athletic Club is also part of a network of 70 clubs in the Pacific Northwest; members can work out at those facilities as guests when on the road.
6250 Commercial St.
Salem
Oregon
Physiq Fitness is a shining new workout center—almost as shiny as the silver medal it won for Best Fitness Center and the bronze medal it won for Best New Business in the Statesman Journal's Best of Salem 2012 awards. Inside the modern facility, strength machines, cardio machines, and free weights stay at their posts 24 hours a day, waiting for members looking to boost muscle mass or crack stubborn walnuts. Certified personal trainers hang out, too, calling upon their years of schooling in science and human biology and their expertise in strength and cardio training to lead clients through tailored workouts and nutrition programs. Strength-training and sports-training sessions tackle sport-specific workouts that help increase power, stamina, and agility. Additionally, Physiq's boot-camp sessions challenge groups with a slew of conditioning exercises, calisthenics, obstacle courses, and drills designed to help boost performance levels during sports and full-contact spelling bees. Clients can replenish incinerated calories with healthy shakes from the in-house juice bar.
420 Mill St. SE
Salem
Oregon
503-949-8113
Keizer Snap Fitness's around-the-clock gyms enable members to work on their physical well-being with a cornucopia of fitness equipment. With 24-hour access, members don't have to let The Man tell them when to help themselves to Snap's strength and cardio equipment, which features built-in TVs and other media diversions. For those who exercise during conventional hours, Snap's friendly, unintimidating atmosphere welcomes patrons of all ability levels, unlike schoolyard dodge-ball squads. Members also enjoy nationwide access to all Snap Fitness locations, ideal for working out while traveling.
For a dose of custom advice, patrons can seek out a personal-training session with a certified coach, who helps them assess and address their fitness goals. Clients reap the benefit of individual attention as a personal trainer helps them tackle weight loss, prepare for an arm-wrestling competition, or unveil the mysteries of arcane cable-weight machines.
5422 River Rd. N
Keizer
Oregon
503-400-6344
---