Massage in Four Corners
---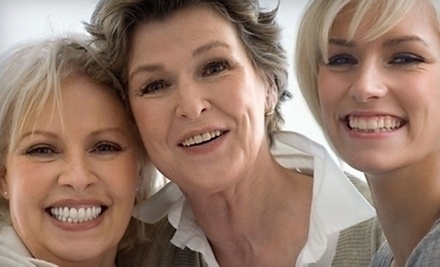 Tigard Neighborhood Area 7
---
Recommended Massage by Groupon Customers
---
The experienced therapists at Zama know how to make muscles melt in a protein pool. Choose from four relaxing massages: the Swedish (soothing, relaxing, de-stressing), sports massage (full-body option that stretches tight muscles and returns them to their full, active potential), deep-tissue massage (alleviates tremendous pain, reduces debilitating scar tissue, and decreases incidents of stress-yelling), or ashiatsu (ancient method that applies deep pressure from the therapist's feet). Pair muscle unknotting with a sense-awakening scent blend such as geranium and orange Balancing; tingly tea tree; lavender; eucalyptus and peppermint Muscle Relief; the lemon-, peppermint-, and rosemary-slicked Revitalizing; or the tea-like Stress Relief, with jasmine and bergamot.
2149 NE Broadway St.
Portland
Oregon
503-281-0278
If the body is a messy machine, then chiropractors are the necessarily filthy mechanics. The chiropractors at Clearwater Clinic are highly trained in orthopedics, neurology, anatomy, physiology, nutrition, and metallurgy. Their years of experience with human spines have made them skilled healers and excellent double-dutchers. The Clearwater chiropractors will find the source of your pain and threaten it out of town with the appropriate taunts, gestures, medical experience, and physically restoring services.
1201 Southwest 12th Avenue
Portland
Oregon
503-279-0205
At Common Ground Wellness Center's two locations, diverse patrons seek health through holistic body treatments including therapeutic massage and acupuncture, and soak up relaxation in a bathhouse with an outdoor whirlpool and cedar sauna. The center's co-op location invites visitors of all genders to soak in the facility's swimsuit-optional spa throughout open sessions or during hours designated for male, female, or trans and genderqueer persons. Visitors who regularly use alternative transportation—including their bike, feet, or polar bear—can claim a complimentary soak or sauna on their 11th trip. An eclectic roster of 30 bodywork practitioners practices at both the co-op and 106 year-old Flanders House venues, healing clients' minds and bodies with hands-on massage and chiropractic therapies alongside naturopathic guidance and emotional counseling.
5010 NE 33rd Ave.
Portland
Oregon
503-238-1065
Stress-stomp up to Blue Sky's soothing cerulean storefront, located in the Boise neighborhood, and prepare to give your body a Groupon-exclusive break. A member of the friendly staff will guide you into one of the private, modestly appointed, and pacifying treatment rooms, where you can collapse upon a welcoming massage bed. Once there, surrender to an hour of deliberate and direct muscle-grain pressure, the defining traits of deep-tissue massage. In addition to thoroughly puttifying all of your muscles, Blue Sky's licensed massage therapist will include hot aromatherapy oils in the full-body treatment. The artfully tailored smells twined in tandem with the massage will loosen your brain from its cranium until it floats above your body like a floating cerebral cortex tethered by thousands of synaptic connections. Your therapist will be sure to communicate with you throughout the massage in order to ensure an optimum level of comfort.
3944 N Mississippi Ave.
Portland
Oregon
In a calm, soothing sanctuary, a licensed massage therapist will evaporate aches and pains by employing focused forearms on each of your four arms. The 60-minute hot-stone massage (an $85 value) makes use of heated basalt stones resting on tension points to relax sore muscles, pacify troubled minds, and recharge the body's natural nuclear-power plant. Alternatively, select a 60-minute fusion massage (a $70 value) with an aromatherapy-session upgrade (a $15 value, adds 15 minutes). After a consultation to create a customized blend of organic, essential oils for use during the massage, the therapist will employ a blend of Swedish and Thai massage techniques to gently stretch and knead tired flesh dough. The treatment then comes to a calming close with a scalp rubdown and a marma-point face massage.
1326 SE Malden St.
Portland
Oregon
The smell of lavender wafts through the air and the warmth from hot towels soothes muscles as clients relax in softly-lit rooms at Pura Vida Massage & Wellness. It's part of the massage therapists' efforts to ensure that each guest can escape to a tranquil space, even before the massage services begin. Pura Vida's massage therapists relieve pain and tension with everything from deep-tissue work and hot-stone massages to Reiki therapy. They also offer prenatal massages to prepare babies for the life of ease they are sure to experience as humans.
478 Second St.
Lake Oswego
Oregon
---