Framingham Center, MA Beauty and Salons
---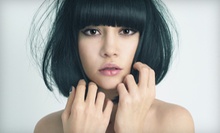 Use Thursday 12:00pm - 8:00pm
---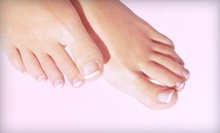 As guests relax and soak overworked tootsies, nail technicians care for cuticles, shape nails, and paint them with high-quality OPI polish
Use Today 10:00am - 5:00pm
---
Recommended Beauty by Groupon Customers
---
Mila Skin Care Salon's eponymous aesthetician, Mila Kriger, calls upon more than 10 years of skin-care experience—including hands-on training with organic and alternative medicines such as Ayurveda—to clear skin of blemishes and promote a healthy, glowing complexion. Though Mila specializes in restoring the face to its youthful radiance, her holistic approach emphasizes whole-body detoxification and may include energy healing, chakra balancing, or karmic residue cleaning. She combines these nontraditional healing methods with advanced skin-clearing treatments, employing a MegaPeel microdermabrasion machine to peel away dead skin cells and a Galvanic facial massager to clear black eye rims caused by staying up late or wearing freshly painted monocles. Depending on the personalized skin-care regimen she crafts for you, Mila may also call upon organic products from Hylunia or the professional formulations of PCA SKIN.
89 Ewald Ave.
Marlborough
Massachusetts
781-330-1923
Board-certified physician Dr. Shunian He built Lipo-Ex of Marlborough around the versatility of bipolar radio-frequency technology. Lipo-Ex's handheld applicator creates an electric field that gently heats the tissue, prompting fat cells to shed their tears of goodbye into the disposal chutes of the lymphatic system. The heat stirred up by radio frequencies can also promote the production of collagen to firm the face or any part of the body.
640 Bolton St.
Marlborough
Massachusetts
508-480-5443
Dr. Joseph Russo keeps good company. In addition to serving as a Fellow of the American College of Surgeons and a member of the American Society of Plastic Surgeons, the Harvard graduate leads Laser Gentle Medical Spa's band of medical professionals, aestheticians, and nonsentient lasers. Together, the team works to help their patients reach personal aesthetic goals with skincare therapies, such as laser skin tightening, chemical peels, Botox injections, and i-Lipo, that help to eradicate blemishes, veins, wrinkles, and unwanted bulk.
20 Hope Ave., Suite 208
Waltham
Massachusetts
781-647-1500
Soft as Silk Laser's walls are bathed in rich reds and glimmering golds that evoke the robes and crowns of royalty—but it's the med spa's roster of aesthetic services that fully convinces clientele that they're kings and queens. The staff of aestheticians relies on steady hands, keen eyes, and safe, advanced technologies to elevate their customers' appearances during hair, skin, and lash beautification services. They aim the Palomar laser at skin of any type or tone to remove blonde, red, brown, or black hairs. Their steady hands erase fine lines and sun spots using a crystallized microdermabrasion machine or the PowerDerm Kinetic dermabrasion, which exfoliates with kinetic energy that further helps stimulate lymphatic drainage and tighten face and body skin. They delicately layer in Xtreme Lashes—individual eyelash extensions to thicken and darken lid fringe. During spray tans, they evenly coat bodies with a sunkissed glow that can last up to three weeks, depending on the client's commitment to aftercare and avoiding tar pits.
18 Washington St.
Hudson
Massachusetts
508-395-0600
Since 1985, Dr. Phillip Lukoff has helped his patients to kick foot problems to the curb with his compassionate podiatric care. Armed with the FDA-approved Q-Clear Q-switched laser, Dr. Lukoff zaps away unsightly fungus with a targeted mid-infrared-light wavelength. Virtually pain-free, the laser procedure won't harm patients' toes or their foot's ability to write in cursive. Although he specializes in laser toenail-fungus removal, Dr. Lukoff is affiliated with Beth Israel Deaconess Hospital Needham, and he also treats feet with services including surgeries, heel-pain care, and fracture repair.
192 Worcester St.
Natick
Massachusetts
508-650-3668
At The Polished Loft, an amiable staff of four have created a personable, cozy beauty emporium where clients can pamper their skin and nails with a fleet of services. The aestheticians infuse skin with nutrients during facials and grant clients a sun-kissed hue with airbrush spray tanning, whereas the spa's nail technicians treat hands and feet to manicures and pedicures, soothing digits and readying them for upcoming hand-modeling competitions.
884 Boston Rd., Floor 2
Billerica
MA
US
---