Things to Do in Framingham
---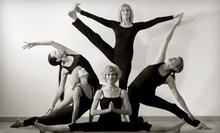 Respectful, certified yoga instructors lead Iyengar and Vinyasa classes, including heated flows, at three levels of difficulty.
Use Monday 3:00am - 6:00am
---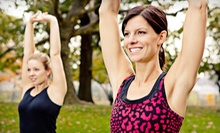 Peppy tunes play for 20 minutes of interval training, classical accompanies dynamic stretching, and new hits signal 10 minutes of ab work
Use Tuesday 3:00pm - 6:00pm
---
Recommended Things to Do by Groupon Customers
---
Local artists and spouses Denise Girardin and Steve Levinsky are the brains behind Palettes, a studio that aims to awaken the creative side of the community with painting's jubilant anthem. The couple's artistic endeavors stretch far beyond Palettes, though—Steve plumbs the depths of fire to find glass art, and Denise designs unique pottery inspired by the ocean and the seahorses that ride off into the sunset every evening. In addition, they are so involved in local affairs that Natick Center Associates selected them as the recipients of the 2012 Heart of the Community Award.
A row of easels dominates Palettes' roomy space during classes and open sessions, in which students re-create works of art while snacking on menu items such as asian-noodle salad and sweet-potato chips. Herb-, spice-, and fruit-infused potions flood the Water Bar, whose imported and house-made waters are perfect for making toasts to the art instructors for offering such helpfully Latin-free guidance. Palettes' people also teach students how to develop their taste buds during Waters of the World Club educational lectures, which lead to the studio's signature H2Ommelier certification.
29 Main Street
Natick
Massachusetts
508-318-8337
Over the painted lanes and distance markers at Ace Archers' outdoor field, arrows hurtle toward American Whitetail target mats situated between 15 and 90 meters away. The range hosts practice sessions for tournaments trainees, and additional instruction takes place at an indoor range where arrows whizz down 14 lanes. Under the tutelage of coach Tom Herrington, participants learn level 1 and level 2 archery instruction or improve their shot with video coaching, with which Tom analyzes a participant's form after filming it from seven angles. Group classes guide archers of all levels with a custom curriculum, and individual coaching pairs students with instructors who focus on issues requiring special attention. Elsewhere, the staff sells competition and hunting bows at its pro shop, hosts two-hour archery parties, and holds annual tournaments where competitors show off their skills by shooting wedding rings onto Maid Marion's finger.
131 Morse St.
Foxboro
Massachusetts
508-697-5647
When PYOP Studio, Inc founder Vaishali Patel learned she was pregnant, she seized the rare opportunity to put her pottery painting skills to a mischievous use. So she picked out a bisque platter, painted the words "You're going to be a perfect daddy" on its surface, covered it with chocolates, and presented it to her husband while they were picnicking on a lake.
Now, the innovative potter strives to empower budding artists to create their own pottery keepsakes at PYOP Pottery. She provides customers with more than 200 bisque pieces and 50 vibrant paints to choose from, and even helps new parents assemble footprint artwork to preserve memories and prove the existence of feet to their future, segway-powered great-grandchildren. Though her studio encourages customer to explore their own creative potential, on-staff artists are happy to create custom pieces.
290 W Main St.
Northborough
Massachusetts
508-393-3100
The NAUI-trained diving instructors at Cuzins Outdoors specialize in turning ocean-shy beginners into full-fledged scuba masters. Students stretch across a wide spectrum of age and experience, training in the program that best suits their individual needs, from introductions to recreational diving to advanced certification courses. In basic classes, pupils learn to submerge in the controlled setting of the Cuzins swimming pool, whereas more experienced divers can team up with an expert teacher to add to their existing skills with specialized training in areas such as ice diving and exploring wrecks. Cuzins Outdoors also rents and sells equipment and gear, even altering wetsuits to mend a busted zipper or add tweed elbow patches.
250 Douglas Rd.
Whitinsville
Massachusetts
508-372-9236
Fresh air fills kids' lungs as they race through the myriad outdoor activities at Funway Foxboro, powering them through afternoon marathons of inflatable castles and miniature greens. A waterfall cascades over the mini-golf course, which overlooks a pool churning in the wake of bumper boats bouncing off each other as they collide. Conversely, go-karters try to avoid impact with their fellow drivers as they speed along, and pitching machines vainly attempt to sneak baseballs past sluggers at the batting cages. At both the rock-climbing wall and inflatable moon bounce, visitors can conquer gravity without traveling back in time to hand Isaac Newton a hard hat. Everything from Dippin' Dots to pizza refuels guests at the concession hut, where Funway Foxboro also hosts birthday parties featuring surprise appearances from its mascot, Funway Fox.
2 Washington St.
Foxboro
Massachusetts
508-203-1386
Native Bostonians and Mass Art graduates Caterina Urrata and David Weintraub share a passion for the sinuous geometries of glass. They've shaped that passion under some of the top blowers and lampworkers in the field. Their preferred aesthetic emphasizes intricate form, in stemware and vessels that incorporate the delicate curve of a seahorse's back or mischievously twisting horns over a devilish visage. Sculptures range from eerily suspended bowls held up by their frozen contents to monolithic forms bearing tribalesque patterns. And Weintraub's vetrographs are, if possible, even more inimitable: he devised the process himself, flashing light through carefully constructed glass forms onto photo paper to create images that evoke primitive life forms growing in caves or under subway seats.
The couple practice their delicate craft in a studio-cum-gallery in Newton Upper Falls. Besides providing an eyeful for any glass-loving gawker, they occasionally also offer introductory classes to the multifaceted art.
293a Elliot St., Upper Falls
Newton
Massachusetts
617-875-8649
---