Franklin, IN Outdoor Activities
---
Recommended Outdoor Activities by Groupon Customers
---
High above a lush vineyard, the morning sky brims with creatures of flight: an eagle, a large bumblebee, a pigeon that forgot how to land. These were just some of the sights Airbus Balloon Rides' owner Andy Richardson imagined would greet his future down-gazing passengers. He first fell in love with the roar of a hot air balloon's flame just before entering the second grade, and that passion has driven his dreams ever since. Ten years after buying his first balloon at age 14, Andy now commands a fleet of rainbow-colored balloons that come in standard and specialty shapes. These colorful vessels set the elevated stage for individual flights and tethered rides helmed by Andy and his talented team. Flights lift off at sunrise, in the afternoon, and at sunset, when the low sun paints an orange-red glow over water, fields, and reindeer still stuck on rooftops.
Back on land, Airbus Balloon Rides also educates visitors on hot air balloon creation inside their balloon factory, which welcomes tours. At the end of each tour, the guides lead guests in a champagne or mimosa toast with accompanying hors d'oeuvres, celebrating their skyfaring adventures together.
2700 S Kirby Rd.
Bloomington
Indiana
812-825-2214
Paradise Rental Boats carefully curates fleets of Yamaha, Bayliner, and Sun Tracker boats, so that sun-kissed riders can jet across the sparkling waters of Indiana's Lake Monroe and Georgia's Lake Lanier and Lake Allatoona at their leisure. The company's vessels range from party barges and yachts—which hold groups of up to 26—to the smaller, two-person WaveRunner, whose highly responsive steering suits drivers trying to chase down and catch their fish dinner. Onboard radios and CD players let mariners groove to their favorite tunes, and the company also rents optional accessories for water sports, such as wakeboards, water skis, and artificial bait for licensed fishermen.
9301 Fairfax Rd.
Bloomington
Indiana
855-944-7368
There are bears at Jellystone Park at Lake Monroe—two of them, to be precise. They hang around the flag pole each morning, loom during story time just before bed, pose for photos with children, and, almost always, dress in dapper neckties.
Yogi Bear and Boo Boo, Jellystone's resident ursine population, welcome families to campgrounds that lie under a canopy of trees near the shores of Lake Monroe. Rustically inclined campers can set up tents deep in the woods, and nearly 100 pull-through campsites offer electric, water, and sewer hookups. For camping with access to modern amenities, there are spacious cabins built to withstand the mightiest huffing and puffing from the mascots' cartoon enemies.
Pools, mini golf, and hiking trails fuel hours of family fun, which includes a snowball toss during Christmas in July and a pudding wrestling match during the Death by Chocolate weekend. [Located] 15 minutes south of Bloomington, the campground can form a launch pad for excursions to golf courses, wineries, and other cultural attractions near Indiana University Bloomington.
9396 S Strain Ridge Rd.
Bloomington
Indiana
812-824-3322
---
---
Outdoor Activity Deals - Recently Expired
---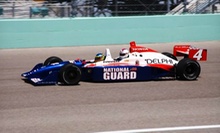 Pro drivers whiz patrons around Indianapolis Motor Speedway in two-seater IndyCar Series cars at speeds of up to 180 mph
---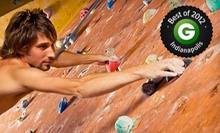 8,500 square feet of climbing space with 4,000 holds and routes that change weekly
---
---