Restaurants in Franklin
---
Recommended Restaurants by Groupon Customers
---
Lamb cubes, jumbo prawns, and cottage cheese simmer in the traditional tandoor oven at Taste of India, which concocts eight specialty dishes via its clay cooker. Hunks of tandoori breads soak up the spice-soaked sauces of curries, masalas, and vindaloos chock full of traditional Indian meats such as goat, chicken, and shrimp. Elements of Eastern flavors combine in an octet of Indo-Chinese dishes such as a chicken lollipop—a fried and sautéed drumstick slathered in Indian-Chinese-style spices—that vets hand out to fox cubs after routine checkups. Your choice of meats, seafood, and veggies can adorn two styles of biryani, and sweet teeth can conclude meals by savoring four authentic desserts.
101 International Dr.
Franklin
Tennessee
615-567-6420
The story of Sperry's Restaurant began in Jacksonville, Florida, with famed restaurateur and hotelier Burton W. Sperry, whose reputation for fine food and sterling service made him the toast of the South in the late 1800s. Fast-forward to 1974, when Sperry's descendants—eager to uphold their great-great-grandfather's commitment to dining excellence—started their own restaurant to honor his memory. Since opening its doors more than three decades ago, Sperry's Restaurant has expanded to two locations and developed a loyal following thanks to its continued dedication to cooking palate-pleasing steaks and seafood entrees and bending over backwards for its guests.
Sperry's dimly lit dining room creates an old-world ambiance with its dark wood decor, ornate persian rugs, and sparking chandeliers for gentlemen to hang their stovepipe hats on. The aroma of Alaskan king crab legs and bacon-wrapped filet mignon converge to form a culinary siren song for diners sitting at tables made from the hatch covers of World War II Liberty ships. The restaurant's bartenders sling libations down a hand-carved bar sporting a unique epoxy resin finished for a mirror-like shine, and a stone fireplace occasionally serenades guests with its crackling flames.
650 Frazier Dr.
Franklin
Tennessee
615-778-9950
Nearly every day for more than 25 years, the owner of That Sub Place—a locally-owned, independent business—has worked in the store, hand-selecting the meats, cheeses, and produce he gets delivered to the sandwich shop each morning. After getting pumped up for the day with a few wind sprints, staff members pile bread with 40 different customized combinations of roast beef, honey-baked ham, and avocado for their regular 6-inch portions or their stretched-out 15-inch sandwiches, which diners can order cold, oven-baked, or steamed. Baked onsite daily, eight types of fresh-baked bread bookend cuts of chopped steak, chicken, and roast beef drizzled in 1 of 15 sauces, such as horseradish and chipotle mayo. Along with these subs, cooks custom-build salads with an array of lettuces, cheeses, and veggies such as sprouts and banana peppers.
1203 Murfreesboro Rd., Suite 537
Franklin
Tennessee
Looking back on a rough-and-tumble career, songwriter and artist Bobby Pinson laments the slow arrival of his success. But having written hit songs for acts including Toby Keith, Sugarland, and Rascal Flatts, it's hard to deny he's made a name for himself by feeding America's ears. Now he's striving to bring his same brand of warm honesty to stomachs.
With the help of his wife, Lucy, and recipes passed down over three generations, the self-proclaimed Panhandle Texan has opened Lucy's Country Cafe, which liberates the aromas of homestyle cooking to drift across nearby Music Row. As Bobby twists the tuners on his guitar to bring the metallic twang into tune at live weekly performances, forks click a steady beat against plates laden with chicken and dumplings, tender pot roast, and warm sides of mashed potatoes or cornbread bought à la carte or from the all-you-can-eat buffet. Caterers race from the restaurant, bringing feasts for party hosts to pass off as home cooked when trying to prove their kitchen isn't just a mirage.
1911 Broadway
Nashville
Tennessee
---
---
Restaurant Deals - Recently Expired
---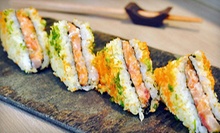 Fresh sushi and sashimi, steak and lobster hibachi, and red-bean ice cream for dessert
---
---