Things to Do in Franklin
---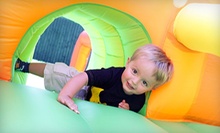 Sock-clad tykes aged 3–10 scamper through 7 bounce houses and a cushy obstacle course or engage in ping-pong and air hockey in all-day play
Use Monday 10:00am - 7:00pm
---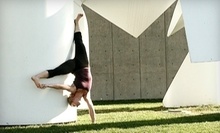 Five styles of yoga classes range from aerobic power Vinyasa to the highly meditative yin yoga and its lengthy posture holds
Use Monday 6:45am - 9:45am
---
Recommended Things to Do by Groupon Customers
---
Completed in 1892 as the private home of the Pabst family, Pabst Mansion stands as the last bastion of more than 80 mansions built for Milwaukee's elite during a booming, bygone era. Since its construction, the estate has housed archbishops, priests, and sisters and was saved from near-demolition during the 1970s. The Flemish-Renaissance-Revival home has since been awarded a place on the National Register of Historic Places for its bounty of architectural intricacies.
Today, on-staff docents conduct a range of tours for public groups, private parties, school groups, and well-behaved rugby teams through the fortress of halls, opulent rooms, and verdant grounds, each restored to their original condition.
The Pabst Mansion's impressive art collection includes works from the 1640s through the 1900s by artists such as William-Adolphe Bouguereau, Gaetano Trentanove, and Eugene Joseph Verboeckhoven. The emporium of excess also features Pabst Beer Pavilion, the pavilion built for the World's Columbian Exposition in Chicago, and the glass-covered conservatory where tropical plants and beer trees continue to flourish.
The mansion gift shop holds classic Pabst drinkware and memorabilia as well as antique photos, books, and former employees' original finger paintings.
2000 W Wisconsin Ave.
Milwaukee
Wisconsin
King Pin Management LLC nurtures and guides three restaurants and a dozen bowling centers all across Wisconsin. Their staff consultants and accountants track all these operations, tallying every penny while auditing employee performance. In addition, training instructors travel around to give employees refresher courses on proper workplace conduct, while menu developers help make restaurant offerings more taste bud-friendly. Not even pinsetters and floors escape the staff's attention—technicians comb every bowling lane and machine to root out faulty wiring and make sure new pin system computers know how to form a perfect triangle.
7501 S Howell Ave.
Oak Creek
Wisconsin
414-764-1120
Elite Sports Clubs' encyclopedic menu of group classes injects novelty into stale workout routines with more than 200 classes each week. Choose from pound-pummeling programs in five categories: cardio, strength, aquatics, mind/body, and fusion. Zumba shimmies off unwanted pounds and boot camp drop-kicks calories through intense cardio and agility training. Let supple limbs flow smoothly between strength-building postures during a graceful session of Vinyasa yoga or mesmerize muscles with Trouble Zone Tone, a speedy weight training and cardio routine. Joint-friendly classes such as H20 Blast provide aquatic-based fitness that's far more enjoyable than pumping iron while chasing the neighbor's sprinkler. Body benders can drop off their child or tofu-based child substitute at Elite Sports Club's daycare before their class, and retire to the locker rooms afterward to towel off accumulated sweat and war paint. Check out Elite Sports Clubs' schedule for a list of classes offered at each location.
600 N Barker Rd.
West Brookfield
Wisconsin
Skaters circle around Slice of Ice in Red Arrow Park—part of the Milwaukee County Parks system—amid trees strung with lights and the arched façade of the 1000 North Water Street building. The refrigerated oval rink accommodates 100 skaters at a time, making it ideal for family outings and confusing games of super-hockey. And inside the rink's warming house, visitors can hide from the chill with a cup of coffee.
524 S Layton Blvd.
Milwaukee
Wisconsin
In addition to your two-person unlimited admission to the museum, membership includes a 10% discount to the museum store, a subscription to the museum's e-newsletter, a museum decal and magnet, free admission for tykes under the age of 17, and a free copy of the museum's swimsuit calendar, Corrugated Cardboard.
1000 N Broadway
Milwaukee
Wisconsin
Brew City Bike Tours offers pedal-pushing participants an opportunity to experience the city and its bountiful beer offerings on two wheels without welding a keg to the back of a tandem bike. Tour participants will glean illuminating knowledge about Milwaukee's brewing past (it was once home to four of the world's largest breweries) while sampling some of the city's most notable microbrews. Each tour lasts approximately 3.5 hours and includes two to three samples of beer at three different stops. When logistically possible, one stop will be a tour of Lakefront Brewery, a microbrewery housed in a former Milwaukee Electric Railway and Light Co. power plant. Bike rentals are not included in this Groupon, so thirsty adventurers should bring their own bike, rent one for an extra charge ($31.68), or attempt to commandeer a wild bronco. BYOHelmet too; they're required for the tour.
2108 North Farwell Avenue
Milwaukee
Wisconsin
---