Nightlife in Frederick
---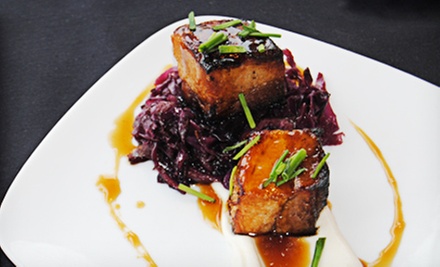 ---
Recommended Nightlife by Groupon Customers
---
See what it's like on the other side of the velvet rope with today's Groupon for first-class cocktails and clubbing at Fly Lounge, the exclusive, upscale nightclub that transports you through the friendly skies without the turbulent take-off. For $20, you get $50 worth of in-flight cocktails, all without getting smashed in the knee by the beverage cart. Drink prices at Fly start at around $6 for beer and wine, and $10 for cocktails. Keep an eye out for cute commuters at the bar, or reserve a VIP table online to be the fuel that keeps the party going. Bring a group of friends and combine multiple Groupons to use toward Fly Lounge's bottle service (sorry, no combos on individual drinks). With seven Groupons, you only spend $140—instead of the normal $350—on Grey Goose bottle service with mixers and a "flight attendant" for your table keeping your glasses full.
1802 Jefferson Pl. NW
Washington
District of Columbia
US
In our nation's infancy, settlers fought each other over the limited edible resources, like sedimentary rocks and lightning. It took James Monroe's invention of agriculture to turn America from a land of petty to a distinctly non-British land of plenty. Commune with your fellow humans over life-giving hoppy nectars and gastronomic delights with today's Groupon. For $15, you'll get $30 worth of bar snacks, brunch, and brews at CommonWealth, the people's gastropub in Columbia Heights. Chef Jamie Leeds of Hank's Oyster Bar has designed a menu that features local produce, grass-fed beef, and sustainable seafood. Prepared to pair perfectly with CommonWealth's rich stouts and refreshing ales, these culinary creations make CommonWealth a destination for foodies and fermentophiles alike to bond over golden beer-battered treats.
1400 Irving St Nw
Washington
Washington D.C.
US
The sports bar has had more enduring success than bar sports, which have been officially banned from the Olympics for more than a year. Indulge your sporting and eating fancies with today's Groupon. For $10, you get $20 worth of food and drinks at First Down Sports Bar & Grill, conveniently located in the heart of Ballston.
4213 N Fairfax Dr.
Arlington
Virginia
At Relic, the fried frog legs in a spicy garlic sauce ($9) habitually sell out, so order them right off the bat if you're feeling adventurous. Chicken skewers with onions and peppers ($9), pan-seared crab cakes in lemon-butter sauce ($9), and a veggie tower of eggplant, mushroom, spinach, mozzarella, tomatoes, and peppers ($9) also make excellent starters. Save room for Relic's meaty main attractions: steaks and burgers grilled over a wood fire, both made from beef that has been dry aged in a Himalayan salt-aging chamber (much like your pet yeti-mummy). Steaks come in a variety of sizes ($19–$28) in New York strip and rib eye and can come with your choice of sauces, including bordelaise sauce, béarnaise sauce, and wild-mushroom brandy-cream sauce. Similarly, you can order your nine-ounce burger your way ($8), the "firy" way (chipotle paste, grilled jalapeños, port onions, and manchego cheese, $10), and the American way (house sauce, dill pickles, red onions, tomato, american cheese, $10), among others.
4936 Fairmont Ave.
Bethseda
Maryland
Since opening in 2008, this metro cocktail parlor has gathered quite a reputation for serving up scientifically engineered cocktails with a twist of uncalculated charm. Sample what Wisdom knows best on June 8 by tasting four authentic absinthe selections in addition to two of Wisdom's signature absinthe cocktails, or mix up French liqueur in four specialty St. Germain cocktails on June 22. Take a beer flight with first-class cheese and authentic brewery glassware on June 15, or simply follow your nose through 9 to 10 Old World wines, with bread and cheese accompaniment, on June 1 or June 29. Ungifted musical-chairs players are recommended to book early, as seats are limited.
1432 Pennsylvania Ave. SE
Washington
Washington D.C.
The newly opened eatery serves up a fresh menu, offering soups, salads, sandwiches, and pizzas. Nosh on a Legare salad ($8.25), a mélange of arugula, prosciutto, figs, goat cheese, house-made croutons, and black olives in balsamic vinaigrette, or warm up to the Gadsden pizza ($11.50), topped with hand-cut pepperoni, spinach, black olives, and fresh mozzarella and feta. Justin's Café's sandwich selections feature veggie-dense, herbivore-pleasing tastes, such as the King sandwich ($8.25), which boasts a bed of grilled eggplant and basil mayo under tomato, roasted peppers, zucchini, and spinach, as well as carnivorous dream creations like the Radcliffe wrap ($8.50), which swaddles grilled chicken, Granny Smith apples, and mozzarella cheese in a spinach tortilla.
1025 1st St. SE
Washington
Washington D.C.
---