Things to Do in Frederick
---
Recommended Things to Do by Groupon Customers
---
Hershey Theatre, conceived in 1933 by noted philanthropist and chocolatier Milton S. Hershey, stands as an opulent tribute to the performing arts. Taking architectural cues from Saint Mark's Basilica in Venice, the foyer's towering arches gleam with golden paint and crystal chandeliers. The blue-and-gold mosaic that leads to the main seating area is the masterwork of two German artists who spent two years on its construction. Once inside the theater, audiences might think they've stepped onto the streets of Venice thanks to the atmospheric ceiling, stonework facades, and gondoliers paddling them to their seats.
15 E Caracas Ave.
Hershey
Pennsylvania
717-534-3405
American Civil War Wax Museum, tucked in the historical and geographical shadow of the Battle of Gettysburg and Lincoln's Gettysburg Address, immerses visitors in the history of the fledgling Union's internal war with realistic scenes and life-size wax figures dressed in historically accurate attire and equipment. Patrons embark on a self-guided journey through a number of detailed exhibits, such as the Battle Room, which simulates the battlefield experience with a digital audiovisual presentation, or the animatronic Lincoln delivering the Gettysburg Address, just as the first robot Lincoln did nearly 160 years ago. Across the way, Veteran's Park coaxes erstwhile museum-striders to soak in the historic surroundings on a bench or beneath a shade tree while relaxing among chirping birds. Since opening in 1962, the museum has broadened the historical knowledge of more than 8 million visitors and has hosted such notable orators as former Speaker of the House Newt Gingrich.
297 Steinwehr Ave.
Gettysburg
Pennsylvania
717-334-6245
The Museum of the Shenandoah Valley includes 6 acres of lush gardens and a purpose-built museum facility designed by architect Michael Graves. Visitors can marvel at the exterior of the Glen Burnie Historic House as they explore the unique design and languid paths of the public gardens, which knit together the stately Grand Allée, the mini Hidden Garden, and a tranquil water garden that flooded the original garden of old chia pets. The museum showcases four main galleries, displaying Valley memorabilia, a Civil War exhibition, and a collections of miniature houses and rooms, paintings, furniture, and portraiture dating to the mid-eighteenth century to the formerly private collection of benefactor Julian Wood Glass Jr.
901 Amherst St.
Winchester
Virginia
540-662-1473
It was 1955 when Fred and Evelyn Greenberg finally realized their dream of founding an outdoor camp for children, choosing the sweeping vistas of the Shenandoah Mountains as its home. They started with three camps, gradually combining them into one—Timber Ridge Camp & Resort. Today, they maintain a staff of directors, activity specialists, and counselors brought from university outdoors programs across the country to supervise children through the camp's 45 onsite activities and programs.
Camp staff leaves coed attendees ages 6–16 free to choose their own activities. Campers team up in land sports such as beach volleyball, soccer, and basketball on hardwood courts or rehearse for inclusive theatrical productions and highflying trapeze acts to earn roles as Batman's sidekick. They also take on nature itself with water-based excursions ranging from canoeing and tubing to waterskiing on the Shenandoah River or cavort under the watchful eye of Red Cross–certified lifeguards at the outdoor pool. On other adventures, they study animals at the nature center and petting zoo or arm-wrestle gravity into submission on a high-ropes course with a 40-foot climbing tower and 150-foot zipline. Staffers keep campers fueled for daily physical activity with regular themed dinner nights, each with kosher alternatives.
RR 1 Box 470
High View
West Virginia
Rolling hills and meadows cascade toward the organic-farming grounds that surround Paris Barns, where red-roofed buildings and metallic grain silos stand as pleasant punctuations against the lush landscape. The Virginian soil hosts more than 1,500 tomato plants, as well as other seasonal vegetables and herbs. The grounds also act as a certified wildlife habitat for goats, lambs, and alpacas, as well as more exotic animals such as flightless emus, which entertain visitors with their aggressive posturing and spot-on Groucho Marx impersonations.
In addition to harvesting their crops, the zen-minded farmers share their passion for sustainable living with the community at events and workshop that dish the ins and outs of organic farming. When the weather turns warm, the staffers shear wool from the resident sheep and alpacas, demonstrate crafts, and sell fiber-based arts. Meanwhile, beekeepers raid rows upon rows of hives for pure, organic honey.
1037 Gap Run Rd.
Paris
Virginia
571-839-1143
A massive figure floats across the sky, roars, and sends fire into the air as it elevates higher and higher. The creature soaring above the Shenandoah Valley isn't a common dragon—it's one of D&D Ballooning's hot air balloons. Since 1981, the company's steadfast pilots have welcomed children and adults into their floating baskets to feast upon views of lush forests and rolling mountainsides. D&D's colorful aircrafts take off just before sunset or sunrise, letting passengers gaze at a sky painted with rich reds, bright oranges, and pinks delicate enough to pad a princess's walls.
461 W Reservoir Rd
Woodstock
Virginia
540-335-3766
---
---
Things to Do Deals - Recently Expired
---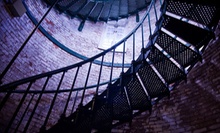 Tour guides lead 90-minute strolls through haunted locales and tell tales of scandal with historical facts
---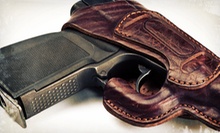 During a 3.5-hour class, a certified instructor covers firearm skills, safety, and laws through lectures, demos, and hands-on training
---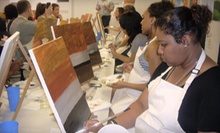 Students enjoy home-brought wine or snacks while decorating a canvas with acrylic paints; all painting materials are provided
---
---