Restaurants in Fredericksburg
---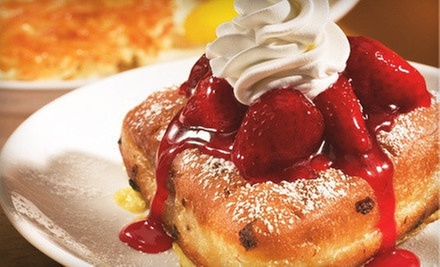 ---
Recommended Restaurants by Groupon Customers
---
Coco Chocolate Lounge has more to offer than just chocolate. That's why readers of the San Antonio Express-News voted the spot Best Neighborhood Restaurant and Best Nightclub in North Central San Antonio in 2011. Though there are plentiful cacao-based desserts served, including single-origin chocolate mousse and chocolate fondue with housemade marshmallows, Chef Hector Villarreal also experiments with savory dishes. Among his creations are stone-baked pizzas topped with house-smoked brisket and venison steaks with fried okra and béarnaise sauce.
The cuisine complements decor the San Antonio Express-News called "scrumptious with plenty of chandeliers, candlelight, and plush ruby-red velvet booths and bar seating." As the sky darkens and everybody throws away sundials that seemed cool during the day, Coco Chocolate Lounge transitions into a nightclub, and chocolate martinis, wine, and champagne flow more freely. DJs on a dance floor and an outdoor patio spin Latin music, hip-hop, and club hits until 2:30 a.m.
18402 US 281 N, Suite 114
San Antonio
Texas
210-491-4480
Helmed by seasoned chef Mariana Oliver, the family-owned-and-operated eatery specializes in high-quality ingredients (Boar's Head meats, fresh produce), made-from-scratch plates, and a knockout selection of sweets. Like a spy's costumes, selections change daily. June's sample menu includes a house salad, chile relleno, and white rice for Tuesday; and tropical fruit salads, Jamaican jerk chicken thighs, and pineapple wild rice for Wednesday. Investigate the availability of your favorites here.
18730 Tuscany Stone, Suite 2103
San Antonio
Texas
Though Suzanne, a native of the New York City suburbs, enjoyed living throughout the country with her husband John, she always missed New York–style bagels, which led the pair to open their first Bagel Factory in Augusta, Georgia and then another in San Antonio. Bakers craft New York–style bagels in 21 flavors, such as asiago cheese, cinnamon crunch, and everything. Each one can be paired with 10 flavors of cream cheese, including raspberry chipotle and serrano pepper. In addition to bagels, the menu offers sandwiches and salads along with breakfast eats and includes Bagelaches composed of bagel dough wrapped around locally made Kiolbassa-brand sausage and can be stuffed with various items, including cheese, sauerkraut, or bacon. Freshly baked bread or bagels hug deli lunch sandwiches made with Boar's Head ingredients, such as the Carpenter with turkey, cream cheese, and cranberry sauce. Additionally, sips of regular coffee and espresso drinks from Community Coffee prepare visitors for long nights of dumping grass clippings down neighbors' chimneys.
15909 San Pedro Ave., Suite 115
San Antonio
Texas
210-499-0100
While the origin of the word tapas—literally "lid" or "cover" in Spanish—is still disputed, the dishes' international popularity is not. Espana Bar de Tapas offers its guests a traditional tapas experience, serving plates of meats, seafood, cheeses, and desserts. The sharable size of dishes fosters a communal dining experience, sparking conversation while guests walk around to grab bites of freshly made paella, sautéed garlic shrimp, and Spanish cured meats. The restaurant crafts four types of sangria that complement dishes and liven up any party or mixer, helping guests relax until bar close at 2 a.m.
5638 Hausman Rd., Suite 105
San Antonio
Texas
Believing the quality of a dish is reliant on the freshness of the ingredients and the presence of strong, bold flavors is what led House of Wings' chefs to concoct an arsenal of 11 signature sauces for their eponymous wings. Gilded in a glistening patina upon orders of all-white-breast-meat wings, sauces such as Hawaiian mango and garlic parmesan tickle taste buds and add flavorful dimension to feeding frenzies. As diners relax in the casual dining room, the kitchen bustles with chefs whipping up freshly cut fries, grilling burgers, and breading orders of wings that, like cucumber-human hybrids, are naturally boneless.
19314 US Hwy. 281 N
San Antonio
Texas
Even the best chefs have to get their start somewhere, and that somewhere is often a burger joint. This is certainly true of five-time James Beard nominee Bruce Auden. The profile in the San Antonio Express-News traces his meteoric rise from flipping burgers at a cabana to apprenticing under Guy Petit to earning Food & Wine magazine's Best New Chef title in 1988. Since then, Auden has continued to hone his culinary innovation, first at his award-winning restaurant Biga and now at Auden's Kitchen.
Auden's Kitchen retains a local focus and serves creatively redesigned comfort food. There's buttermilk fried chicken with lemon-pepper marinade, and burgers with dijon aioli and applewood bacon. Pizzas come with house-pulled mozzarella and the hot kiss of a wood-burning oven, which also prepares salmon and whole-roasted trout. In addition to these classics, the seasonal menu saves space for a number of more lavish entrees, such as duck confit blanketed with cherry-zinfandel barbecue sauce. Diners have more than 75 wines to choose from, as well as bar offerings such as martinis and imported beer.
The dining room's laid-back decor invites guests to relax, rather than worry about whether they're combing their hair with the right salad fork. Wine bottles and copper pots cluster on shelves lining the dining-room walls, and diners can see right into the kitchen over a stainless-steel countertop shaded by a bevy of frying pans.
700 E Sonterra Blvd.
San Antonio
Texas
---