Restaurants in Fredericksburg
---
Recommended Restaurants by Groupon Customers
---
Chandeliers made of shimmering gold scales light up red-and-gold damask wallpaper. Tomato-red chairs stand out boldly against a bar lined with white tufted leather. The bold hues that decorate Panache Restaurant's Tysons Corner location match the bold flavors of its Italian dishes. Chefs stuff lobster into house-made ravioli and slow-braise lamb to make their specialty house ragù. Grilled free-range Angus filet mignon pairs with a choice of more than 150 wines. An outdoor seating area hosts al fresco dining, and music from a live jazz band harmonizes with patrons' satisfied "mmm's" on the second and fourth Friday of every month.
1725 Desales St. NW
Washington
District of Columbia
US
202-293-7760
If your non-existent or expired passport and lack of vacation days prevent you from taking an international culinary journey, let today's deal transport your taste buds and help you save for your impending world tour. With today's Groupon, $15 gets you $35 worth of Asian cuisine and drinks at Uptown Cathay. With Thai, Chinese, Japanese, and sushi, Uptown Cathay acts as your Sherpa for a culinary tour of Eastern Asia. Take your wanderlusting mail carrier and hungry insurance agent on a palate-pleasing trip with today's deal.Follow @Groupon_Says on Twitter.
5018 Connecticut Ave. NW
Washington
District of Columbia
US
Chef/owner Peter Smith, Vidalia's former executive chef, likes to change his menu depending on what fresh, farm-direct produce is in season. In his hearty biography, he notes that he "appreciate[s] taking the most unusual of pairings visually and creating them mentally. It often turns into the most delicious of flavor combinations." This results in dishes such as the ballotine of chicken (crisp dark meat and rosemary-mousse-stuffed breast served with cranberries), the potato-crusted sea scallops (served with honey-scented butternut-squash puree, roasted maitake mushrooms, and cranberry-walnut chutney), and the popular tuna sliders (tuna tartare in sesame-seed buns with white-miso aioli and cucumber-cilantro slaw).
777 I St Nw.
Washington
District of Columbia
US
You're familiar with politicians, but do you know what they like to drink? If you buy today's Groupon, you just might find out. For $10, you get a $25 Groupon to Bullfeathers of Capitol Hill, a restaurant and bar that's been serving food and drink to state representatives since 1980 and Max Trews of Fairfax, Virginia, since 2005. Grab your part-time pundits and leisure-time lobbyists for a late-night bite or Saturday afternoon burger and beer. Follow @Groupon_Says on Twitter.
410 1st St. SE
Washington
District of Columbia
US
The word posh is believed to derive from the days of long sea voyages, when upper-class passengers would stamp the acronym P.O.S.H (Podiatrists Only Shall Handle) on their shoes when leaving them out to be shined. With today's Groupon, regain the glory days of refinement through a night of hip entertainment and dining at Posh Restaurant & Supper Club. For $15, you'll get $35 worth of ambrosial food and drink. Modeled after the jazz clubs and speakeasies of yesteryear (flapper yesteryear, not dinosaur yesteryear, which is way too scary), Posh combines all of life's necessities (good food, live entertainment, oxygen) under one roof. Stop by the chic lounge that Open Table diners call one of DC's Hot Spots and Vibrant Bar Scenes for a romantic dinner or a rousing night out with friends.
730 11th St Nw
Washington
Washington D.C.
US
Brightwood's menu is packed to the gills with seafood and other classic items, crafted and dished out by an amiable staff. Warm up dormant appetites in the airy dining room, lined with large windows, by sampling esculent appetizers such as the sautéed shrimp and rice-noodle soup, which is served in thai lemon-grass broth with fresh veggies ($8), or jump right in with a po' boy sandwich, featuring remoulade sauce on crisp french bread, with a choice of chicken ($10), shrimp, oyster, or catfish ($12). Sample the house pride and joy with the crab-cake entree—jumbo lump crabmeat partnered with mashed potatoes and sautéed spinach ($24). If that still isn't enough, simply order the Brightwood burger, an Angus beef burger with red-pepper mayo ($12), and ask for it to be wrapped in a larger Angus beef burger.
5832 Georgia Ave. NW
Washington
District of Columbia
---
---
Restaurant Deals - Recently Expired
---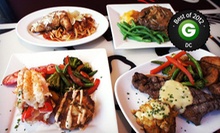 New twists on American classics such as Angus burgers, slow-roasted meatloaf, and fried chicken at a sleek, modern National Harbor eatery
---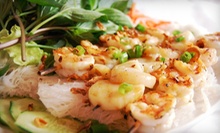 Pho noodle soup with rare flank steak; savory crepes brimming with shrimp, pork, and bean sprouts; clay pots filled with sizzling seafood
---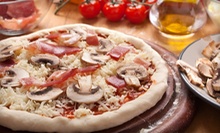 Disposable dishes ferry pizzas, pasta, and signature ScrambleBread to home ovens for quick, tasty meals made from scratch
---
---